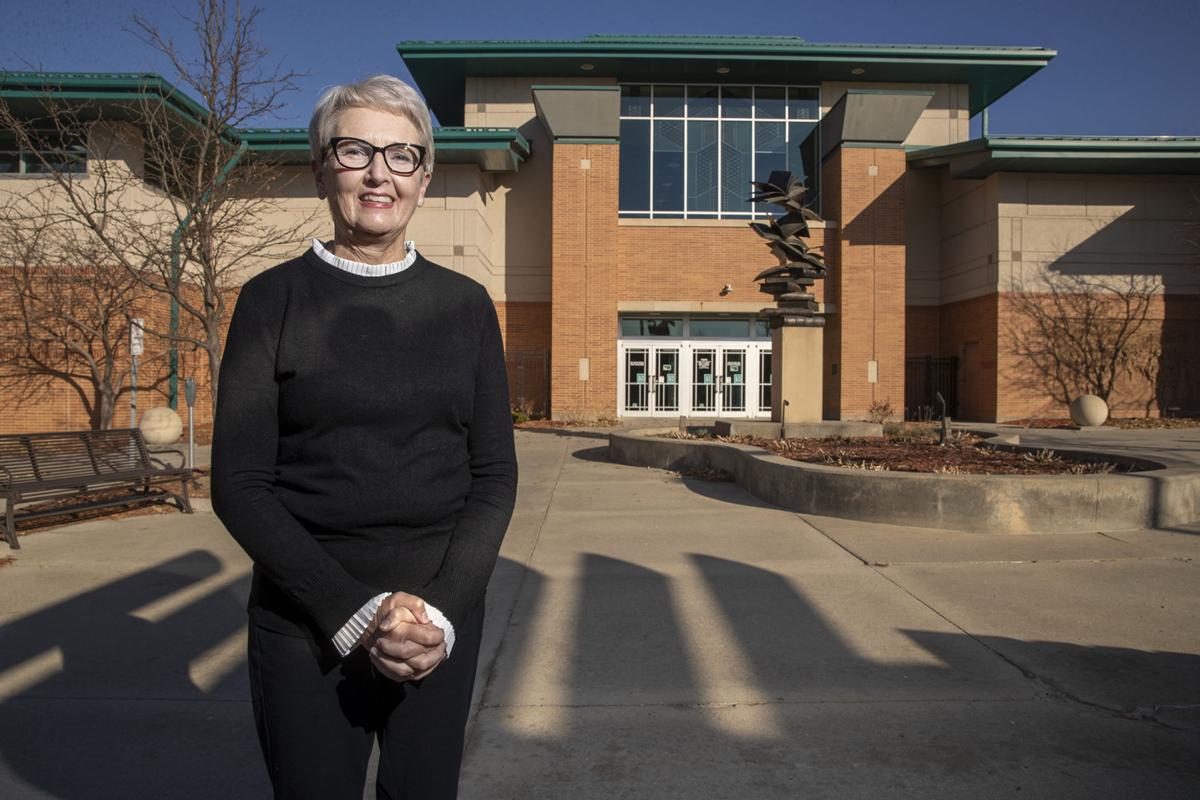 When the New Year begins, Kathy Rieger will start a new chapter in her life.
Rieger, director of the Council Bluffs Public Library, will retire on Dec. 31.
She became library director on July 1, 2012, after former director Barbara Peterson retired.
"It's been great," Rieger said.
Many improvements have been made under Rieger's leadership. In September 2015, the library opened a makerspace that offers members of the public ways to create things in many different media. It contains a recording studio, 3-D printer, video station, robotics station, book scanner and equipment for converting sound and video recordings into digital formats and transferring them to discs. There is also a 2-D printing station with large-format printer, electronic cutting machine and media for creating stickers, decals, fabric and other printed materials.
The library increased adult programming and started a pass program that offers passes to Lauritzen Gardens, the Omaha Children's Museum, Henry Doorly Zoo, Fontenelle Forest, Rose Theater, B-Cycle and the Durham Museum.
Many improvements were made to the facility. The library created two new meeting rooms, redid three other meeting rooms and remodeled the building's six public restrooms. Technology was upgraded with a new book-sorting machine in the circulation department, new computers and new security cameras. Carpeting was replaced, new furniture was purchased for some of meeting rooms, and some got new window coverings. New shelving was installed in some areas.
A new mural of the old Carnegie Library was added just inside the main entrance, and a new graphic was installed around the book drop. Some areas of the building got new paint.
This year, of course, the library hasn't been able to hold all of its usual activities, Rieger said.
"It's been very quiet," she said. "We've been able to stay open, pretty much. We've really embraced curbside service."
Her staff has adapted well, Rieger said.
She grew up in Garden City, Kansas and also lived in several other Kansas communities. Libraries were her second career, she said. She initially earned Bachelor of Arts and Master of Music degrees at Kansas State University and taught piano lessons at her home while her children were young. She also played cello in the Hutchinson, Kansas and Topeka, Kansas community symphonies and worked as a church organist for many years.
It was while she was working at the Topeka and Shawnee County Public Library in Topeka that Rieger decided to make a career out of it.
"Music was my thing, but I always liked libraries, so I decided to go back to school," she said.
Rieger earned a Master of Library Science at Emporia State University in Kansas. She worked as a branch manager for the Johnson County Library in Shawnee Mission, Kansas and was director of the James Blackstone Memorial Library in Branford, Connecticut for nine years before coming to Council Bluffs.
Her trip to the Bluffs to interview for the job was her first visit to Iowa, she confessed.
"I think Iowa is beautiful," she said. "I thought it was like Kansas, but it's not."
Rieger has gotten involved in several organizations in Council Bluffs. She is past president of the Noon Rotary Club, treasurer of a local PEO chapter, a member of the Dodge House Board and a member of a local networking group. She served on the Iowa Western Community College Board of Trustees for four years before resigning this year after she bought a house across the boundary in Trustee Dr. John Marshall's district. She plans to stay in the community.
"I really like Council Bluffs, and I've made a lot of friends here," she said.
Rieger has no specific plans for her retirement yet, she said. She likes to travel, camp, hike and bicycle.
"I'd like to see my kids in California, but I don't know when that's going to work out," she said. "With COVID, it's hard to make any plans."
Rieger has three adult children — two in California and one in the Kansas City area.
For now, she will just enjoy her house and her black, brown and white dappled Dachsund, Buster Brown.