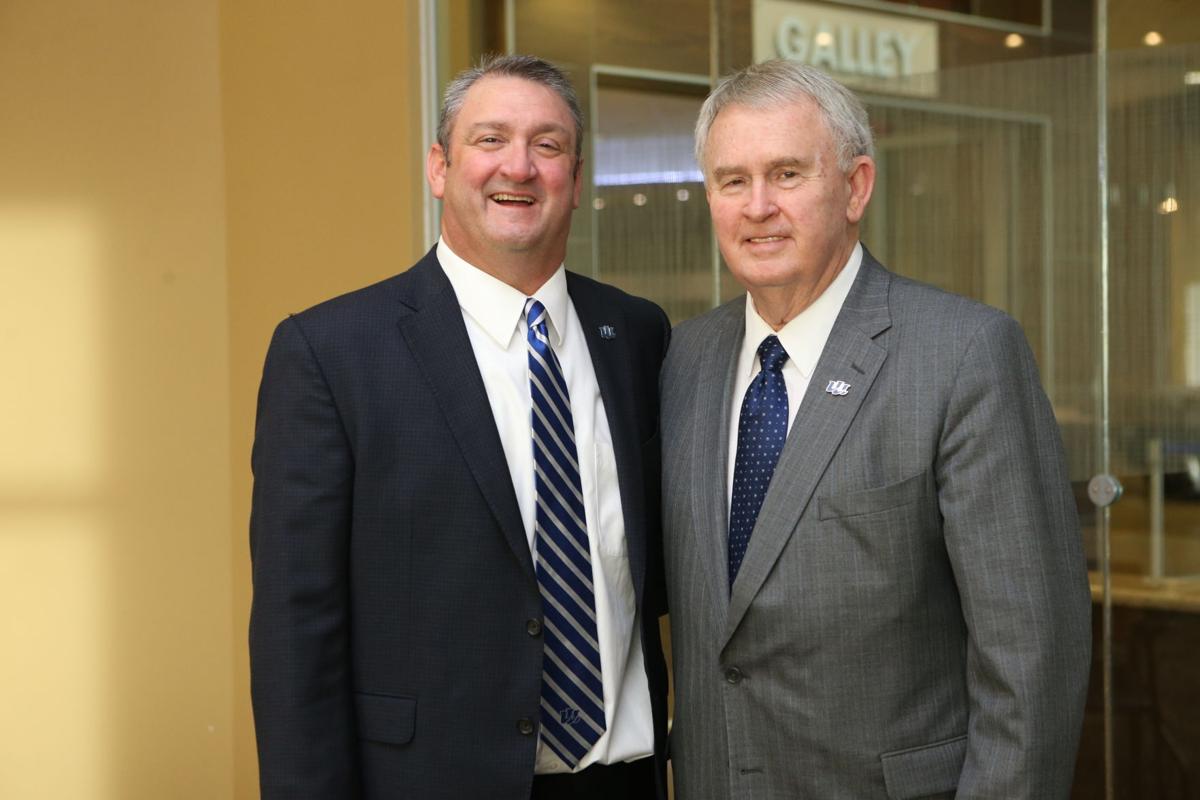 It's official: Dr. Daniel Kinney will succeed his father, Dr. Dan Kinney, as president of Iowa Western Community College.
The college's board of trustees unanimously approved his hiring during a meeting Monday, according to a press release from the college.
"I am honored to be chosen to lead such a premier educational institution," Daniel Kinney said. "It's also an honor to be following my father, who has committed his life to serving students at the community college level in both Kansas and Iowa. I have big shoes to fill, but I look forward to working with faculty and staff to take Iowa Western to the next level."
Kinney was one of 77 applicants for the position. The Presidential Search Committee narrowed the field to 11 semifinalists, one of whom accepted another position before advancing further in the process.
The board of trustees conducted virtual interviews with the other 10 and chose three finalists. Each of them spent a day at Iowa Western's Council Bluffs Campus, led two public forums and had 90-minute interviews with the board. The members met on Nov. 9 to discuss the finalists and decide who would be offered the position.
Dr. Daniel Kinney has served as president of Iowa Central Community College in Fort Dodge since 2009. Under his leadership, Iowa Central has seen significant enrollment, retention and completion growth.
He maintains strong ties to the community and strives to enhance the college's partnerships with area businesses, community organizations and nonprofits, the press release stated. He has served on numerous local boards, including Fort Dodge Greater Growth Alliance as chairman, Fort Dodge Chamber of Commerce as treasurer, and as a member of the Webster City Regional Career Agricultural Academy Board, Mid-Iowa Growth Partnership and many more.
He is also very active at the state level and has served on many boards and committees, including the Regional Workforce Development Board, Iowa Workforce Development Department's Expanding Iowa's Workforce Committee, Iowa Workforce Development Future Ready Iowa's Next Steps Committee and Iowa Rural Development Council.
Nationally, Kinney has served on a number of committees and boards. He is a member of the National Junior College Athletic Association Board of Directors and current chairman of the Presidential Advisory Committee for the National Junior College Athletic Association. He has served on the American Association of Community Colleges Commission on Diversity and currently serves on the Commission for Student Success.
The NJCAA honored Kinney with its 2020 George E. Killian Award of Excellence, which recognized his accomplishments in improving athletics at the junior college level, the press release stated. The Iowa Association of Community College Trustees named him Iowa Outstanding Chief Administrator in 2019, which recognized his contributions and leadership of community colleges.
Prior to his appointment as Iowa Central president, he served as vice president of student services for Western Nebraska Community College in Scottsbluff for two years, dean of student affairs and athletic director at Allen County Community College in Iola, Kansas for six years — including two years as director of admissions and marketing — assistant director of admissions and scholarships and interfraternity council advisor at the University of Kansas and admissions counselor at Washburn University.
Kinney served in the Kansas Army National Guard from 1989 until 2006, when he retired. He commanded an engineer company in combat operations in Iraq in 2005 and was awarded the Bronze Star Medal for his service and leadership.
He earned an associate degree at Coffeyville Community College in Coffeyville, Kansas; a bachelor's in management at Pittsburg State University in Pittsburg, Kansas; a master's in higher education administration from University of Kansas in Lawrence; and a Doctorate of Education in Leadership and Higher Education Administration from University of Arkansas in Fayetteville.
Kinney and his wife, Jennifer, live in Fort Dodge and are very active in the community. They have two daughters — Page, a senior at Iowa State University; and Rylee, a freshman at Iowa Western.