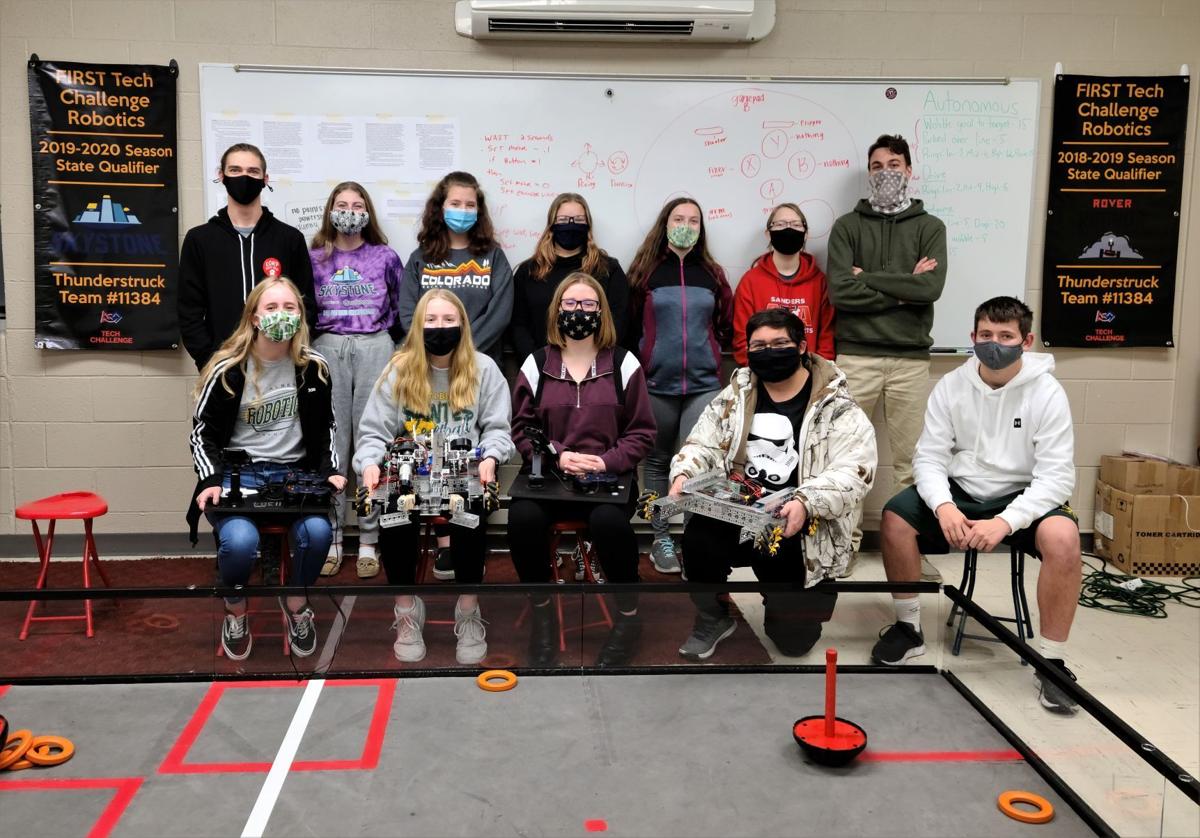 Ladies and gentlemen, start your robots!
St. Albert Catholic School's Thunderstruck robotics team will head to its First Tech Challenge league championship on March 6 — virtually. The championship is normally held at Tri-Center Community Schools.
The team, which has 12 members ranging from freshmen to seniors, has had five such competitions this school year because of the COVID-19 pandemic, according to sponsor Andrea Barnes.
"They're really different, because we're the only ones in the room," she said.
Normally, each team pairs up with another team, and they work together to compete with two other teams who are partnering, Barnes said.
"Since we are doing remote matches, we are only using half the field, and there is only one team playing," she said. "We are just competing with ourselves to try to get better scores each time."
The action happens on a 12-foot-square field with a floor of foam tiles, according to an instructional video about the game. A one-foot-high wall surrounds the field. The robot must shoot rings 5 inches in diameter into a low, middle or high slot, with the corresponding points also going from low to high. The robot must launch the rings from a marked launch zone to score on the middle or high target.
"Everybody has the same goals," Barnes said.
The team can also score points by putting "wobble goals" (upright pegs with a wobbly base) inside a designated square on the playing field and stacking rings on the wobble goals. Shooting a ring and knocking down a power shot lever is worth more points, and the biggest score awaits the robot that can lift up a wobble goal, reach over the wall and set it down outside the playing field.
During the first 30 seconds of the match, the robot carries out tasks it was preprogrammed to do. After that, the team's driver has two minutes to maneuver the robot to score as many goals and bonus points as possible.
The team has to report its scores to contest officials and submit a journal — electronic, in this case — on how they made their robot work, Barnes said. Then they have to face the judges.
"When we do league championships, we always do judge interviews," she said.
Besides designing and building robots, practicing with them and troubleshooting, Thunderstruck team members have reached out to younger robot buffs, Barnes said.
"Some of the kids on the team worked with the elementary robotics team to try and help them with their robots," she said.
After all, members of the elementary team could someday be Thunderstruck members.