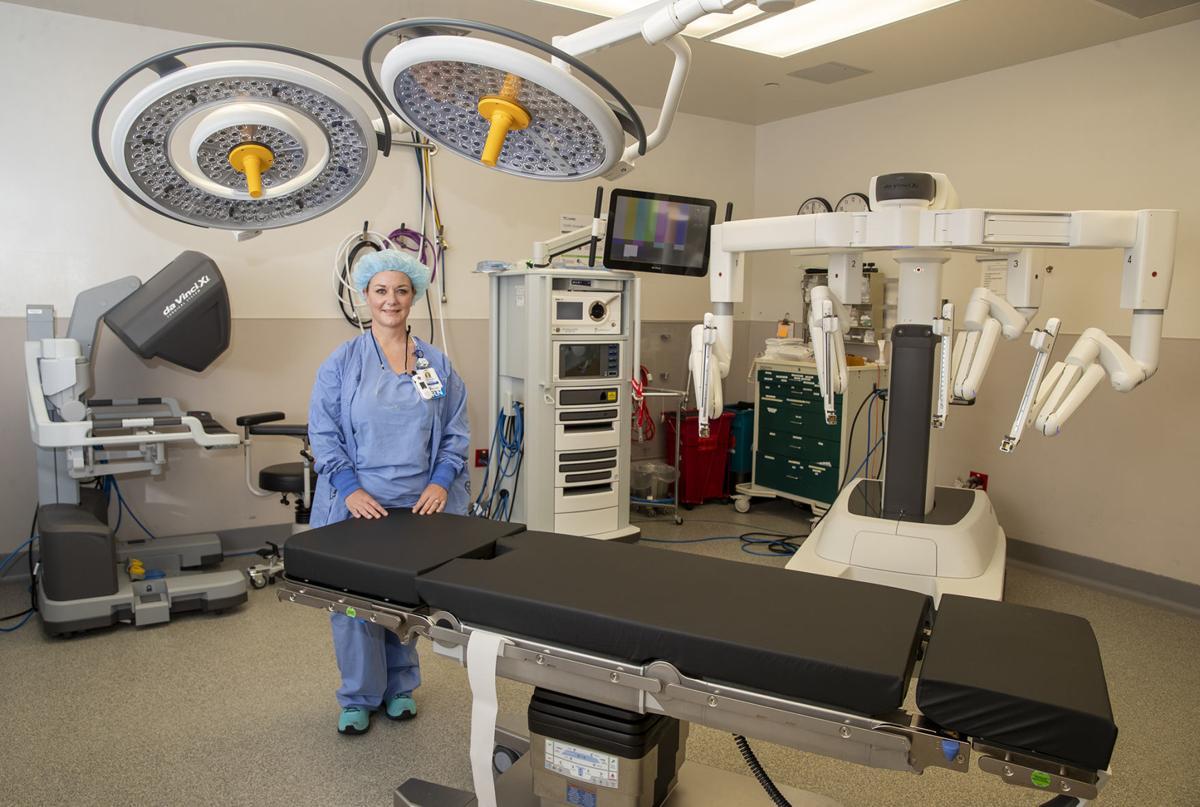 *Editor's note: This article was originally published Tuesday in the Nonpareil's annual Faces section, a 6-day series that concludes Saturday. The section can be found in Tuesday's e-edition.
Jennifer Durham has spent 12 years as a surgery nurse at Methodist Jennie Edmundson Hospital, where robot technology has recently helped enhance the work of surgeons.
In March of 2019, the hospital started using the DaVinci XI surgical robot, with surgeons operating robotic arms on procedures.
"It is really amazing," Durham said. "So precise."
Durham has been at Jennie Edmundson a total of 13 years.
The Council Bluffs native graduated from Abraham Lincoln High School in 1996. She started her career in health care as a licensed practical nurse at Bethany Lutheran Home in Council Bluffs, working at the facility from 2005 to 2007 while taking classes in the nursing program at Iowa Western Community College.
Soon after she received her registered nurse's degree in 2007 she started at Jennie Ed, first in the floating nurse pool before moving to surgery, where she started as a circulating nurse — a role that includes taking care of patients in the operating room during surgery.
That work includes preparing the room for surgery.
"When I bring the patient in, I assist with their induction into anesthesia. I position the patient, I prep the patient. I make sure that all the supplies we need for the surgery are in that room," she said. "When the doctor is working and he or she is in the sterile field, I can run and get any item they need. And on occasion I do scrub in on procedures and assist the surgeons as well."
Durham earned her bachelor's degree in 2014 from Nebraska Methodist College and would later get her master's from the school in 2019. In 2018, Durham took on duties as a clinical nurse educator and now splits her time between that role and circulating nurse.
As an educator, Durham assists in the integration of research into Jennie Ed operations.
"I educate and guide staff in the use of evidence-based practices," she said. "I don't necessarily do the research myself, but I go through research, collaborate with other educators and integrate the best research practices into our area."
A recent example was the implementation of a "hand-off" communication tool, that allows nurses and other staff to make for an easy transition for patients through the surgery process, from pre-operation to operation to recovery.
"It helped standardize the communication and the flow of that patient from area to area," she said.
Durham said introducing the robot into surgery was a change, but a welcome change, brought about in part by the interest of a few surgeons who wanted the tool.
"We were really excited about getting the robot. It was something new. We appreciated the technology it brought to our facility," she said.
With the robot Jennie Edmundson doctors perform general, gynecological and urology surgeries.
"We have just steadily been increasing the number of robot surgeries month by month. It's becoming more popular and integrated into the surgery program," Durham said.
Benefits of the robot include less blood loss and a shorter recovery period, Durham said, which in turn means fewer narcotics are needed to manage pain during recovery.
The hospital is slowly restarting some surgeries amid the COVID-19 pandemic.
"I find myself more in the educator role and less in circulator role," Durham said.
The hospital, in working in collaboration with other educators, "spent a lot of time preparing and training staff for procedures in dealing with coronavirus," she said, including on the use of personal protective equipment, along with creating standards and protocols in the operating room.
"We've been going to floor to floor and every department and covering those topics," Durham said.
Durham said she is happy in her job at Jennie Ed.
"Especially now that I've been introduced to this educator role, I enjoy doing research and learning about new ways and upcoming ways of doing things," she said. "I enjoy having conversations with our staff on how to improve our practices, and getting feedback from them. It's important to me that the staff is comfortable and have the knowledge to do their jobs well. I'm enjoying that aspect, being able to participate in that part of nursing."
Outside work, Durham has been married for 21 years and has two sons, the oldest of which recently graduated from Missouri Western State University. The couple's 12-year-old son is getting ready for eighth grade.
"We spend a lot of time together. We do like to travel," she said, noting COVID-19 has put a damper on that. "We go to Florida every other year, this has really put a cramp in our habits. We are huge Universal Studios fans — our favorite place on earth."