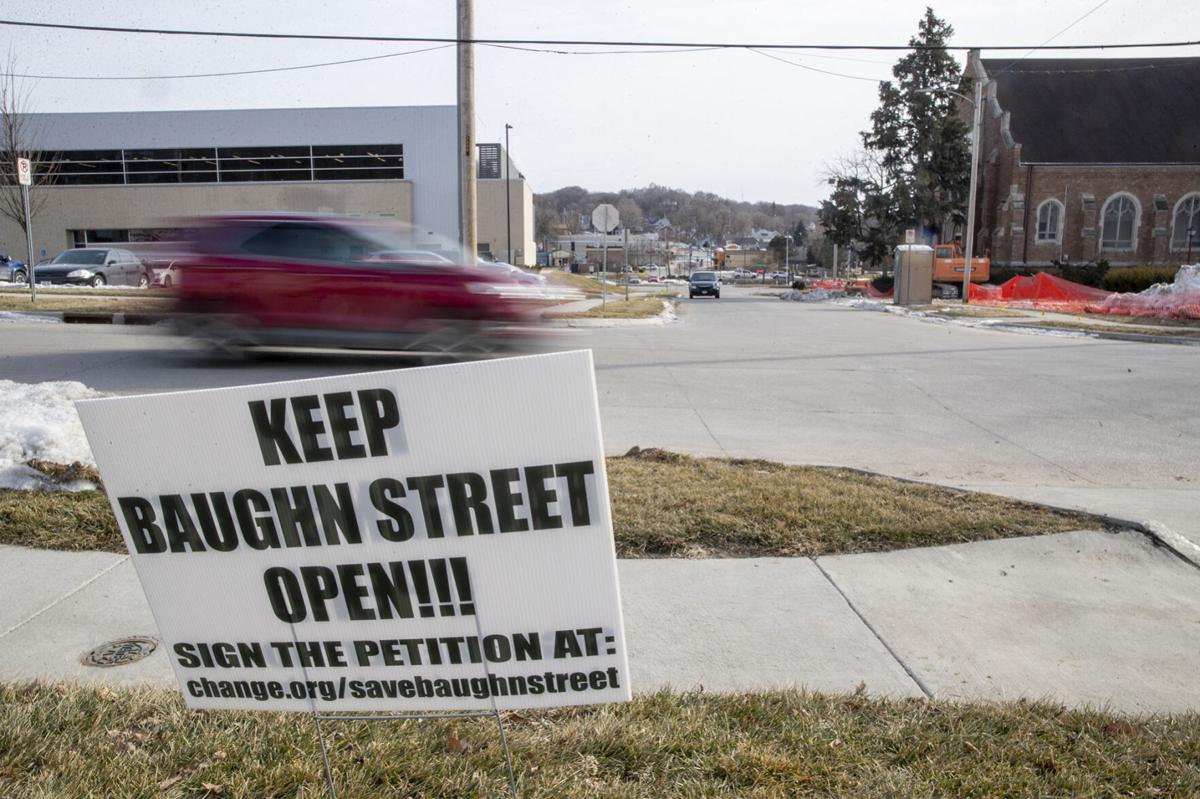 Citizens voiced concerns about traffic, access to Kanesville Boulevard, parking and the loss of the old St. Patrick's Catholic Church building during the public comments portion of the Council Bluffs City Council meeting Monday on the city's planned closure of Baughn Street, which is just west of the Charles E. Lakin YMCA.
Mayor Matt Walsh said at the beginning and end of the hearing that, since the citizens group had hired a lawyer, he and council members had been advised not to comment.
Tom Bouska, who lives on Harmony Street, which runs along the north side of the YMCA, argued that the decision to close the street violated Iowa law. He said Iowa law states a city can only vacate a street "when it is deemed to be of no benefit to the public."
The same argument was contained in a letter mailed to city leaders by attorney Terry Gibson of Des Moines-based Wandro & Associates, who is representing a group of citizens called the Committee to Keep Baughn Street Open.
"Obviously, Baughn Street has benefit to the public as a place for vehicle and pedestrian traffic used daily by many," Bouska said. "Obviously, the city planning commission thought it had benefit, as did this city council in its initial decision. How was that decision by two government bodies later reversed?"
Bouska also expressed concerns about traffic the closure of Baughn would bring to Harmony Street.
"As a result, Harmony Street will become the only access to the Y parking lot, which will certainly increase traffic on Harmony Street," he said. "I hope not, but I fear there will be more traffic mishaps or perhaps pedestrian injuries on Harmony Street as a result — and if that occurs, we will know at whose doorstep responsibility for that would lie."
The proposal was initially made in a request by YMCA of Greater Omaha for an ordinance and two resolutions that would rezone the land it owns that included the site of the old St. Patrick's Church and vacate Baughn Street so the YMCA could install additional parking and a small park. That application was unanimously denied by the City Council after a public hearing during its meeting on Dec. 14, 2020. Councilwoman Melissa Head abstained from voting as she is a member of the Council Bluffs YMCA's advisory board.
A video was played Monday of part of that meeting.
"They (Y officials) are investing a significant amount of money in the community and are already doing a lot," he said.
Chris Tointon, president and CEO of YMCA of Greater Omaha, said the Y was interested in collaborating and would try to come up with a new plan by Jan. 25.
"We want to do whatever is best for the community," he said.
In December, council members had expressed reservations about vacating Baughn Street without recouping the money spent to improve the road.
Sandau pointed out that the Y's original plan did not include (closing) Baughn Street. Councilman Chad Hannan said he would prefer to leave Baughn out of it. 
"So it's not to say you couldn't do the project without Baughn," Sandau said.
At the City Council's Jan. 11 meeting, during the "other business" portion of the agenda, Councilman Roger Sandau motioned to reconsider the street ordinance and resolutions that were previously denied in December.
At its Jan. 25 meeting, the council approved both the street ordinance and the resolutions on a 3-1 vote, with Councilman Mike Wolf voting against.
Between the Dec. 14 and Jan. 11 meetings, some council members met with officials from YMCA of Greater Omaha, and Y officials agreed to reimburse the city $141,000 for the cost of improvements made to Baughn Street in anticipation of the new YMCA's opening. 
"We utilize Robert's Rules of Procedures, which provide for motions to reconsider and then we have our council rules that provide that motion to reconsider must be made no later than the next regular business meeting and must be made by someone on the prevailing side of the original vote, which was done," City Attorney Dick Wade told the Nonpareil in March.
Wade explained this potential procedural move during the Dec. 14 council meeting when council members asked about revisiting the issue.
"I understand the neighborhood was concerned about losing that access to Harmony Street," Wade said. "But there are actually three streets from fairly close proximity to Baughn Street that provide access to Kanesville and beyond, and two of those are controlled intersections — Harrison and Frank — and the one we eliminated was a non controlled intersection."
Nancy Stahl, who also lives on Harmony, raised concerns about parking during Monday's hearing.
"We do not want Baughn Street closed," she said. "They will make our street parking on one side, and we have a parking problem already, with cars parking all the way down the street from the apartments in the next block. We will have nowhere to park."
Stull said she was also concerned about children trying to cross Kanesville to get to the park the Y has proposed putting on the Kanesville side of its property west of Baughn.
"With the YMCA having kids go there walking and not looking — more traffic, more kids hurt," she said. "Why can't they put the parking on the Kanesville side and put the park on the place where there is homes?
"They got the hospital (parking lot) now, but they won't use it," Stull added.
Steve Gorman, who lives on Fifth Avenue, said he was against closing Baughn. He said to fix it up and then close it would be "an insult to the neighborhood."