The Council Bluffs City Council election will be held on Tuesday, with polls open from 7 a.m. to 8 p.m. Four candidates — health care professional Lindsey Danielsen, retired firefighter and electrician Steve Gorman, real estate agent Joe Don Hunter and Boys & Girls Club Director Chris Peterson — are vying for two spots on the council.
The Nonpareil asked each candidate a series of questions, with a maximum 350 words for each answer. Below, hear from candidates as they discuss a variety of topics and issues facing Council Bluffs. The candidates are listed in alphabetical order.
What can the city do to help local businesses succeed in Council Bluffs?
I've worked in both the public and private sector so I know how hard it is for a business to find capital, hire employees and grow as their businesses and our community continues to grow. As a City Councilor, I will work with the Chamber of Commerce, Iowa Western, Iowa Workforce Development and any other agency or organization to do the necessary outreach to small businesses to determine what roadblocks are preventing economic growth in our community.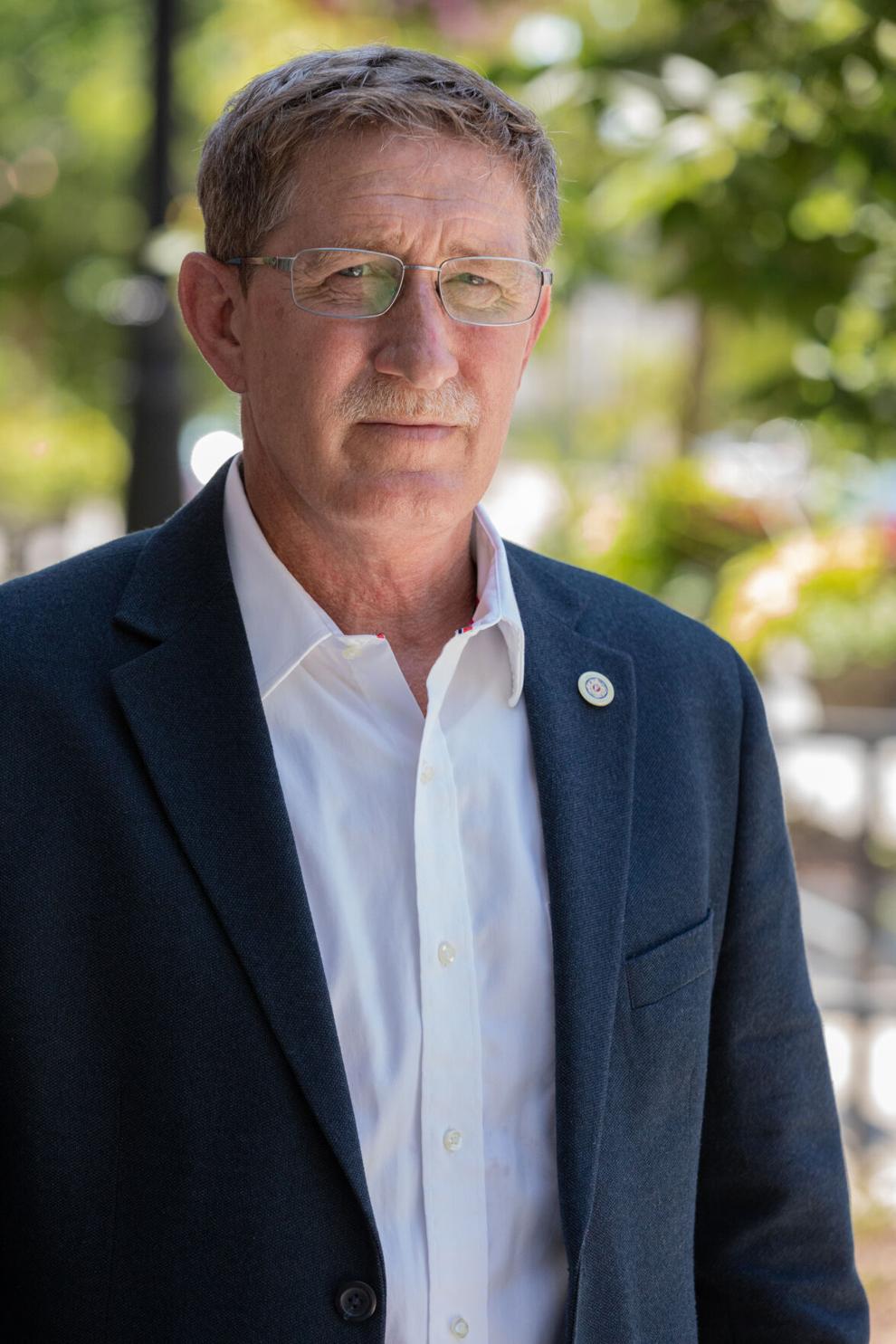 Take a look at our long-term small businesses, those that have thrived in our community for years. They're doing something right and I will be a bridge of knowledge between the small businesses that have the system figured out and the new businesses that are still struggling to make ends meet. We all know that our community thrives when our small businesses do better. I'm an advocate for investing in our small businesses — both financially in hard times and in institutional knowledge that can help them increase profits, grow sales and hire more workers.
The store and restaurant owners I talk to are clear about why they chose Council Bluffs to start their small business ... potential for growth. From West Broadway to the historic 100 Block, our community continues to expand and new businesses are popping up everywhere. It's going to take all of us working together to move Main Street forward. I already have such strong connections to the community and to elected leaders (of both parties) at all levels of government. I'll work with that network to access the resources that are already available to our community for economic development.
What can the city do to bring affordable housing to Council Bluffs? What are the barriers to this effort?
Affordable housing is the crux preventing middle-class families from thriving in our community. If we want to attract young families, more small business owners and a workforce that can propel our city's economy forward, we must invest in affordable housing. Did you know that approximately 40% of the population in Council Bluffs rents their home? Many of these are working-class families who work two to three jobs to pay for rent and groceries.
Once all the bills are paid, they can't afford to set aside money for a down payment on a home. Many could be classified as working-poor and are on the brink of homelessness. One unexpected medical expense and they won't have the ability to pay their rent. While eviction moratoriums have helped numerous families to navigate the COVID-19 pandemic, rent is still too high to establish savings or set aside funds for a home.
Honestly, we're crippling growth in our community by not investing in affordable housing or ensuring that renters build the financial footing to allow them to purchase a home of their own. Our city has a $150 million budget with little excess for investing in affordable housing programs. However, funding does exist at both the state and federal levels. I'll work to ensure Council Bluffs receives those funds to help first-time homeowners access the capital they need for a down payment on a home. I'll also make sure the city continues to partner with organizations including the 712 Initiative to build affordable housing that working-class Iowans can take ownership of.
Aside from sporadic empty lots dotting the city, most of the land with the opportunity to develop is in a 100-year flood plain, a factor that turns investors away. However, there are solutions for developing these areas and mitigating the risk of flooding to ensure affordable housing projects are shovel-ready. As a city councilman, I will work with the city, county, local banks and organizations like the Iowa West Foundation, FEMA and the US Department of Housing and Urban Development to make sure housing projects aren't just planned but built.
What can the city do to address the homelessness issue in Council Bluffs?
If there is one thing I have seen after serving as a firefighter on the frontlines of our community for 30 years, it's the impact of homelessness. Consider our city's current situation. We need more good-paying jobs with rising incomes, more public transportation, more public funding for affordable housing and so many more resources for those who are struggling with a mental illness. This isn't just a Council Bluffs problem either. In fact, all across the state communities are dealing with the same struggle that we are. All the while, your taxes keep going up while services go down and the cost to live in Iowa continues to climb.
Having dealt with this topic nearly every day during my tenure as a Council Bluffs firefighter, I know that every homeless person has his, her or their own story. We can't solve this challenge with a one-size-fits-all approach. For some, mental health is a factor, while for others, they've been forced out of their home because rent is just too high. Still, for all who find themselves in this situation, homelessness is trauma.
As a city councilor, I will remain actively engaged in the community and will listen to the individual to find solutions to homelessness. I already have relationships with many of the homeless in our community from my time on the fire department. Additionally, I have extensive relationships with the public safety community and with support organizations that I will leverage to ensure the appropriate resources are deployed to lift the indigent in our community out of homelessness.
This problem is very personal for me and I'm committed to addressing it. One of the first elements of this challenge I hope to tackle is the creation of more spaces to help with mental health and addiction. These are leading issues to a number of our homeless individuals and, for many, have been escalated by the pandemic. By investing in mental health programs, we can lessen the impact of homelessness and help all of those in our community who are struggling with mental health to live better lives.
The city is surveying citizens on the use of federal COVID-19 recovery funds. What should the city focus on in spending those funds?
For the last 30 years, my first priority has always been the safety of our community. While there will be a number of restrictions for how our community can spend COVID relief funds, I believe it is important for the City Council to listen to the people who know best what they need ... the citizens of Council Bluffs. In addition to answers from the community via the Council's survey, I will reach out to city employees, our public safety professionals and educators within our schools to better understand their needs and the needs of our city's most vulnerable citizens.
The COVID-19 relief funds we're talking about were allocated months ago and have just been sitting there waiting to be spent. As I've talked to families across town, it's become clear to me that our community cannot wait for that relief ... we need it now. Therefore, I'll work with the Council to quickly identify how best to spend these funds to support our community as we transition into the next phase of recovery from the COVID-19 pandemic.
Although I will listen to everyone's input and follow their suggestions as best as possible (given restrictions for how we can spend these funds), I do hope some of that money can be directed to overcome food insecurity, provide families with rent relief and invest in mental health programs across town. We've all seen the impact COVID-19 has had on our community. Suicide rates are up, alcohol abuse is at an all-time high and few of us have been living a "normal life" surrounded by our friends and family for over a year now. We're all dealing with PTSD from COVID, so funding for counseling will also be necessary.
How will you benefit the City Council if elected?
Our citizens live better lives when city leaders understand all aspects of our community. Well, I'm a fourth generation Council Bluffs resident. I've spent my life serving the people of this community and my wife Chris has taught multiple generations of students in our city's schools. As a firefighter, I always answered the call of service. I've been in homes in every neighborhood, often during someone's most traumatic moments. I've held newborns in my arms, comforted parents who lost a child in a car accident, supported families struggling with addiction and doused the flames of fires that burned families' most precious possessions. In all of these experiences, I've seen our community from a perspective no other candidate has.
Some candidates in this race may have more experience sitting on boards but no one has spent as much time as I have on the frontlines of our city. I bring experience as a public safety professional with knowledge of city government (having been a city employee for 30 years). I intend to make this a full-time job and want to go out and work in and with the community to be a councilman that is engaged with the people. I'll serve as a bridge between the City Council and our small businesses, working families and city employees.
After spending three decades on the back of a firetruck, I've learned to be a problem solver who can work with everyone. It's not about politics to me ... it's about the community. I know the people of Council Bluffs better than anyone and that's an advantage I bring to this race that shouldn't be overlooked.
My friends suggested after I retired that I move elsewhere in Iowa. I can't. I've devoted my life to serving this community because I love it. Council Bluffs is my home and I'll work every day to make our community safer, stronger and more prosperous.
Vote Steve Gorman for City Council on Nov. 2. When elected, I'll continue the Gorman tradition of endless service and dedication to the people and city of Council Bluffs.