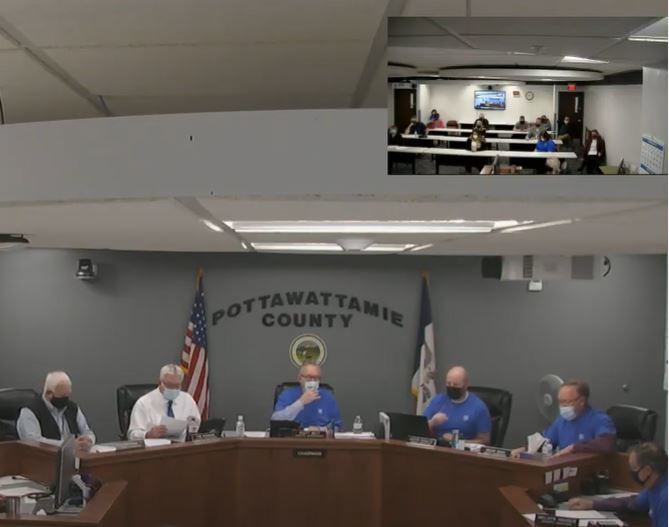 The Pottawattamie County Board of Supervisors voted unanimously to approve the county's Fiscal Year 2022 budget at its meeting Tuesday morning.
The overall property tax levy for county residents who live in a town or city with its own levy is $7.88147 per $1,000 of valuation. That levy includes the county's general basic and supplemental levy, along with the county's debt service and mental health levies.
The county reduced the general basic levy by 5 cents and the general supplemental levy by 10.41 cents.
The county's rural services levy is $3.36948, which means for rural residents the total levy is $11.25095.
A non-rural resident in a home valued at $100,000, with the state rollback program taxing 55% of assessed value, would pay roughly $434 in taxes. A rural resident would pay roughly $619.
The budget features revenues of $89,456,547 and expenditures of $86,098,729.
"We have monies out there we haven't received, we have other monies out there we're going to receive, " and have to figure out how we can use, Board Chairman Scott Belt said during the meeting.
The latest COVID-19 relief package will bring $18,076,730 to Pottawattamie County. Supervisor Justin Schultz told the Nonpareil said the county prepared its budget without planning for the federal money, not knowing when or if the funds would come early in the planning process.
Local municipalities still await further guidance on how they can use the funds, but Supervisor Justin Schultz told the Nonpareil he expects it will cover costs incurred because of the pandemic, including county vaccination clinics. The county would also like to put it toward capital improvement projects.
"For this year, it's a good budget. We're on a path to continue to reduce the levy and (also) on a path for growth and expansion in the county as well," Belt said.
During the meeting, Schultz and his fellow supervisors credited Becky Lenihan with the Pottawattamie County Auditor's Office for her work in putting the budget together.
"Relieved. I'm glad they approved it, and I appreciate their help with it," Lenihan told the Nonpareil.
"It was a group effort," she said, crediting former county Finance Director Becky Belt for her help.