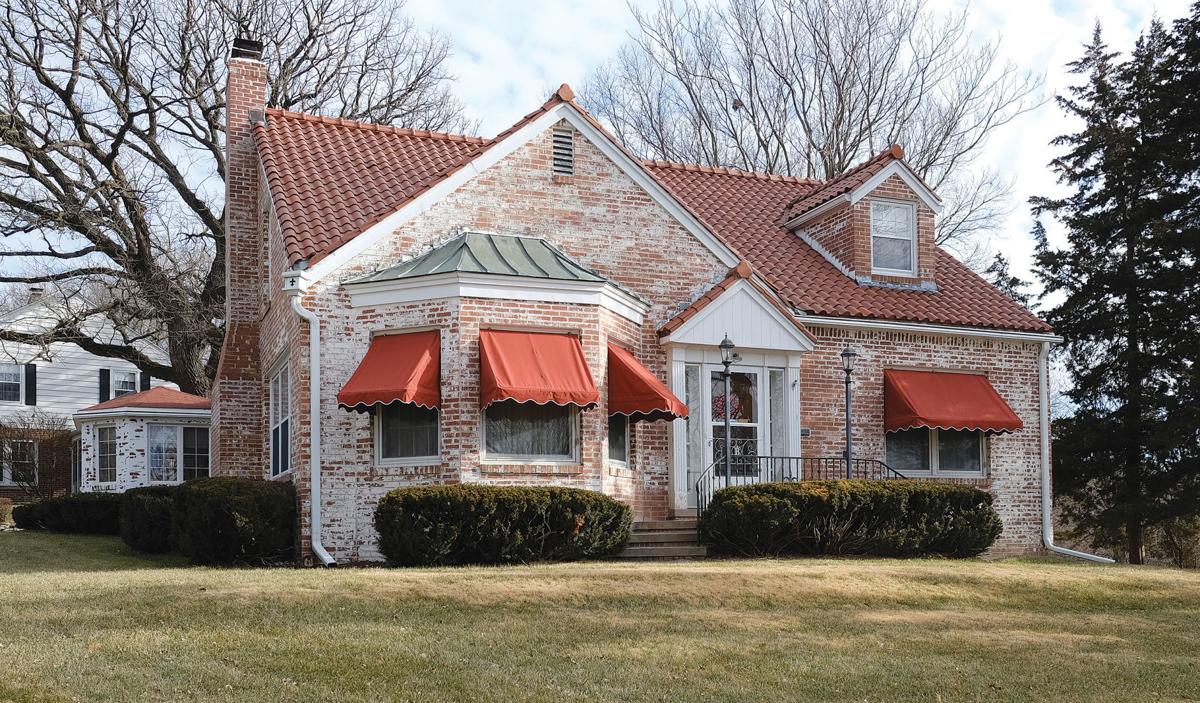 Serendipity is defined as "the occurrence and development of events by chance in a happy or beneficial way." So let's welcome the New Year with a bit of serendipity:
Joe and Lucy Beraldi, owners of this property since 1968, have called it their family home for 52 years. For several years prior, it had been the house of Lucy's dreams and one that Joe remembered from his years of working as a 15- or 16-year-old at Oard-Ross Drug around the time the house was built in 1941.
He delivered ice cream to the neighborhood. In the summertime. On a bicycle. Joe later purchased the store and is the current owner.
On June 25, 1949, the Daily Nonpareil wrote about Julius Rosenfeld, who originally built the home, on the occasion of his 70th birthday:
"Cities and institutions do not grow of themselves. Their progress and prosperity depend only in part on their location and natural resources.
"People are responsible for the growth and development of communities and businesses — people like Julius Rosenfeld. We need more like him in Council Bluffs."
Julius Rosenfeld was born in Omaha in 1879 and came to Council Bluffs with his family in 1892. He graduated from the Council Bluffs High School in 1897 and went to work for L. Rosenfeld & Co., the family's bottling and wholesale liquor business located at 518-521 S. Main St.
He managed the Red Oak office while Julius Ungar managed the company's saloon at 519 S. Main (1900 city directory). "I got out" Rosenfeld said in a 1954 interview "because I wanted to build homes, not tear them down."
In 1906, Julius Rosenfeld and Julius Ungar established the Continental Furniture Co. with Ungar as president and Rosenfeld as secretary-treasurer. Six years later, in 1912, they moved from the small store at 214-16 W. Broadway to a completely remodeled three–story (plus basement) building located at 29-35 Pearl St. and 28-34 Main St.
The show rooms ran through from Main to Pearl and were served by two passenger elevators and one freight elevator. The Nonpareil called it "the largest store of its kind in the state," where everything needed for a home could be found under one roof, and "the finest thing of its kind west of Chicago."
The year 1914 proved to be a busy one for the growing business. The Keller-Farnsworth Furniture Co., where Rosenfeld was also secretary-treasurer, went bankrupt. Thomas Farnsworth sold his house at 295 S. Eighth St. to Samuel Keller (his father-in-law).
In March, Julius Rosenfeld and Grace New were married in Chicago, where Grace had moved from Council Bluffs with her parents, Isaac and Rachel New, when she was a child. After an eight-week trip to New York, Cuba and points in the south and west, the couple moved into the former Farnsworth home at 295 S. Eighth St., the subject of my "History We Live In" column on Sunday, Nov. 3, 2019.
In 1915, Keller retired from management of the Keller-Farnsworth Furniture Co. He sold the house on S. Eighth St. to Grace and Julius Rosenfeld. In 1919, Keller sold his lots to the Continental Furniture Co. In 1925, the company consolidated with Keller Furniture Co. and took the name, Continental Keller Co.
Grace and Julius Rosenfeld had three children — Hillary, Jack and Carolyn. They led an active social life and were involved in parent-teacher activities in the schools. Grace was a member of the American Legion Auxiliary and a former head of the Girl Scouts in Council Bluffs. She was active in both wars doing surgical dressings.
Rosenfeld owned and operated a stock farm three miles east of Council Bluffs. He named it Rose Acres and raised only thoroughbred livestock.
Always active in civic affairs, he was elected president of the Chamber of Commerce in 1922 and of the Retail Merchants in 1926, was vice-president of the Council Bluffs Savings Bank, a member of the Elks, Rotary Club, Bluff City Lodge 71, B'nai B'rith, and Temple Israel of Omaha.
He worked tirelessly for the betterment of the city, was a director of the newly incorporated Community Theater in 1932, and served on the executive committee of the Boy Scouts for several years.
The two men were also involved in real estate: The Continental Realty Co. — Rosenfeld president and Ungar secretary; Main Street Realty — Ungar president and Rosenfeld secretary.
In 1932, Rosenfeld became head of the National Retail Furniture Association which consisted of 5,000 stores. He held this position through the worst years of the depression and was instrumental in stabilizing the industry.
He was founder and executive secretary of the United Furniture Stores, an organization of 122 furniture dealers in different sections of the country — individually owned but made their purchases collectively, according to the Nonpareil tribute on his 70th birthday.
In 1956, Rosenfeld and Ungar, planning to retire, sold the Continental Keller Co. to a group of Omaha investors (Nebraska Furniture Mart). The store kept its name and both men continued to live in Council Bluffs and stayed active.
In 1958, Rosenfeld was one of seven men appointed to a levee committee by Mayor Jim Mulqueen to work with the U.S. Army Corps of Engineers in a campaign to make Council Bluffs a flood-free city.
When local retailers formed the Local Retail Trade Authority, he was elected chairman.
On his 75th birthday, Rosenfeld's advice was to "keep happy." "Don't get up with a grouch, and recognize everyone as your friend". His two hobbies were "puttering" in his garden and working crossword puzzles — the gardening to keep his body active and the crosswords to "train the brain."
On Aug. 25, 1941, a Nonpareil story described "Rose Hill," then just being completed for Julius Rosenfeld, designed in "the old Regency style" and decorated by Mrs. Rosenfeld.
McAlester's "A Field Guide to American Houses" identifies the Regency style as utilizing elements of earlier popular styles. The house, with a Spanish tile roof, is placed on top of a knoll facing a view of the Missouri River valley. The description continues:
"With four rooms and bath on the main floor, two bedrooms in the half upper story and with full basement, this home was built after years of planning by the Rosenfelds ...
"Large closets have been built off both main floor bed rooms and nooks for every conceivable article can be found throughout the house … The kitchen is the essence of convenience. St. Charles metal basins and cabinets are used throughout. All electrical equipment is used, including electric dish washer, sink garbage disposal, electric range and refrigerator — even the electric coffee grinder…
"The upper half story — spacious but nevertheless not a full sized second floor — has one finished bed room, living room and bath and one spare bed room and store room …
"A 5-ton air conditioner has been installed in the basement, using 150 gallons of water per hour in operation … it is then run through the sprinkler system … A large gas furnace with blower system, water softener and tin can container from the kitchen chute completes the basement equipment."
Grace Rosenfeld died on July 21, 1956. Julius died on July 24, 1964. Both are buried in Oak Hill Cemetery. In 1964, the property was sold to Einer Juel, a banker and former mayor, who added a two-car garage. In 1968, Juel sold it to Joe and Lucy Beraldi, who replaced the metal sun room with a larger room, retaining the twelve windows in the design of the new room.
Readers and viewers of HGTV will marvel at the construction elements taken for granted today but introduced in homes built three quarters of a century ago and understand why the Rosenfeld's new home was featured in a Nonpareil column, "The House of Tomorrow."
Be the first to know
Get local news delivered to your inbox!