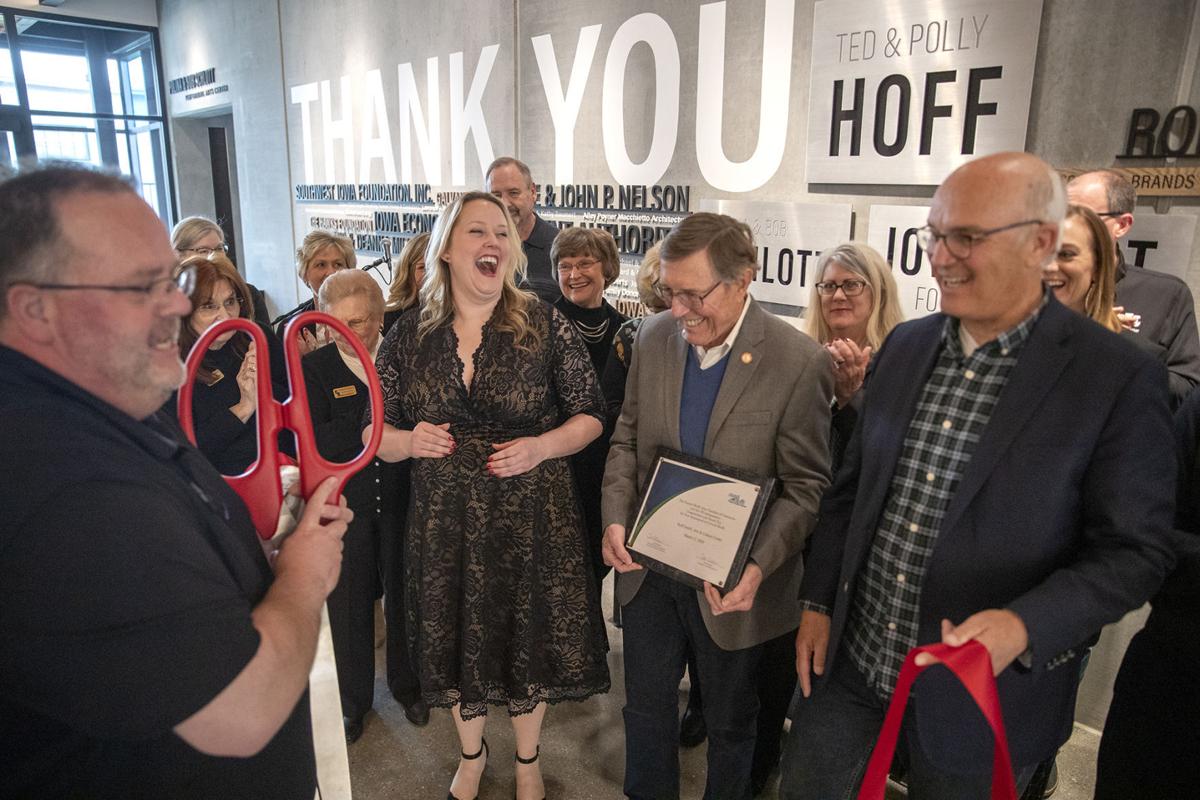 The Hoff Family Arts & Culture Center was honored with a Preservation at its Best Award for the restoration of the Harvester II Building.
The award for Best Community Effort was presented during a virtual ceremony at the Preserve Iowa Summit.
Eleven projects in seven communities were honored with Iowa's highest awards for historic preservation during the summit. The annual conference is presented by the State Historic Preservation Office, which is part of the Iowa Department of Cultural Affairs.
In addition, the nonprofit group Preservation Iowa presented its Preservation at its Best Awards in five categories during the same ceremony. These annual awards honor properties and educational efforts that meet the highest standards of preservation practices.
"Iowans across the state can take pride in this year's winning projects," said Bruce Perry, president of Preservation Iowa's board of directors. "All are fine examples of historic preservation that serve as models for future preservation work in Iowa and beyond."
Pottawattamie Arts, Culture and Entertainment spearheaded the transformation of the historic warehouse into a 95,000-square-foot arts center. Ground was broken on June 1, 2018, and a ribbon cutting was held at the center on March 13, 2020. The facility features a theater, culinary arts kitchen, teaching kitchen, exhibit gallery, dance studios, art studios, classrooms and more.
"It was a large project driven in no small part by the Iowa West Foundation," Council Bluffs Mayor Matt Walsh said. "But there were many other funders — foundations, individuals, the county and the city."
The project also received some Iowa tax credits, he said.
The community can be proud of the award, Walsh said.
"It was an award for the work of many citizens of Council Bluffs," he said. "I honestly don't feel it's something I can take credit for. Aside from attending some meetings and making a small donation, I didn't do anything. The city did donate and continues to donate."
A lot of people were involved in forming PACE and developing a concept for the facility, said Dr. Ted Hoff, retired ophthalmologist who, with his wife, donated $2 million to establish an endowment for its operation and served on the PACE board of directors during its first couple years.
"I think by doing an arts center, they have packed a lot of resources in one location," he said. "I think they have eliminated a lot of duplication. A lot of organizations were vying for the same grants for the same thing."
Years of studies, focus groups and planning went into the development of the center. Participants included representatives from the former Bluffs Arts Council, Chanticleer Community Theater and other arts groups, many of whom became members of PACE's board of directors when it was officially established in July 2016.
Funding for the $27 million facility came from the Iowa West Foundation, which donated $9 million over a period of years; Ted and Polly Hoff, $2 million, which was used to establish an endowment to help pay for operating costs; Bob and Polina Schlott, $1 million; an Enhance Iowa grant for $1 million; the Daugherty, Peter Kiewit, Mutual of Omaha and Southwest Iowa Foundations, a combined $2.3 million; John and Anne Nelson, who gave $500,000l; Dick and the late Deanne Miller, who also chipped in $500,000; Sherryl Bills-Taylor and the Galvani family, $250,000; ConAgra, $150,000; Elizabeth Collins, $125,000 and additional funding from historical state tax credits and other businesses and individuals.