Pusey Elementary School at 147 15th Ave. was part of a boom in school construction by Council Bluffs Community School District during the 1950s.
The boom started in 1954, when the original Washington School, which dated from 1866, was replaced by the current building at 207 Scott St.
Pusey, named after Harvard educator and Council Bluffs native Nathan M. Pusey, was one of five schools under construction or completed in 1957, along with DeForest Elementary School at South 29th Street and Ninth Avenue, Lewis & Clark Elementary at 1603 Grand Ave., Myers Elementary at North 37th Street and Avenue G and Peterson Elementary at South Ninth Street and 26th Avenue.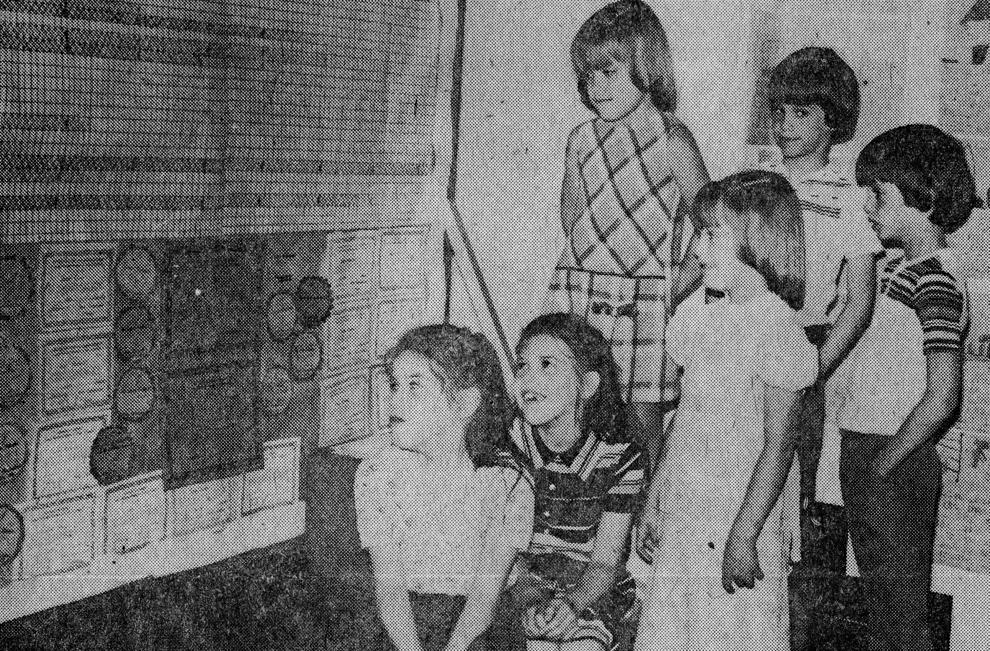 Pusey was built at a cost of $111,336, according to an old Nonpareil article. It opened on Feb. 27, 1958, and students who had been going to Dodge School temporarily began attending Pusey on March 3. It capped a nine-project expansion of grade school space financed by a $1.3 million bond issue approved by voters in 1956, another Nonpareil excerpt stated. Additions were built on to Pusey in 1975 and 1981.
In late spring of 1978, the Nonpareil published an article about Doris Samuelson's first-grade class having three sets of identical twins — Martha and Mary Fitch, Jaci and Jani Yeafoli and Douglas and Dennis Koester. Samuelson was able to tell each pair of twins apart, partly by remembering where each had freckles and partly by their personalities. It helped that they did not wear matching outfits, she was quoted as saying.
In 2002, the school became Carter Lake Principal Doreen Knuth's first gig as an administrator after 22 years of teaching.
"It was just a very close-knit school community," she said. "We all knew each other very intimately, because it was a small school. The families were very involved in their school. They came one weekend to install new playground equipment, they always had an annual carnival and they always had a float for the Pride Parade."
Among Knuth's many memories from her three years at Pusey was the time the fire alarm went off during a snowstorm.
"There was a steep driveway that led up to the school," she said. "We had to evacuate the kids, and the kids were just sliding down the hill. A neighbor called the superintendent (Dick Christie) and asked why is this principal holding a fire drill in the middle of a snowstorm. I had to assure the superintendent that it was not a planned fire drill."
Knuth was able to focus entirely on Pusey for two years, then split her time between Pusey and Gunn Elementary School for one year.
"It was a good place to start my career (as an administrator), that's for sure," she said.
Plans to close Pusey were announced in 2008 as part of the district's Master Facilities Plan, which also included closing Washington and Gunn Elementary Schools. It was closed in 2010 because of declining enrollment, its small size, a need for updating and lack of handicap access. At that time, there were 89 grade-schoolers and 12 preschoolers attending. Then-Superintendent Martha Bruckner said it didn't make financial sense to keep it open.
At its closure, T-shirts were made stating "Farewell Tour, Nathan M. Pusey Elementary" and decorated with two Pusey Pandas. There were some emotions and some tears as teachers and staff said farewell to the building.
"That's the great thing about Pusey," then-Principal Melissa Chalupnik said as it closed. "It's a family building with a small, intimate atmosphere. You get pretty close."
The students — and those who would have attended the school in later years — were redirected to Longfellow Elementary. Teachers were transferred to Longfellow, Walnut Grove, Edison and other district schools. Chalupnik was principal for the last three years Pusey was open. Chalupnik next became Crescent principal/district literacy coach and is currently director of professional learning for the district.
Heartland Family Service signed a three-year lease to operate its therapeutic school there beginning July 1, 2010 and ended up keeping it there until 2014. In 2014, the agency moved the school to the former DeForest Elementary School on Ninth Avenue. Triple Play Sports began renting the Pusey building from the school district in January 2015 and will now buy the building from the district.