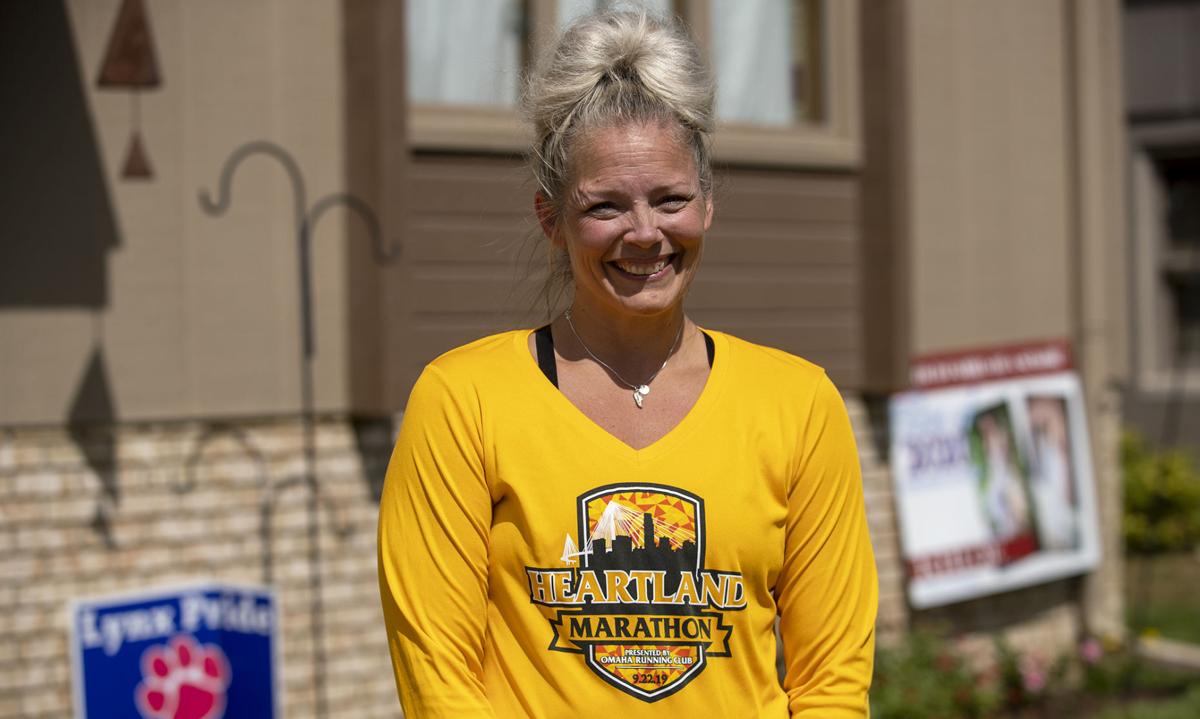 Before most folks have woke up this morning, Mindy Herzog has already gotten her run in for the day.
Herzog is a native of Nebraska City, Nebraska, where she lived until seven years ago, when she moved to Council Bluffs to live with her fiancée, Jeremy Lewis, and their five kids.
Her son, Lanny, 20, is an Abraham Lincoln High School graduate who is currently studying at Simpson College in Indianola. Her next-oldest child, Khloe, is 18 and just graduated from A.L. and is currently enrolled at Iowa Western Community College. Lillian, 16, is a Lynx junior and her son, Parker, is a freshman.
Her youngest, Deegan Lewis, almost 6, attends Hoover Elementary School. Herzog is a local fitness champ, but it wasn't always that way. After many years of being couch-locked, she said she needed inspiration to get back into shape. Fours years ago, a good friend convinced her to sign up for classes at Renegade Bootcamp and Boxing in Council Bluffs to be coached by John Urzendowski.
Between Renegade classes and starting a full-time running schedule, she's lost 108 pounds. For the past two years, running has become of passion of Herzog's.
She runs six days a week, with Monday being her rest day. She said she runs anywhere from 35 to 40 miles a week, oftentimes getting a nice run in before changing shoes and hitting a class at Renegade. She often gets her runs going in the early morning before most people have even woken up. This morning, Herzog planned to put in four miles of hill running at 3 a.m.
"I love it," she said. "At first I hated it, but after getting into a routine it's become a passion of mine."
I just feel like I have to do it. I miss it on my off days. My goal this year is 1,200 miles and I'm already at 928."
A recent thing that has kept her passion flowing was joining a local Facebook running group, #5kFriday — Fitness at a Distance, which was founded by Jeff Snow with The 712 Initiative. He started the group in the early days of the COVID-19 pandemic when most of the country was shut down. The group is meant to inspire people to get out of the house and work on their personal health and encourage others to do the same.
Back in March, the group consisted of a mere 20 members, but recently surpassed 1,000 people in Council Bluffs and other states from coast to coast in the U.S. Members of the group are encouraged to share screenshots from their fitness apps and photos or videos from where they ran. Walking, cycling and other means of cardio fitness are also welcome. Members also provide positive posts, with the intention of inspiring people to keep going in these unprecedented times.
Herzog has been a member for two months, and she said she loves seeing runners of all skill levels cheering each other on. People interested in joining in on the fun can sign up for the group by searching for "#5kFriday — Fitness at a Distance" on Facebook. More information about The 712 Initiative and its programs can be found at the712initiative.org.
Get local news delivered to your inbox!
Subscribe to our Daily Headlines newsletter.