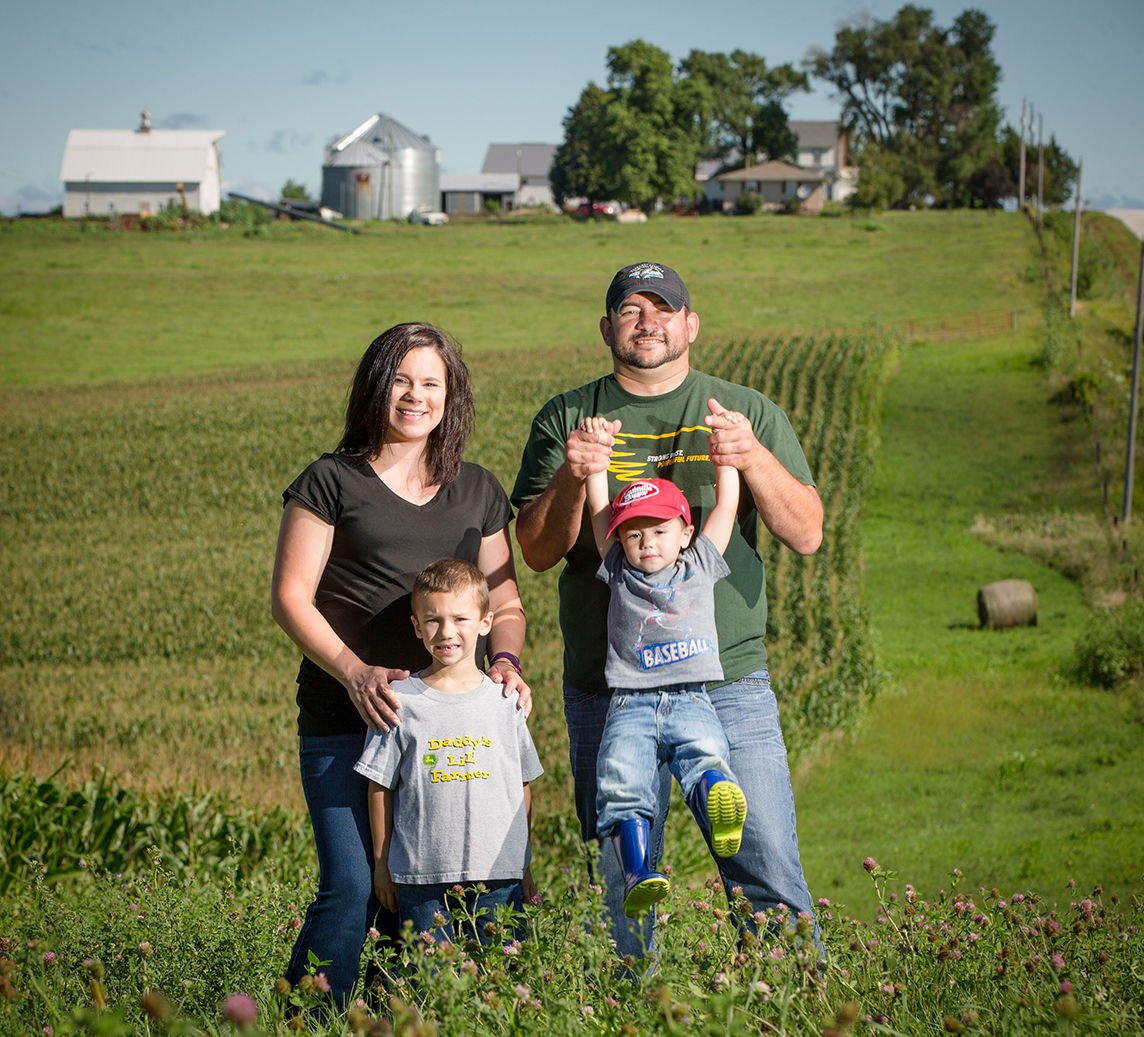 MINDEN – Sara Ross grew up in a small rural community in Nebraska, but she did not grow up a farmer.
So when she married Kevin Ross, a sixth-generation Iowa farmer in 2007, she took it upon herself to learn the business after moving to his farm south of Minden.
She joined volunteer farm organizations. She started a blog about farming life. And she traveled to China to teach women about U.S. agriculture and soybeans.
And on Tuesday, Ross, a mother of two boys who is expecting to give birth to twin boys in early October, will be honored as the Midwest Farm Mom of the Year at a ceremony at the Iowa State Fair in Des Moines.
"In her eight years of being a farm wife, she has gone from being somewhat of a city girl to driving tractors, feeding cows, and immersing herself in farm culture," said cousin Angela Vapenik of Grant, Nebraska, in her letter nominating Ross for the award.
Ross, 32, grew up in Elwood, Nebraska, a town of roughly 700 about 17 miles southwest of Lexington. Her father operates an insurance agency in town. As a teen, she went out for sports – track, basketball and volleyball. She participated in 4-H but did photography, baking and sewing – not livestock.
After graduating from the University of Nebraska-Lincoln with a marketing degree in 2005, she went to work for Rural Community Insurance Services as a trade show consultant.
She met husband Kevin at the 2006 Commodity Classic in Anaheim, California. Her first visit to his farm was during calving season. She had never seen a calf being born before, and one breached. She watched as Kevin pulled it out by hand.
The two married the next year, and she moved to his farm, which is about four miles east of Underwood.
"That's when I really started learning about agriculture and different types of agriculture," she said.
She began blogging about her new life as a farm wife at saras-house.com. She got involved in a volunteer agriculture organization called Common Ground, which educates urbanites about the farm life and where their food comes from. She gave birth to two boys, Hudson, now 5, and Axten, 2.
Because of her involvement with Common Ground, she visited China twice with the U.S. Soybean Export Council, in September 2014 and in February of this year.
"One out of every three rows of soybeans (in the U.S.) gets exported to China," Kevin Ross said. "They always like the cute pictures of the kids out on the farm, eating sweet corn."
There, she spoke to Chinese women about family farms in the United States and the benefits of genetically modified crops. The crops are sometimes controversial, but the Rosses believe they are misunderstood. Genetically modified crops need less pesticide and less water, reducing a farm's carbon footprint, they said.
In March, she began getting texts from Vapenik, her cousin, asking about her life on the farm. Puzzled, she answered them. It turned out that Vapenik had nominated her for Farm Mom of the Year, and she was selected as the winner for the Midwest region, one of five regional winners in the U.S.
The regional winners were selected by American Agri-Women, a national coalition of farm, ranch and agribusiness women's organizations. The criteria include support for her family and farm, and commitment to agriculture, according to the program's website. The award is sponsored by Monsanto.
Vapenik had read the requirements for Farm Mom of the Year as part of her human resources job at a western Nebraska co-op.
"The second I read through the program, her name just immediately popped into my head," Vapenik said. Ross is, "the epitome of what a great farm mom is."
Tuesday morning at the Paul R. Knapp Animal Learning Center, Ross will receive her award: a check for $5,000.
The national winner was Shelly Boshart Davis of Oregon. Ross said more than 1,200 applications were submitted from across the United States.