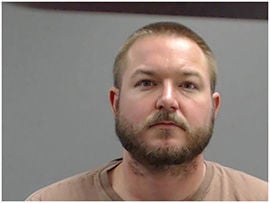 An owner of O Face Bar, made notorious on Spike TV's "Bar Rescue" in 2014, has been accused of sexual assault.
Matthew Overmyer, 35, was arrested on suspicion of second-degree sexual abuse and assault with intent to commit sexual abuse by the Pottawattamie County Sheriff's Office around 5:20 p.m. on Thursday evening.
The alleged abuse took place at a home in the 2300 block of Old Lincoln Highway in Crescent.
Overmyer allegedly attacked an adult woman, who works at O Face Bar, at midnight on Tuesday. According to the arrest affidavit, Overmyer reportedly used physical force, including strangulation, to have sex with the victim twice.
The victim called several people after the alleged attack, and one source reportedly told Pottawattamie County criminal investigators that Overmyer tried to re-enter the room after the victim locked him out.
The assault allegedly took place while Overmyer's wife was out of town. Overmyer and his wife own the bar, according to Pottawattamie County property records and Iowa Secretary of State corporation records.
According to the arrest affidavit, Overmyer did not speak with investigators. Michael Hooper, Overmyer's attorney, told The Daily Nonpareil on Friday afternoon that his client will plead not guilty.
Hooper said he expects the case to be dismissed.
"And, if not, we're definitely taking this to trial," Hooper said.
Overmyer faces up to 25 years in prison if convicted of second-degree sexual abuse, which is a Class B felony. Assault with intent to commit sexual abuse is a Class D felony. Overmyer is free after posting a $50,000 bail Thursday evening a few hours after he was arrested.
Overmyer appeared on "Bar Rescue" on March 23, 2014. The episode of the show, in which the host attempts to turn around failing bars, was titled "Punch-Drunk and Trailer-Trashed."
The O Face Bar episode featured multiple fights, an employee smoking in a back office, a rundown of police involvement at the bar and profanity-laced tirades. For the first time in the three years of the show, now in its fifth season, host Jon Taffer walked out and refused to rehabilitate the bar.
Council Bluffs' reaction to the episode was swift, as local residents were largely appalled at how they felt their city was represented on national TV. On May 7, 2014, the Council Bluffs City Council voted 3-2 against renewing O Face's liquor license, citing the actions seen on the episode, although the license was renewed four months later by the state.
Overmyer's next court date is a preliminary hearing on Friday, Feb. 12.
Get local news delivered to your inbox!
Subscribe to our Daily Headlines newsletter.