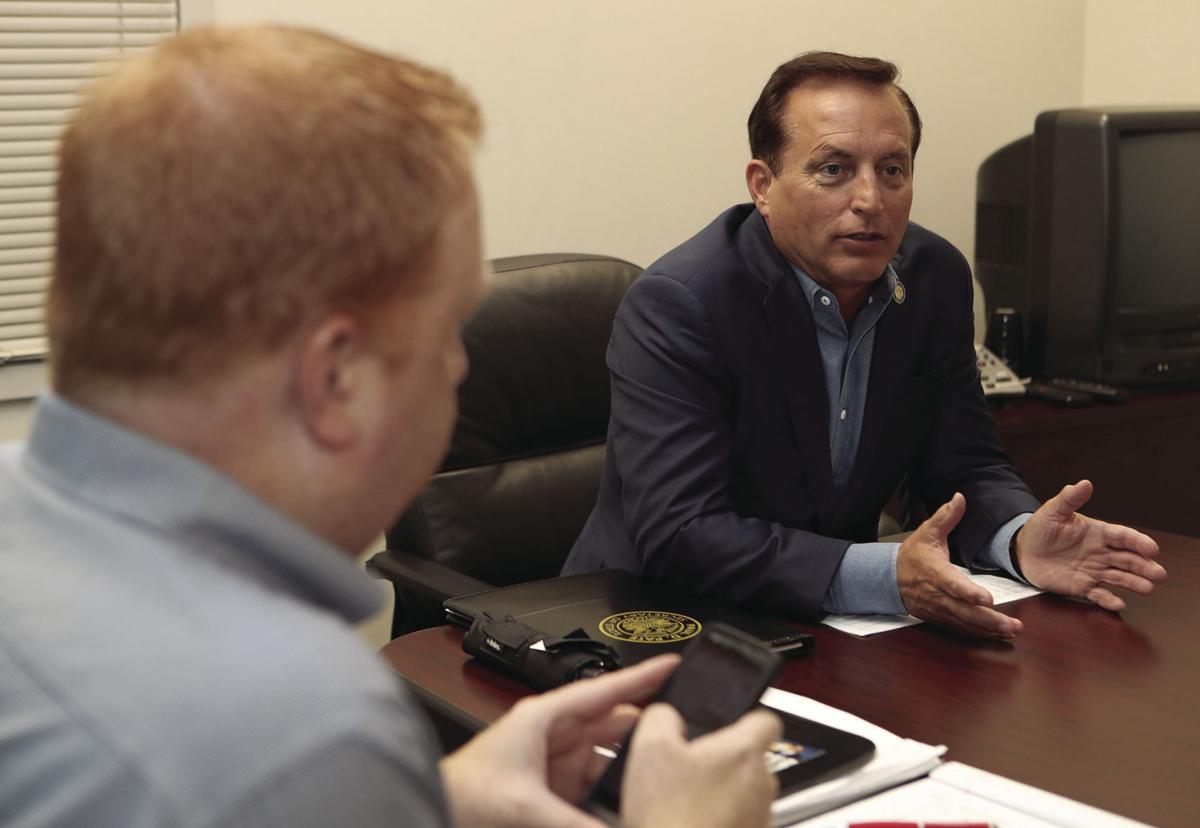 DES MOINES — The 2020 elections spilled well into 2021 in Iowa, where one Congressional race was decided by an ultra-thin margin and temporarily challenged in Congress.
Meantime, state lawmakers and Gov. Kim Reynolds passed sweeping changes to how elections are conducted, including by significantly shortening the state's early voting period and limiting other early voting options.
Iowa Secretary of State Paul Pate, the state's top elections official, stayed out of the heated debate over the elections law, and while he criticized Democrats' challenge of the Congressional election results, he did not discuss any potential adjustments to state elections law that would address concerns raised during that recount.
Pate, a Republican from Cedar Rapids, spoke with the bureau this week about that razor-thin Congressional race and the new elections law under which his office will operate in 2022 — — assuming the new law survives a legal challenge.
The following is from that interview; it has been edited only for brevity and clarity.
In an open-seat race in eastern Iowa's 2nd Congressional District, Republican Mariannette Miller-Meeks edged Democrat Rita Hart by just six votes out of nearly 400,000 cast. The final results were the result of a district-wide, 24-county recount.
Hart's campaign challenged the results, claiming there were 22 ballots that were cast legally but not included in the recount for myriad reasons, some of which were no fault of the voters. Instead of mounting a legal challenge through Iowa's courts, the Hart campaign took its challenge to the U.S. House, which is controlled by majority Democrats. Republicans called it a political ploy, while the Hart campaign said Iowa law did not provide sufficient means to challenge all 22 uncounted ballots.
Eventually, Hart dropped her challenge, citing the highly charged partisan atmosphere that was created.
In March, the Iowa Legislature, Republican majorities and Reynolds, also a Republican, signed off on a sweeping elections bill that, among other things, reduced the number of days for early voting from 29 to 20 (it was 40 just two years ago), delayed the earliest an absentee ballot can be mailed to a voter until 20 days before the election, limited drop boxes for absentee ballots to one per county, added stricter requirements for satellite early voting locations, required absentee ballots be received by Election Day, and closed the Election Day polls an hour earlier.
Bureau: In the 2nd District race, there was a lot of criticism of the Hart campaign for the route they chose to contest those results. Their contention was that they couldn't sufficiently challenge those results in the Iowa courts. What is your response to that specific assertion?
Pate: They didn't avail themselves to (the Iowa courts). Just try it. And then they could say with all legitimacy, 'The courts weren't cooperating, we didn't have time to do what we want to do,' perhaps. But they don't even know, because they didn't even try. And that's frustrating because this whole process is in our in our code and our rules. It's laid out in a fashion to be as transparent as possible. We give both sides equal opportunity, and in a sense both campaigns were involved in every step of the process and the recounts. …
That was, to me, a misstep on her part and sent the wrong signal because I believe Iowans are the ones who should decide who their elected officials are. So I think that they didn't give it a chance, so I don't think they really have the solid ground to be critical of that process. It's that simple.
Bureau: Looking past that and looking ahead, in case something similar happens in the future, did this process illuminate anything in state law that should be changed to broaden the way ballots can be reconsidered during a challenge?
Pate: Yes, we'll review it. We do this typically any time after an election cycle. We go through and analyze what things we think can be improved on, better communicated, is it a rules adjustment, is it going to be a legislative adjustment. So yes, we'll go through and look at some of these issues, and try to improve on that, because that's the nature of the process. …
We're going to spend some time working with county auditors for input, my own staff, of course campaigns had a lot to say about the process, and we'll bring some things back to the (Iowa) Legislature come January for them to consider. And they'll have the final say of course. …
There'll be some things. I don't think they're going to be earth-shaking, but our goal is to help improve on the process.
Bureau: Under the new state law as a result of the elections bill that was passed this session, Iowa's early voting window is right around the national average, but the timeframe that starts with the earliest an absentee ballot can be mailed to voters puts Iowa among the shortest in the nation. Do you think that timeframe is too tight?
Pate: I think it's manageable. We're still talking over 400 hours (20 days of early voting) of potential voting for voters, and that's a lot. We offer online voter registration, we have voting satellite centers, we have voting in the courthouses. You have a lot of options, and I think that can be managed. Now there's going to be some impact: the county auditors are going to have to bring their 'A' game to make sure they get those ballots drafted and approved and to the printers. That was probably the biggest issue the auditors were concerned about: 'You have to give us time.' … My office, we're looking at that, and if there is something that creates a big problem for us, we'll come back to the Legislature and tell them, 'Hey, look, guys we need to make some adjustments.' But I think we're on track.
Bureau: During debate on the bill, Republicans brought up that they have implemented other elections changes in recent years, and critics have said the changes will suppress votes, and so far that has not happened. (Iowa setting turnout records in the 2020 elections.) Is there anything in this bill that you think could hurt turnout in any way?
Pate: No, I don't. In fact, we heard the same thing when we were doing voter ID: 'It's the end of the world, the sky's falling in.' And nobody has brought one single case forward that shows anybody who's been disenfranchised because of voter ID. Iowa voters get it, and we just need to make sure that everybody has the same, equal access that we're offering. And my job, and my colleagues' on the county level, is to make sure we continue to educate and make them aware of their choices. … I'm pretty comfortable that we'll see voters out there. I can't predict voter turnout down the pathway because I believe that our turnout is really driven by candidates. And if they excite them and give them a passion, a reason to get out there and vote, they'll get out and vote. But I don't want to hear anybody tell me that something we did held them back. That's my issue. And I'm pretty comfortable right now that we've got the tools in place to give them what they need to be voters.