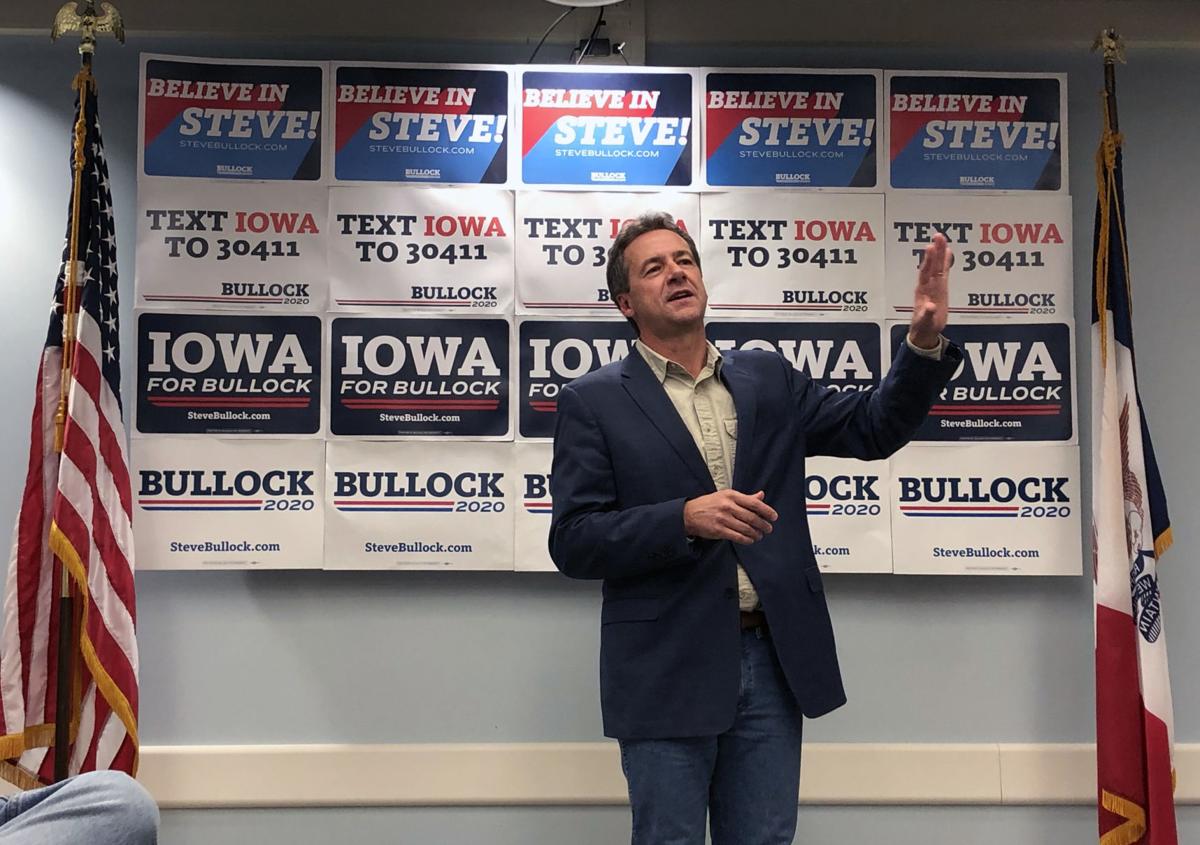 Steve Bullock is the last governor seeking the Democratic nomination for president.
With the Iowa Caucuses now just a little more than three months away, Bullock, the governor of Montana, returned to Council Bluffs and spoke at the library Monday night.
Washington Gov. Jay Inslee withdrew his candidacy for president, making Bullock the only active governor in the race. Former eight-year Colorado Gov. John Hickenlooper also withdrew his presidential candidacy. Mark Sanford, former South Carolina governor and congressman, is currently running as a Republican presidential candidate in an attempt to unseat President Donald Trump from the party's ticket.
"I'm the only governor left in this (Democratic) race, and I haven't been on every debate stage," Bullock said. "In some respects it's because I had a job to do."
Bullock said the "job" involved working on Medicaid expansion, among many duties. He announced his candidacy for president in mid-May.
Bullock gave examples during his speech about corruption in politics and corporations having too much power.
"The Republican party is the only significant political party in the world that doesn't acknowledge that climate change is real," he said. "All that goes back to money in politics. If we can't do something about that, it's going to be that much harder to do anything."
Bullock said this is one of the most important elections of his lifetime, saying it may decide the fate of representative democracy in the country and beyond, as well as what happens to the next generation of Americans.
"I think for the sake of our country and our standing in the world, and what we're going to pass on to the next generation, no matter what we got to make sure Donald Trump is a one-term president," he said.
Bullock said that more than beating Trump, it is important for the "behaviors the president has normalized" to be rejected and show the economy and government can work for the people.
If elected, Bullock said other steps moving forward included fixing issues like Trump's "tax loans" — his term for the 2017 tax bill — so future generations are not paying for provided tax breaks.
Bullock is currently at 1.3% in the Real Clear Politics polling average for Iowa. He has the endorsement of Iowa Attorney General Tom Miller.
The Montana governor said his whole career he's been fighting this type of corruption and feels he is uniquely qualified to continue to do so.
"We need to be able to win back places we lost. We need to be able to give people a reason to vote for us, not just against them," Bullock said. "We need to make people believe the government can work. I believe we can do that."