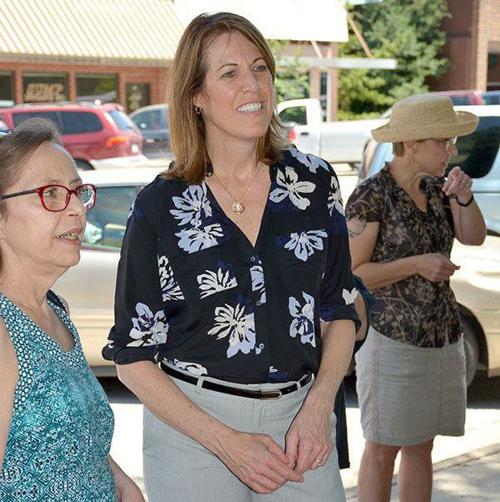 CLARINDA — On the heels of her proposed legislation to improve rural health care, Democrat Iowa Rep. Cindy Axne met with people in some of her district before the July 4 holiday.
In late June, the U.S. House Ways and Means committee approved Axne's bipartisan legislation to offer help to rural hospitals. Axne said she was influenced to create the legislation knowing some rural hospitals face a lack in staffing which make it difficult for patients to be properly treated.
"If there is no opportunity for care, then they are forced to go look for care and may drive 50 miles," she said while visiting the farmer's market in Clarinda.
Iowa has 177 health care clinics that are considered in rural areas and has 82 critical access hospitals. Clarinda Regional Health Center is one. Following certain guidelines, critical access hospitals provide Medicare and Medicaid assistance, both of which are government programs.
"If rural hospitals don't have the available staff for direct supervision, it can limit the type of care," she said.
Direct supervision means a physician or nonphysician practitioner must be present during treatment.
Axne said she does not expect that to be a concern in metro areas, like Des Moines, but knows the challenge for rural areas to attract and retain the same health care providers.
Axne said she is still working on flood relief for Southwest Iowa that started in March. She is wanting to coordinate the USDA, FEMA and small business related entities to find ways for residents, farmers and business owners to rebuild and have a plan for the future.
"The money takes longer than you want," she said, fearing some residents may have left the area and don't want to return. "Let's do something with prosperity and growth."
Her flood rebuilding interests also includes working with the Army Corps of Engineers for the rebuilding of the levees along the Missouri River in Southwest Iowa.
"Let's work with the corps to craft policy that will not put people in eminent danger," she said. She also said she is well aware of the amount of water being released from Gavins Point dam in South Dakota that is along the Missouri River.
"It's limited," she said about the amount of capacity the reservoir has before water has to be released to prevent flooding around the reservoir.
"People are suffering across the country," she said about other natural disasters in other parts of the country. "The solution is not going to be overnight."