Iowa's Senate and Congressional delegation were sheltering in place Wednesday afternoon as the U.S. Capitol went on lock down after Trump supporters broke through police barricades and made their way into the Capitol Building.
An aide to Republican Iowa U.S. Sen. Charles Grassley said he could not comment on Grassley's location for security reasons, but that he was with his usual capitol police protective detail. Grassley is third in line to the president.
Grassley's Twitter account later tweeted, "Thank you for your concern. Senator Chuck Grassley is in a secure location."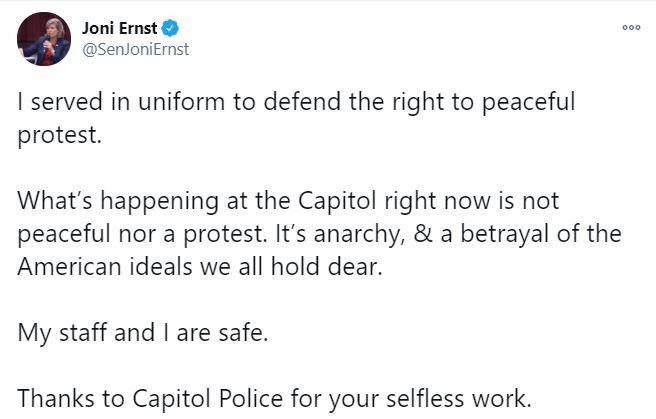 Grassley's office later emailed a statement from the senator:
"Today's violent attack on the U.S. Capitol was an attack on American democracy itself. This was not a demonstration of any of our protected, inalienable rights. These were un-American acts worthy only of condemnation. Those who plowed over police barricades, ignored law enforcement or desecrated our monument to representative democracy flouted the rule of law and disgraced our nation," Grassley said. "I condemn today's violence in the strongest terms and perpetrators deserve to be prosecuted to the fullest extent of the law."
Colleague Joni Ernst, R-Iowa, tweeted she and her staff were also safe, calling the spectacle and skirmishes between Trump supporters and police "anarchy."
"I served in uniform to defend the right to peacefully protest," Ernst, the first female combat veteran to serve in the Senate, tweeted. "What's happening at the Capitol right now is not peaceful nor a protest. It's anarchy, & a betrayal of the American ideals we all hold dear."
According to a Hill staffer, Republican 2nd District U.S. Rep. Mariannette Miller-Meeks and staff were on the House floor listening to debate on the certification of Democrat Joe Biden's Electoral College victory.
Both chambers abruptly went into recess.
Protesters tore down metal barricades at the bottom of the Capitol's steps and clashed with officers in riot gear. Some in the crowd were shouting "traitors" as officers tried to keep them back.
The skirmishes came just shortly after Trump addressed thousands of his supporters, riling up the crowd with his baseless claims of election fraud at a rally near the White House on Wednesday ahead of Congress' vote.
"You can protest and be peaceful," Miller-Meeks tweeted. "Storming government buildings and attacking law enforcement officers is unacceptable."
Miller-Meeks said she and her staff were safe, who were sheltering in place and the locked the doors to her office inside the Longworth House Office Building.
Similarly, fellow Iowa U.S. Reps. Cindy Axne, Ashely Hinson and Randy Feenstra said they and their staff were all safe and sheltering in place.
"We are sheltering in place, awaiting more info as we learn that protesters have breached the Capitol," Axne tweeted. "The US Capitol Police are protecting us."
Axne made a personal plea to Trump on Twitter to, "Please sir, tell them to stop."
"These people are attacking Congress at the invitation of @realDonaldTrump," Axne tweeted.
Hinson, too, condemned the actions of protestors, tweeting the violence and behavior is not "who we are as a nation, & I hope we can come together to heal the divisions gripping our country right now."
Democrat Dave Loebsack, whom Miller-Meeks replaced in Congress with his retirement Saturday after serving seven terms representing southeast Iowa, tweeted "what is happening at the Capitol is beyond belief and utterly unacceptable in our democracy."
"This is nothing less than an attempt at mob rule," Loebsack tweeted. "President Trump needs to address this situation immediately and tell his supporters this is completely beyond the pale."
- The Associated Press and Lee Enterprises Des Moines Bureau Chief Erin Murphy contributed to this article.