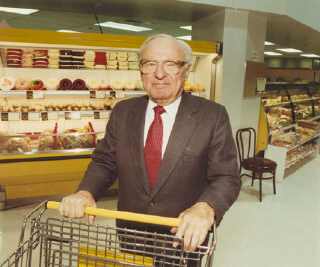 The man who brought low prices to grocery shelves and smiles to the faces of television viewers with his commercial characters died Tuesday at Methodist Hospital in Omaha.
Harold Cooperman, the founder of No Frills Supermarkets, was 87.
Cooperman started No Frills Supermarkets in Council Bluffs in 1980. The company now has 15 stores in Iowa and Nebraska. He remained active in the stores until the end.
"It's just a great loss to our company," said Lonnie Eggers, vice president of marketing for No Frills.
Cooperman was born in Poland in 1918 and came to the United States when he was 5 years old. He graduated from Omaha Central High School in 1933 and started working at a relative's grocery store.
Cooperman was 20 when he opened his first grocery, Harold's, at 16th and Fort Streets in Omaha. That same year, 1938, he married Merriam Lieb, who later came up with the No Frills name.
After his U.S. Navy service during World War II, Cooperman resumed his grocery business. The first Council Bluffs No Frills was a warehouse-type store that required customers to fill their own bags.
Son-in-law Richard Juro, president and CEO of No Frills, spoke warmly of Cooperman.
"He was a wonderful person, especially one-on-one," Juro said. "He was very philanthropic, very gregarious.
"Everybody loved him as a person and an employer."
Merriam preceded him in death, passing in 1999.
Survivors include his daughter, Frances Juro, and sister Helen Gould of California.
Services will be 2:30 p.m. Thursday at Beth El Cemetery. Memorials can be sent to the Harold and Merriam Cooperman Senior Service Fund, Rose Blumpkin Home, 333 S. 132nd St., Omaha, NE 68154.
Be the first to know
Get local news delivered to your inbox!