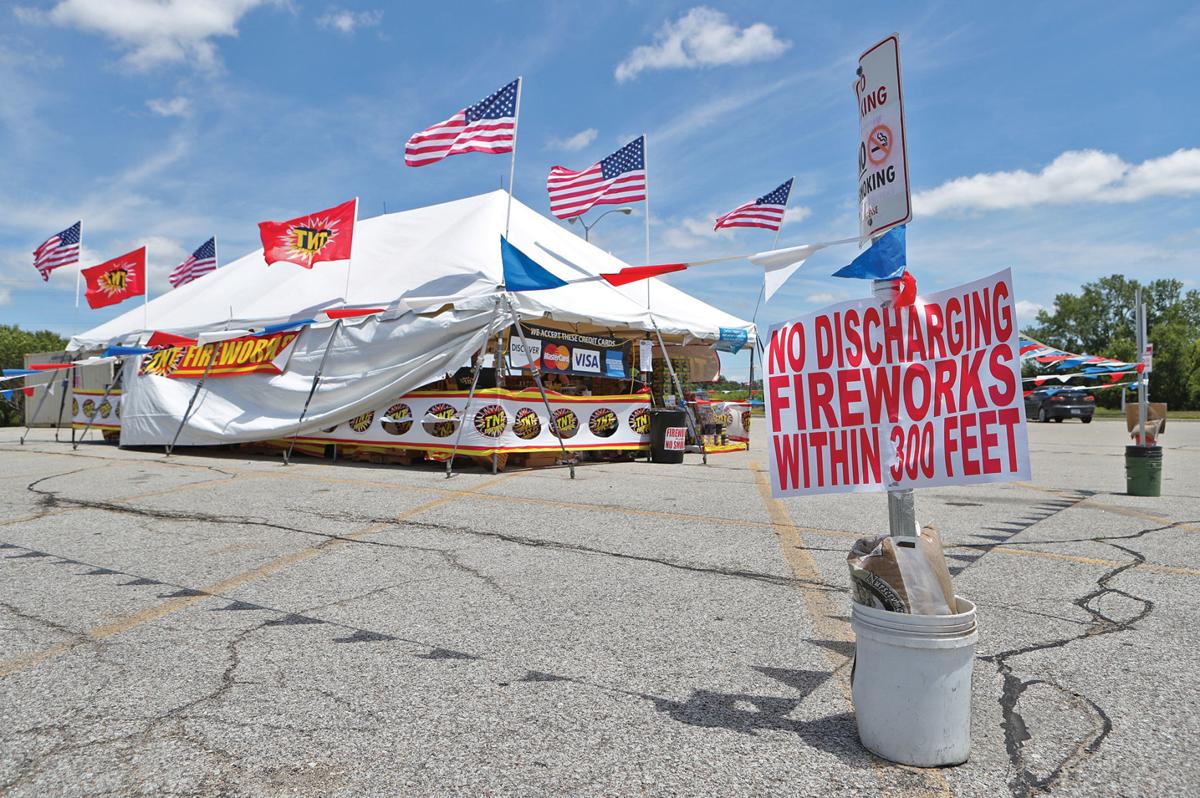 The Council Bluffs City Council unanimously approved three days for citizens to use fireworks this Independence Day season.
The council voted 4-0 at its Monday meeting to set June 29, June 30 and July 4 for allowable use of fireworks within the city limits. The hours of use are from noon until 11 p.m. Councilman Mike Wolf was not at the meeting.
"We have to strike that balance. Make the most people reasonably happy," said Councilman Nate Watson during the meeting, noting the need to respect people who don't care for fireworks while accommodating those that would like to partake.
Council members discussed wanted to make sure fireworks were legal to shoot off during a weekend around the holiday. The council also unanimously approved a group of ordinances regarding zoning related to the sale of fireworks.
During the council's study session earlier in the day, Councilman Roger Sandau said he'd like to see the ordinance extend from June 29 through July 4 so there wouldn't be a gap in legality.
"To have two days, take two away, then have it again — it seems a little contradictory," Sandau said during the evening meeting, noting he decided to vote for the ordinance as written because of its support by the rest of the council.
During the 2017 session, the Iowa Legislature legalized the sale, purchase and possession of the majority of consumer fireworks. The law allows local municipalities to restrict the use of fireworks.
The law allows sales between June 1 and July 8 as well as from Dec. 10 to Jan. 3 from licensed shops. Temporary firework stands will be allowed June 13 to July 8.
There are currently nine temporary tent sites approved by the state and city for fireworks sales, according to the Council Bluffs Fire Marshal's Office. Another two tent site applications are pending. The businesses must receive state approval before the city's zoning department makes a final approval after examining parking and other issues, Fire Marshal Alex Ford said.
"If they're approved, we get notified. We know where they're going," Ford said.
Additionally, 13 permanent structures have been approved as of Monday for the sale of a limited quantity of fireworks, with Ford explaining those businesses can only have 500 pounds or less of fireworks on display and in storage total. Ford said of those facilities, Menards at the Lake Manawa Power Center is the only one he knows has fireworks currently on display.
There is no weight restriction for fireworks tents, but companies must comply with a number of safety precautions.
Council Bluffs and Sioux City are among the largest cities in the state to allow fireworks usage, and both have restrictions on the dates.
Des Moines and Cedar Rapids both banned fireworks after last year's season. Most Des Moines suburbs won't allow fireworks, although they are allowed on July 4 in Ankeny. Several cities around Cedar Rapids allow at least limited fireworks use.
Several of Iowa's other large cities, including Davenport, Waterloo, Iowa City, Ames and Dubuque, have also banned fireworks.
Although cities can ban the use of fireworks, they can't stop firework sales. They can, however, limit where items are sold to certain areas.
With last year's legislation, Iowa joined most of the rest of the country in loosening its rules to allow the sale of bottle rockets, firecrackers and roman candles.
Only Delaware and Massachusetts have a complete ban on consumer fireworks, according to the American Pyrotechnics Association. Three other states allow only sparklers and similar novelty fireworks, which is what Iowa previously permitted.
Lawmakers cited the changing national landscape, as well as sales of fireworks in border states flowing into Iowa, when enacting the change in 2017.
The state fire marshal's office said no agency tracks the number of injuries or fire calls linked to legalizing fireworks, leaving the exact impact of fireworks ambiguous.
Beyond safety concerns, the noise from fireworks can be a nuisance for the elderly, veterans with post-traumatic stress disorder, pet owners and those with an early bedtime.
Many cities, including Des Moines and Cedar Rapids, limited sales to industrial areas last year. An Alabama fireworks company sued Des Moines in December 2017, but a federal judge upheld the city's regulations.
Despite that ruling, challenges over the use of zoning to regulate fireworks aren't over.
Nebraska-based Bellino Fireworks Inc. pressured the city of Waterloo into allowing fireworks sales in commercial zones, a move the city originally sought to restrict. The company already has sued four other Iowa cities — Ankeny, Boone, Johnson and Pleasant Hill — to challenge their regulations on sale of fireworks. That case has a trial scheduled for November.
Vince Bellino, manager of Bellino Fireworks, said his company believes cities and counties should allow sales at temporary sites approved by the state fire marshal's office.
"We're not just going to go away," Bellino said. "If need be, there will be legal action."
Bellino Fireworks opened a warehouse in Clinton and is more than doubling its fireworks stands. Bellino said his company is monitoring the effect that discharge bans have on sales and may adjust next year's locations accordingly.
Bellino will have at least three temporary stands in Council Bluffs, with a fourth awaiting final approval, as of Monday.
A report by the Iowa Department of Revenue found sales last June, when businesses were still rushing to open retail outlets, were below expectation but that stronger sales were reported in July 2017. Precise sales figures aren't available because regular retail stores that sell fireworks don't detail those sales in state filings.
The Department of Revenue has estimated sales would exceed $24 million in fiscal year 2018, which spans last July through this June but wouldn't count sales in the few days around Independence Day.
State Fire Marshal Dan Wood said 552 licenses had been issued statewide as of last Friday. He expects a final tally between 700 and 800, which would be up from last summer's 664 fireworks stands. Inspections are conducted once the stands are up and running.
"It didn't seem like we had too many large issues last year," Wood said. "For the most part, it was just small stuff that they were able to fix on the fly."
— Scott Stewart of The Associated Press contributed to this report.
Be the first to know
Get local news delivered to your inbox!