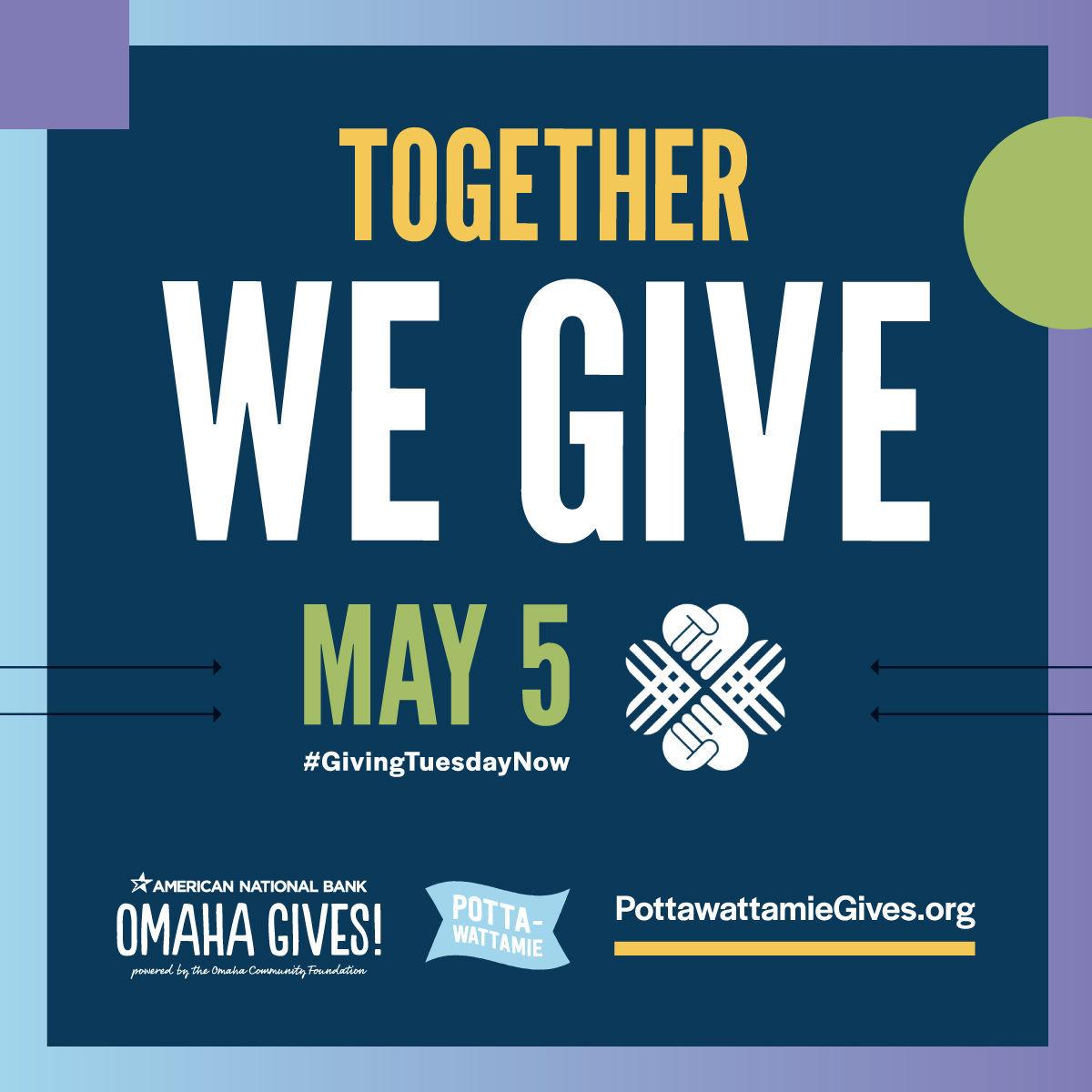 What does generosity look like in these days? With news swirling and cautions rampant for preventing the spread of COVID-19, it is tempting to retreat to our homes in isolation, only focused on our own needs. However, that is not the Council Bluffs-Omaha metro way.
Our community cares. This is our time to come together for the causes who support our most vulnerable neighbors and missions that strengthen the metro. The outpouring of support began on day one. Over 700 metro neighbors submitted interest for volunteering on SHARE Omaha's website in April. The public is supporting the Omaha Community Foundation's and Pottawattamie County Community Foundation's pandemic funds to address local gaps and needs. Blood donations, delivery of gifted items, and donations to help Food Bank for the Heartland and local food pantries were among the first ways our residents sprang into action.
We know that local organizations will feel the harsh realities and effects of the pandemic for a long time to come. Nonprofit Association of the Midlands conducted a pulse survey of 505 nonprofit leaders, and 56% reported COVID-19 will have significant impact on their programs, services or general operations. This survey reflects cancelled events leading to a loss in revenue which can't be made up; an increase in services for some nonprofits without having secured additional funding; and concerns regarding fundraising and how to keep doors open now with an uncertain economy.
The metro area will look different after the crisis dissipates, but it doesn't have to be without the services, amenities and attractions that define our cities' character. Nonprofit organizations have shown great ingenuity and innovation to continue to deliver or pivot services over the past two months. They will continue to deliver on mission and strive for impact. That is the very nature of the nonprofit workforce.
Our community contributes. The work needed to transform the ability for local causes to do good has just begun. On Tuesday, the Council Bluffs-Omaha metro will have the opportunity to join in a global response to the pandemic: #GivingTuesdayNow. As Omaha Gives! opened for donations on May 1, #GivingTuesdayNow is our time to donate to and volunteer for nonprofit organizations. Our entire area can come together to lift each other up and overcome isolation with our acts of good. Let's unite our neighbors to give as we can throughout May so that May 20 is not only an Omaha Gives!/Pottawattamie Gives! celebration, but a source of much-needed funding. This is a rallying moment for the causes you support.
SHARE Omaha, the Pottawattamie County Community Foundation, and the Omaha Community Foundation are devoted to seeing the nonprofit organizations of the metro succeed and connect to meaningful support, especially now. We are united in stoking that fire of doing and giving good. May will be an incredible month; don't miss the opportunity for helping that warmth spread and grow.
Let us see what we can do together as we dually move through this crisis and find the opportunity to support one another. This is who we are: we show up, we raise our hands and we give.
Concerned about COVID-19?
Sign up now to get the most recent coronavirus headlines and other important local and national news sent to your email inbox daily.