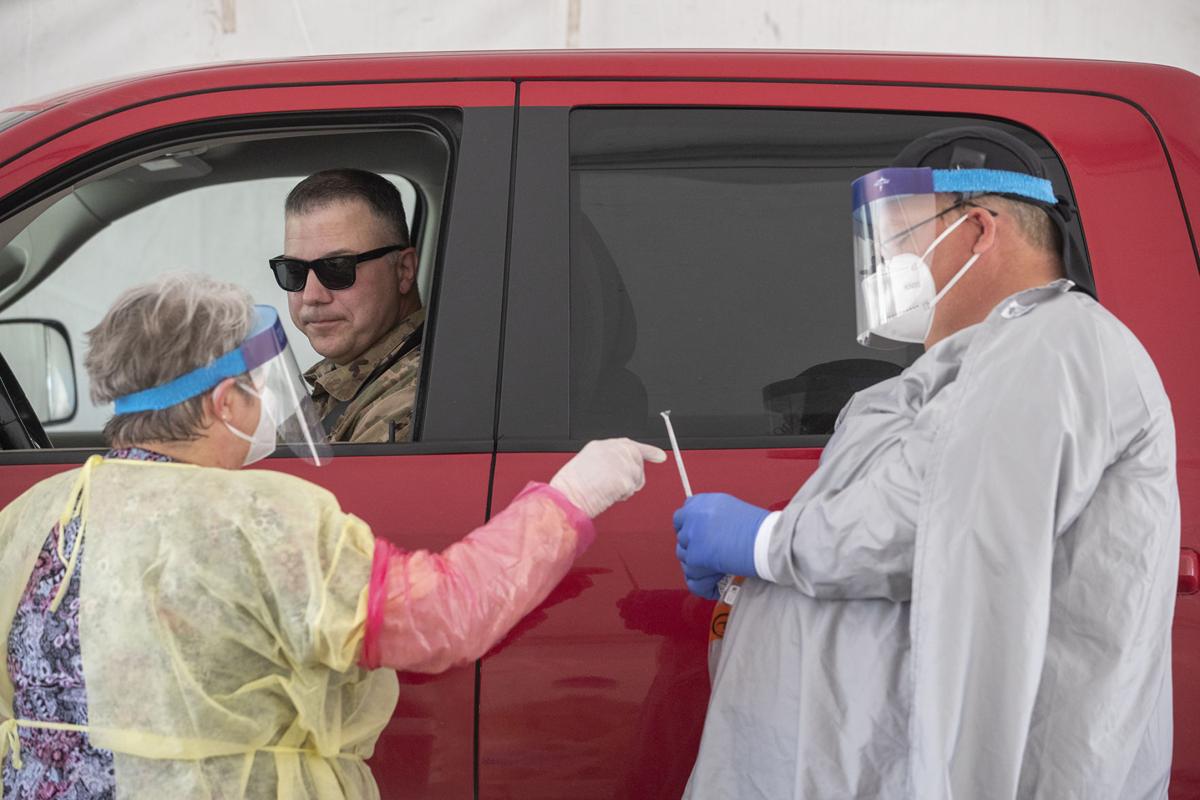 The state has reported an eighth COVID-19 death in Harrison County.
County public health Director Brad Brake said a woman between 61 and 80 years old who lived at a long-term care facility has died after contracting the disease.
Harrison County was at 573 cases out of 3,517 tests at 3 p.m. on Monday, with 208 recoveries, according to coronavirus.iowa.gov, the state COVID-19 website. The county was at 537 cases and 190 recoveries on Friday.
The county's 14-day rolling average positivity rate was 15.7%, down more than 10 percentage points from Friday, when the rate was 26.2%.
The state reported Pottawattamie County was at 2,948 positive tests at 3 p.m. Monday, an increase of 122 cases over 72 hours — the county was at 2,826 on Friday. The county was at 25,166 tests, an increase of 551 tests, from Friday afternoon.
Pottawattamie County's 14-day positivity rate was 13.7%, a slight increase from Friday.
The state listed 2,154 recoveries in the county. There have been 44 deaths.
There were 107,729 positive cases out of 902,683 tests statewide on Monday, with 82,171 recoveries and 1,537 tests.
The seven-day rolling average of the positivity rate in Iowa has risen over the past two weeks from 18.17% on Oct. 3 to 25.65% on Saturday.
The Associated Press reported state data shows 15 counties with a 14-day average positivity rate of more than 15%, the level at which Gov. Kim Reynolds allows school districts to apply to the state to send students home for online learning temporarily. Those counties are Harrison, Cass, Crawford, Sioux, Delaware, Plymouth, Carroll, Taylor, Monroe, Osceola, Emmet, Decatur, Lyon, Humboldt and Woodbury.
The state's rate of new cases per 100,000 residents over the past two weeks registered at 456.16 and ranked eighth-highest among all the states on Saturday, according to an Associated Press analysis of data from Johns Hopkins University.
Long-term care facility outbreaks
In Harrison County, there are 225 total cases, with 35 recoveries, among residents at three long-term care facilities.
At Glen Haven Village in Glenwood, there were 14 cases with seven recoveries.
And the state listed 23 positive cases among residents at Atlantic Specialty Care in Cass County on Monday, with no recoveries.
Symptoms in people who have been exposed to coronavirus can include fever, cough and shortness of breath, according to the Iowa Department of Public Health.
The symptoms may appear in as few as two days or as long as 14 days after exposure.
Most people experience mild or moderate symptoms that clear up in two to three weeks.
COVID-19 testing is available in Pottawattamie County via two TestIowa locations: All Care Health Center, 902 S. Sixth St., and Western Historic Trails Center, 3434 Richard Downing Ave.
To get tested, residents must complete the online assessment at testiowa.com to schedule an appointment.
Concerned about COVID-19?
Sign up now to get the most recent coronavirus headlines and other important local and national news sent to your email inbox daily.