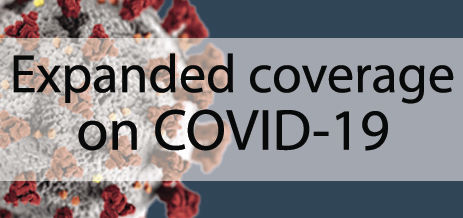 With three ongoing outbreaks at long-term care facilities, Harrison County has seen a dramatic increase in COVID-19 cases.
Harrison County Public Health reported a third outbreak at a long-term care facility in the county on Thursday. The department reported 29 cases at Longview Home, with 15 among cases residents and 14 among staff. The care facility is located in Missouri Valley, according to its website.
According to the Iowa Department of Public Health's COVID-19 website, the outbreak at Rose Vista Home in Woodbine has resulted in 78 positive cases and 14 recoveries. The site listed one recovery at Longview Home.
The outbreak at Dunlap Specialty Care was reported on Oct. 2. Harrison County Public Health Director Brad Brake said Friday there are 44 cases among residents and 22 among staff.
At 3 p.m. Friday, there were 422 positive cases out of 3,193 tests in Harrison County, according to the state website, coronavirus.iowa.gov. The county reported 51 new cases on Friday.
The have been 189 recoveries in the county. The 14-day rolling average positivity rate in Harrison County was 22.1% Friday afternoon.
Harrison County Public Health said it expects a jump in cases as increased testing is conducted at long-term care facilities. But that doesn't mean the general public can relax when it comes to vigilance against coronavirus, Public Health Direct Brad Brake said.
"We're definitely on the rise," Brake said. "We can't just attribute it to the care facilities. If you look at the ages and demographics of our cases, yes a lot of them are care facility-related, but we're seeing an increase of students. All demographics. As a community we can't just brush off, 'Oh it's just the care facilities.'"
The New York Times COVID-19 tracker, which updated before Friday's announced cases, listed Harrison County third in the state for cases per capita over the past seven days. The county was at 555 positive cases per 100,000 population.
"There's an extra need to be diligent with face coverings, social distancing and whatever precautions you can take," Brake said.
There have been five COVID-19 deaths in the county. Brake said three of them were among long-term care facility residents. The public health director said his department is waiting on medical examiner reports on additional deaths.
43rd COVID-19 death reported in Pottawattamie County
The state reported a 43rd COVID-19 death in Pottawattamie County on Friday. Pottawattamie County Public Health said it was working to confirm details of the death Friday afternoon.
Pottawattamie County reported 30 new positive cases over a 24-hour period on Friday, with the total now at 2,150 positive cases out of 23,228 tests, according to data at coronavirus.iowa.gov at 3 p.m.
There have been 1,942 recoveries, up 55 from the day before.
The county's 14-day positivity rate was 12.2%. That rate was at 10.4% on Oct 2.
Statewide, Iowa was at 97,450 cases out of 850,964 tests, for an overall positivity rate of 11.5% on Friday afternoon. There were 1,348 new cases reported over 24 hours.
The state reported an additional 16 deaths, with the total now at 1,437, and 881 additional recoveries, for a total of 75,113.
The seven-day rolling average positivity rate in Iowa has risen over the past two weeks from 16.27% on Sept. 24 to 17.17% on Oct. 8, according to an Associated Press analysis of data from Johns Hopkins University. Iowa's rate was fourth in the nation.
The New York Times tracker on Friday had Iowa ninth out of states and territories at 199 cases per 100,000 population. Nebraska was eighth at 200 cases per 100,000 population.
Iowa announces COVID-19 residential utility assistance
Iowa Gov. Kim Reynolds and the Iowa Economic Development Authority announced the launch of the Residential Utility Disruption Prevention Program on Friday.
The program will provide eligible households with up to $2,000 towards electric, natural gas and water bills if they are at risk of disconnection due to an inability to pay due to a COVID-19 related loss of income, the governor's office said. Payments through the program will be made directly to utility providers and applied to the applicant's account.
"We are facing an unprecedented pandemic and from the very beginning the state has made it a priority to provide critical assistance to families, farmers, renters, homeowners, and small business owners," Reynolds said through her office. "For Iowans who lost their job or saw their paycheck shrink as a result of the COVID-19 pandemic, the Residential Utility Disruption Prevention Program will help them keep the power on and their water running."
The state allocated approximately $14.5 million of federal CARES Act funds for utility assistance programs, with the Small Business Utility Disruption Prevention Program launching in mid-July.
For the new residential program, eligibility requirements to receive assistance, a residential electric, natural gas and/or water for utility customers include:
A primary Iowa residence with active residential utility accounts. Renters may apply as long as the utility account is in the applicant's name.
An unpaid utility bill balance or have previously entered into a payment plan with their utility provider.
An annual income that is 80% of the median family income, based on county and household size. According the U.S. Census Bureau American Community Survey, the median household income in the state in 2019 was $61,691.
Experienced a COVID-19 loss of income (job loss, reduction in hours, reduction in pay) on or after March 17 that resulted in hardship in paying bills for electric, natural gas, and/or water utility service provided between March 17 and Oct. 31.
"Iowans, especially our low-income citizens have been greatly impacted due to the COVID-19 pandemic," IEDA and Iowa Finance Authority Director Debi Durham said in a release. "We are proud to make available this program offering to help our most vulnerable maintain critical utility services."
For a full list of eligibility requirements, additional information and to apply, go to iowahousingrecovery.com. Applications will be accepted now until Nov. 20 or until funding is depleted, whichever comes first. Assistance will be awarded based on application completeness and eligibility in order received until all funds have been exhausted.
Concerned about COVID-19?
Sign up now to get the most recent coronavirus headlines and other important local and national news sent to your email inbox daily.