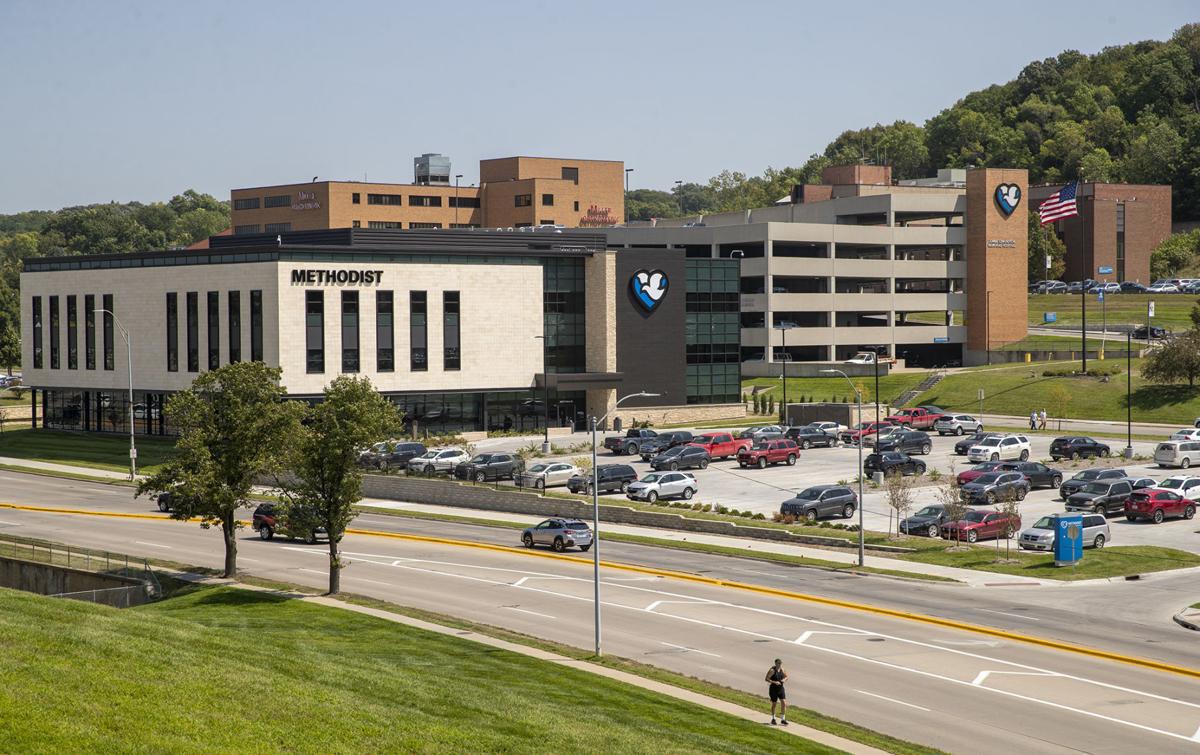 As COVID-19 numbers see an increase in the metro, area hospitals are working to treat patients.
On Tuesday, the Metro Omaha Health Care Coalition reported occupancy rate percentages in the 80s. That includes 208 available medical/surgical beds available out of 1,366 staffed beds, along with 34 adult intensive care unit beds available out of 321 staffed beds, according to data provided by Methodist Jennie Edmundson Hospital.
Methodist, CHI Health and Nebraska Medicine are among the more than 10 health care organizations that make up the coalition.
The coalition reported eight of 35 pediatric intensive care unit beds were available, for a 77% occupancy rate. The coalition was treating 134 total inpatients diagnosed with COVID-19 — 17 of those patients were in pediatric intensive care.
Additionally, 135 of the 462 ventilators at area hospitals were in use, with 11 COVID-19 patients on a ventilator.
In Iowa Regional Medical Coordination Center region four — which includes Pottawattamie, Mills, Harrison, Cass, Crawford, Shelby, Fremont, Montgomery, Page, Adams, Audubon and Taylor Counties — there were 26 hospitalized COVID-19 patients, with 10 in intensive care, according to the Iowa Department of Public Health's COVID-19 website.
The site listed 177 available inpatient beds, 20 available ICU beds and 59 available ventilators, with zero patients on ventilators.
During a Zoom call with local media, CHI Health CEO Dr. Cliff Robertson said "While we are seeing more patients admitted to the hospital than we did four weeks ago, five weeks ago," the health system has seen "rolling waves of more infections (and) less infections requiring hospitalization."
On Wednesday, the system was about 95% full in the Omaha metro area, Robertson said.
"Within the metro, we don't look at them individual, we look at in aggregate and manage the capacity," he said, noting the system can move staff and resources — and if needed, patients — when necessary.
Regarding capacity and the ability to take care of patients should a continued surge in cases occur, Robertson said, "we manage capacity day in and day out, hour by hour, sometimes minute by minute."
"What I'm trying to impart on … the general public is capacity is what we manage all the time," he said.
Methodist Jennie Edmundson Hospital President and CEO Steve Baumert said in a statement, "Since COVID-19 first appeared in our community, teams from across Methodist Health System began developing plans for potential patient surges related to COVID-19."
"We based those plans on what we were seeing unfold across the country and learned from each other in the health care field. The physicians, nurses and staff at all of our hospitals have implemented these plans with great success for the past six months," Baumert said. "We're all seeing an uptick in COVID-19 numbers across the communities we serve, and our planning and preparedness continues. In general, experiencing high census numbers this time of year is not unusual as hospitalizations always fluctuate throughout the year and season."
Robertson said CHI Health has contingencies in place to increase capacity, including staffing capacity. One option is bringing in traveling nurses. The system is also not looking at curtailing non-urgent and elective surgical procedures at this time, though the option remains if needed.
"We look at it almost every day — project forward where we'll be tomorrow or a week from now. And make sure we have the appropriate resources to handle whatever the day may hold," he said.
Asked about re-implementing restrictions on non-urgent and elective procedures, Robertson said hospitals continue to work to avoid that. He drew a distinction between elective surgeries — mentioning cosmetic surgery, for example — and non-urgent surgeries.
"It's not elective, it's still needed. Maybe it's something that can wait five days, a week," he said. "But we can't put other patients at risk because we're assisting patients with COVID."
That said, he noted, "if our leadership team determines the need to preserve capacity for COVID admissions, then we'd absolutely stop the non-urgent procedures."
COVID-19 in southwest Iowa
Pottawattamie County saw an increase of 17 cases of COVID-19, the disease caused by the novel coronavirus, over 24 hours, with 2,675 cases out of 23,928 tests at 3 p.m. Tuesday, according to the state website, coronvirus.iowa.gov.
There were 110 new tests reported.
The county has had 43 COVID-19 deaths and 2,019 recoveries — up 42 from the day before.
Pottawattamie County's 14-day rolling average positivity rate was 12.6%, down from 13.1% on Monday.
In Mills County, the county public health department reported 70 new cases for the week ending Monday. The county was at 292 cases out of 4,174 tests on Tuesday afternoon, with a 14-day positivity rate of 9.6%, according to the state website. There have been 153 recoveries and one death in the county.
The outbreak at Glen Haven Village in Glenwood has seen 10 cases with six recoveries, according to the state.
Harrison County continues to work with outbreaks at three long-term care facilities. The state reported 48 cases with two recoveries at Dunlap Specialty Care, 22 cases with three recoveries at Longview Home in Missouri Valley and 79 cases with 14 recoveries at Rose Vista Home in Woodbine.
Harrison County was at 469 cases out of 3,325 tests on Tuesday afternoon, with 198 recoveries and five deaths. The county's 14-day positivity rate was 21.8%.
Iowa saw an increase of 713 cases over 24 hours as of 3 p.m. Tuesday, with 100,896 cases out of 868,865 tests. That's an increase of 3,668 tests. The state's overall positivity rate was 11.6% Tuesday.
There have been 1,485 COVID-19 deaths in Iowa, with 14 new deaths reported, with 78,136 recoveries — up from 76,582 24 hours earlier.
Compared to the rest of the country, Iowa had the eighth-highest per capita rate over of cases over the previous seven days among U.S. states and territories, according to the New York Times COVID-19 tracker. Iowa was at 228 cases per 100,000 population on Tuesday. The Dakotas topped the list, with 509 cases per 100,000 population in North Dakota and 393 per 100,000 in South Dakota.
Iowa was also eighth in deaths per capita, a climb from previous weeks, with 2.6 deaths per 100,000 population.
Pottawattamie County was at 328 cases per 100,000 and 2.1 deaths per 100,000. Harrison County topped the state, with its 130 cases over seven days equaling 925 cases per 100,000 population.
Concerned about COVID-19?
Sign up now to get the most recent coronavirus headlines and other important local and national news sent to your email inbox daily.