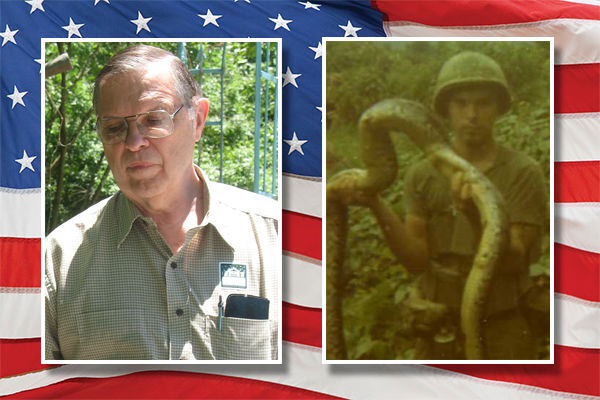 Gary Mauer says there were always a variety of threats that could swiftly end his life every time he went on patrol through the dense Vietnam forests.
There was the obvious threat: stumbling upon North Vietnamese troops. But, Mauer said running into the enemy was just one of the many thoughts at the forefront of his mind.
During an interview with the Nonpareil, the Army veteran rattled off numerous poisonous snakes that with one strike could leave a man incapacitated. Then, there were the big cats lurking about.
"There were plenty of tigers in our area, and they approached our perimeter two or three times," Mauer said. "They actually killed a marine further north."
Mauer, a Neola native and current Council Bluffs resident, served in Vietnam from December 1968 through September 1970. There, he operated as a combat infantryman with the Americal Division. Manning a remote firebase — only reachable by plane — he and his troop fought over a free-fire zone in the jungled mountains southwest of Danang and northwest of Chu Lai.
As a result of his service, Mauer, who achieved a rank of Army Specialist 4, received the Bronze Star, Good Conduct Medal, National Defense Medal, US and Vietnam campaign service medals and the Combat Infantry Badge.
Mauer said he was drafted shortly after finishing his business degree at Northwest Missouri State University. At the time, he and his wife, Phyllis, had a small child. The couple went on to have five more children and now have 15 grandchildren.
Job hunting after college proved difficult. Employers were aware that he was a 1A draft classification, meaning he was an optimal candidate for service, he said.
"If you were that classification it meant you were gone," Mauer said.
After completing basic training at Fort Ord in California, Mauer subsequently went through advanced infantry training before heading overseas.
Arriving in the unfamiliar country, Mauer remembers feeling a little overwhelmed.
"I just didn't know anything about anything," he said. "There were a lot of different smells in Vietnam — foods and everything else. In the mountains where we were, it wasn't unusual for it to be 96 degrees with 96% humidity."
The duration of his time in Vietnam was spent in the isolated free-fire zone.
"Basically what that was, was an area that had been inhabited but they flew all the people to the coast — evacuated them," he said. "There were no villages, it was just very isolated."
He recalled a chopper flying in food rations every three days. Interestingly enough, every time the whir of helicopter blades was head, Mauer knew a little piece of Iowa was coming his way.
"They came in a box, and it had about three cans of food in it," he said of provided rations. "And surprisingly enough, a lot of those cans came from Council Bluffs — they were canned by Blue Star, which eventually became Conagra."
After returning home, Mauer went on to have a 37-year career serving as an investigator for the U.S. Department of Labor. Although work occupied his mind, memories from the war were never far away.
In fact, he is in the process of piecing together an album of photos he snapped with an old Kodak camera he carried while serving.
His service is long over, but the memories remain fresh, he said.
"You have some experiences that you just don't ever forget," he said. "When you are walking through jungle trails every day and you could walk head-on one or two Vietnamese soldiers, or you could walk into 100 or 200 of them, that stays with you."