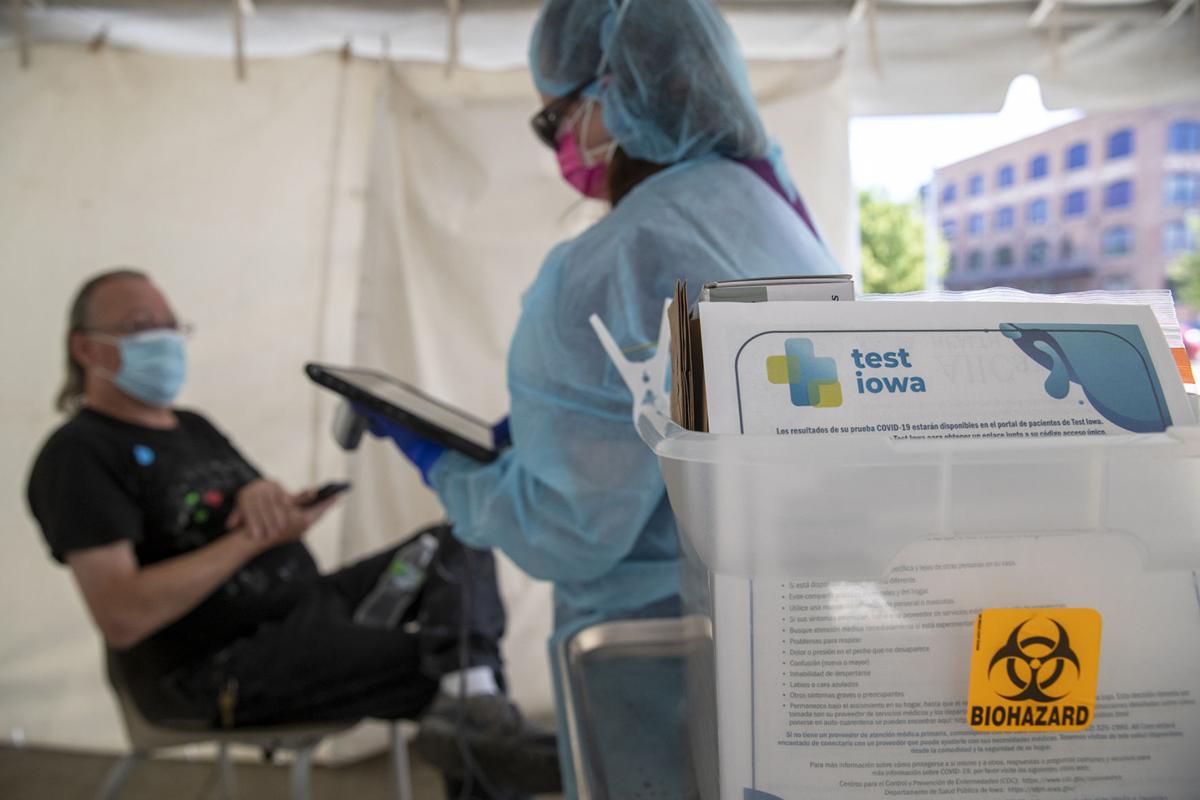 Area hospitals continue to see a high number of COVID-19 patients.
The Metro Omaha Health Care Coalition reported 176 inpatients diagnosed with COVID-19 on Thursday, with 59 confirmed and five suspected to have the disease in intensive care. And about 40 area residents suspected of having the disease are awaiting test results.
Fourteen COVID-19 patients in the metro are on a ventilator, the coalition reported.
Methodist, CHI Health and Nebraska Medicine are among the more than 10 health care organizations that make up the health care coalition.
The coalition reported 82% of inpatient medical/surgical beds were in use, with intensive care units at 74% occupancy. Pediatric ICUs were 68% occupied. That's not that unusual, Douglas County (Nebraska) Health Department Director Adi Pour said, as reported by the Omaha World-Herald, as hospitals prefer to be full.
"I think the message is, every fifth ICU bed is occupied by a (COVID-19) patient, and every 10th general hospital bed is occupied by a (COVID-19) patient," Pour said.
In Iowa Regional Medical Coordination Center region four — which includes Pottawattamie, Mills, Harrison, Cass, Crawford, Shelby, Fremont, Montgomery, Page, Adams, Audubon and Taylor Counties — there were 45 hospitalized COVID-19 patients, with 13 in intensive care, according to the Iowa Department of Public Health's COVID-19 website. Those hospital numbers include some overlap with the coalition's numbers.
The state site listed 176 available inpatient beds, 15 available ICU beds and 58 available ventilators, with one patients on a ventilator.
Pottawattamie County Public Health Director Matt Wyant said Thursday there were about 20 COVID-19 patients at the two hospitals in Council Bluffs.
"They're higher than where they had been," Wyant said of the uptick.
The state listed 68 new positive cases in the county over a 24-hour period, with a total of 3,081 out of 25,937 tests at 3 p.m. on Thursday. There were 237 new tests.
The county's 14-day rolling average positivity rate remained steady at 12.3%. The rate was hovering around 10% at the start of the month.
"I'm happy that it's not going any higher than that. But we are trending a little bit" in the wrong direction, Wyant said. "We're always looking for ways to lower our numbers."
Wyant said during the pandemic southwest Iowa has generally been three-to-four weeks behind central and eastern Iowa when it comes to trends.
"Those increased case counts are making their way over to our side of the state, along with Douglas and Cass (Nebraska) Counties," Wyant said, noting that in October adults in the 35-to-50 years old age range have made up about 30% of new cases.
"Our younger demographics, being back in school, wearing face coverings," have had low numbers, Wyant said. "I think it's enough evidence to show face coverings do work. It's just about getting that 35-50 age range to buy into masks."
Statewide, Iowa listed 18 new deaths and 1,491 new cases over 24 hours on Thursday afternoon. About half of those who died were in long-term care facilities, the Associated Press reported. The state reported 530 people were being treated in Iowa hospitals for the virus, down slightly from the 535 people hospitalized Wednesday.
CDC redefines close contact
U.S. health officials Wednesday redefined what counts as close contact with someone with COVID-19 to include briefer but repeated encounters, the Associated Press reported.
For months, the Centers for Disease Control and Prevention said close contact meant spending a solid 15 minutes within 6 feet of someone who tested positive for coronavirus. On Wednesday, the CDC changed it to a total of 15 minutes or more — so shorter but repeated contacts that add up to 15 minutes over a 24-hour period now count.
The CDC advises anyone who has been in close contact with a COVID-19 patient to quarantine for two weeks. The change may prompt health departments to do contact tracing in cases where an exposure might previously have been considered too brief, said Dr. William Schaffner, a Vanderbilt University infectious diseases expert.
It also serves notice that the coronavirus can spread more easily than many people realize, he added.
The definition change was triggered by a report on that case of a 20-year-old Vermont correctional officer, who was diagnosed with a coronavirus infection in August. The guard, who wore a mask and goggles, had multiple brief encounters with six transferred prisoners before test results showed they were positive. At times, the prisoners wore masks, but there were encounters in cell doorways or in a recreational room where prisoners did not have them on, the report said.
An investigation that reviewed video footage concluded the guard's brief interactions totaled 17 minutes during an 8-hour shift.
The report didn't identify the prison but Vermont officials have said that in late July, six inmates tested positive when they arrived at the Marble Valley Correctional Facility in Rutland.
In a statement, CDC officials said the case highlights again the importance of wearing masks to prevent transmission, and that the agency's guidance can change as new information comes in.
"As we get more data and understand this COVID we're going to continue to incorporate that in our recommendations," CDC Director Robert Redfield said at a press conference in Atlanta.
— The Associated Press and Julie Anderson of the Omaha World-Herald contributed to this report.
Concerned about COVID-19?
Sign up now to get the most recent coronavirus headlines and other important local and national news sent to your email inbox daily.