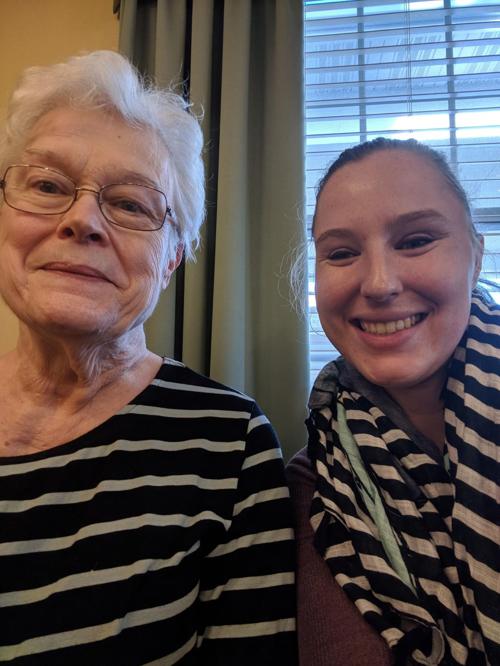 National Nurses Week began Wednesday.
In honor of the special week, Meghan Brockhaus, a registered nurse case worker at the St. Croix Hospice in Council Bluffs, detailed the challenges of working on the front lines of healthcare and caring for hospice patients during COVID-19.
"St. Croix Hospice has started a standard that all health care staff has to wear gloves, masks and face shields — with home patients and in the nursing home," Brockhaus said. "For every patient I'm applying new equipment. We're taking extra precautions in cleaning our equipment as well."
Nurses are stepping up and taking on additional work to make patients comfortable, despite limitations and restrictions. Nurses have been the only staff allowed in the facility at this time, Brockhaus said.
"We're making the proper adjustments to make (patients) comfortable and provide extra support physically, mentally and emotionally," she said. "It's been a challenge for sure, but I've been able to connect a lot more with my patients."
During the pandemic, patients haven't been able to see family, or other staff such as chaplains or social workers.
Even though the work in caring for these patients has increased, Brockhaus said she loves her job working with hospice patients.
Before working for St. Croix, Brockhaus was a night nurse at Nebraska Medical Center. After her grandmother was taken into hospice, she learned from aunts, uncles and parents about all the services hospice provided.
After a while, she said it all "clicked," and pursued her career at St. Croix Hospice.
"I wanted something that had meaning and I could relate to. I thought hospice was perfect because they were caring for my grandma and I knew that's what I wanted to do," Brockhaus said.
Working at night, Brockhaus said she didn't get to interact with patients or family members as often as she'd like. Now working in hospice care, she interacts with families and educates them daily, supporting the patient both emotionally and physically.
Two patients in particular have made a particular in her life since beginning her employment at the facility under a year ago.
Brockhaus was speaking with a family, giving an overview of hospice care. After one visit, the patient died, and the conversations about hospice were cut short. However, Brockhaus learned the impact of her meeting with the family by coincidence.
Brockhaus said her coworker was talking to a mother at a volleyball game. The mother praised the nurse who helped them with a relative in hospice care. Coincidentally, they were relatives of the patient Brockhaus cared for.
"I said, 'Oh my gosh, I was there for one visit,'" she said. "To know I could make an impact that way in their lives after one visit — I knew that's what I wanted to do forever."
Another instance that solidified Brockhaus' job choice involved a patient who loved music. At a younger age, the patient had an opportunity to record music, but chose to spend time with family, instead. Once in hospice, a friend of the patient collected money to record the patient's songs and create music videos.
"Unfortunately, the patient passed away before they got the album done, but he listened to a couple of songs," Brockhaus said.
Between the music and the talks she had with that patient, he was a person she'd never forget.
Since these initial solidifying experiences, Brockhaus said she's worked with families and patients who have expressed gratitude for her profession.
That type of impact is part of why Brockhaus loves being a hospice nurse.
"I love my job. It's been amazing," she said. "I didn't know how good of an impact I could make."