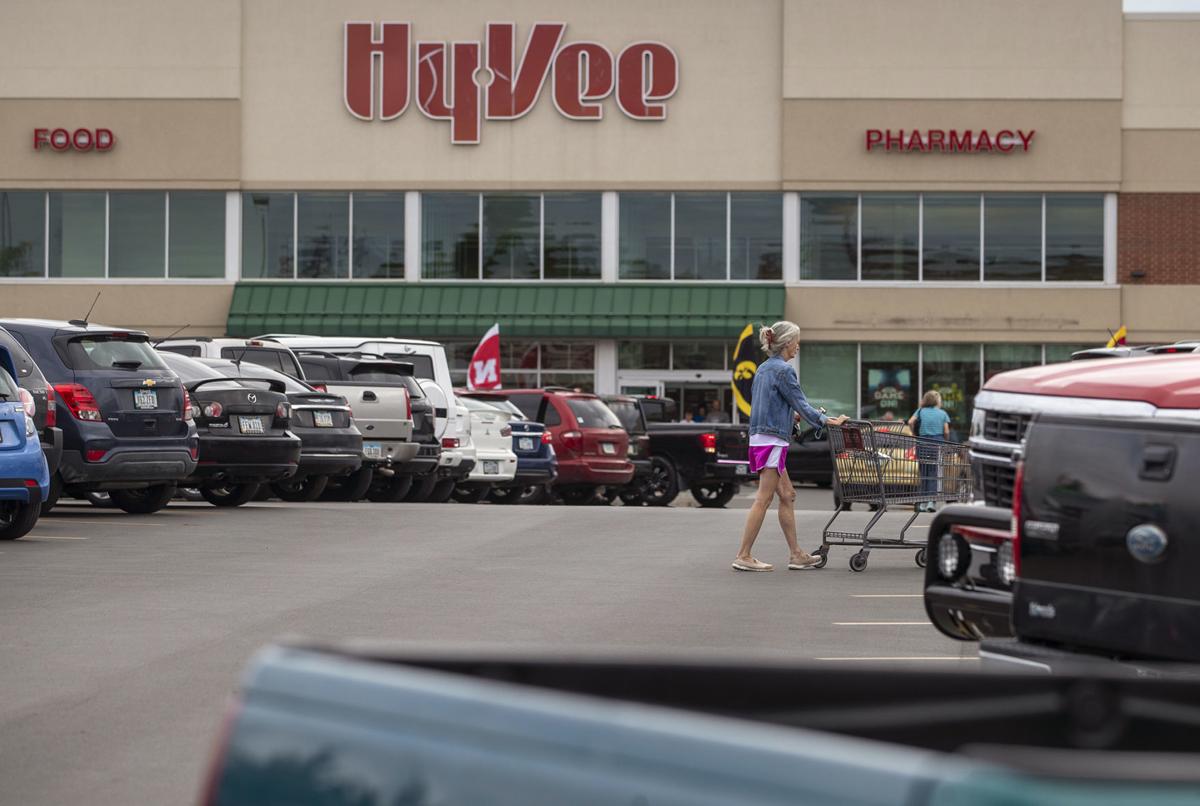 Editor's Note: This is a new list of statements from various company officials. It was updated on Friday at 10:43 a.m.
Hy-Vee
As our daily lives continue to be transformed by the outbreak of the coronavirus (COVID-19), Hy-Vee is continuing to adapt the ways in which we serve our customers to make sure we are providing you with the products you need while keeping our customers, our employees and our communities healthy and safe.
Beginning March 18, Hy-Vee stores will close at 8 p.m. each day. Starting March 19, our new store hours will be 8 a.m. to 8 p.m., seven days a week, until further notice.
These shortened hours will allow our employees additional time to clean and sanitize all areas of the store, as well as time to restock the items that are in highest demand. Operating with shorter store hours also will allow our employees additional time to care for their families and loved ones.
All our Hy-Vee convenience stores will continue to operate under their normal hours at this time. Customers can continue to purchase snacks, fuel and other items at these locations.
All dining areas in our stores, restaurants and convenience stores are now closed to the public. All Hy-Vee Market Grille bars also are closed. Food service areas will still be operating during their normal hours, offering freshly prepared meal options for carry-out only. If your local Hy-Vee has a Market Grille, you can still order for pick-up or curbside services.
For our Hy-Vee Aisles Online customers, we want you to know that we are transitioning some of our delivery service in several areas to third-party partners like Shipt and Door Dash (where available) in order to help our in-store employees focus on Aisles Online pickup orders and other needs at our stores.
This is an unprecedented time for all of us. We've never dealt with anything like this before, and we know you haven't either. We appreciate your patience and your loyalty as we navigate these changing times. We are committed to doing all we can to keep our customers and employees healthy and safe, and to being the "helpful smile in every aisle" you need during this time. Thank you for being a Hy-Vee customer.
*** Update 9:39 p.m. March 18 ***
Starting (Thursday) March 19, all Hy-Vee stores will reserve one hour of shopping time each day for customers at higher risk for illness. Customers age 60 or older, expectant mothers and anyone with an underlying health condition that makes them more vulnerable to illness can shop from 7 to 8 a.m., seven days a week, at any Hy-Vee store. All other customers – please visit us during our new store hours of 8 a.m. to 8 p.m.
---
Party City
The well-being of our team members, customers and their families remains of utmost importance to us. In an effort to help contain the further spread of COVID-19 and align with the evolving guidance from federal and local health officials, we have made the decision to temporarily close all of our 757 Corporate retail stores throughout the United States effective Tuesday, March 17, at 6:00pm local time through March 31, 2020. We have also made the decision to continue the work from home schedule for our corporate office personnel until at least April 3.
We will continue to monitor the situation and adjust accordingly to do what is best for the public health and safety and provide updates at PartyCity.com and through our social channels.
As always you can rely on us at PartyCity.com to help you celebrate the moments that matter most to you… whether that's a child completing a home-school project, creating a family movie night and celebrating our important birthdays and anniversaries.
Be safe, and we look forward to celebrating with you soon.
Brad Weston, CEO, Party City
---
CenturyLink
Every day we wake up to new information about how coronavirus is affecting communities across the globe. Change is happening in real time, but the one thing that remains constant is CenturyLink's commitment to serve our customers now and in the future. We built our network with the belief that our ability to connect society and meet bandwidth demands are the cornerstones of our infrastructure. We stand ready, willing and able to meet your near- and long-term technology needs.
Like so many companies around the globe, CenturyLink has been closely monitoring the spread of the coronavirus and planning to minimize its potential impact to our people, our communities and our valued customers. We're maintaining a continuous state of operational readiness around the globe, with particular emphasis on the strength, performance and security of our network.
We take pride in the fact that we operate one of the world's largest and most interconnected networks. This allows us to support your most critical operational needs so your business keeps running and our families stay connected.
I'm also proud to share that we've taken the Keep Americans Connected Pledge. This means that for the next 60 days, we've committed to waive late fees and to not terminate a residential or small business customer's service due to financial circumstances associated with COVID-19. We are also suspending data usage limits for consumer customers during this time period due to COVID-19.
We've been planning for unforeseen global scenarios for years, and I'd like to share some information about our preparedness and response to COVID-19:
We've implemented policies to protect our people, customers and vendors, including a pause in non-essential business travel, enhanced cleaning and social distancing.
We have a work-from-home plan in place to help care for our people while still ensuring our ability to effectively run the business.
We have well-established partnerships with governments around the world and, as such, have been designated as a critical infrastructure partner, which prioritizes our network and services.
Our network and services are monitored, managed and maintained virtually by technicians across the globe.
Our Network Operations Center is constantly monitoring usage across our network. These teams can quickly add capacity, modify paths, and adjust traffic based on customer utilization.
We are constantly reviewing, refining and updating our approach to the coronavirus to ensure business continuity and, ultimately, service to our customers.
We are monitoring trusted information sources and communicating with the proper government agencies and contacts. To ensure our supply chain continues, we are working with suppliers around the world to ensure a coordinated response surrounding potential coronavirus impacts on our business.
We're prepared to ensure traffic flows smoothly across our network, regardless of increased demand.
We will continue to adapt to your evolving needs during this extraordinary time in our history and have complete trust in the resilience of our people, our communities and our technology.
Jeff Storey, President & CEO, CenturyLink
---
Omaha's Henry Doorly Zoo
Omaha's Henry Doorly Zoo and Aquarium is extending the date that it will be closed to the public through April 30, 2020.
The decision was made based on the directions yesterday by Douglas County Health Department, and Nebraska's publication of guidance on cancelling events and limiting the number of people in public gatherings.
The Zoo is not aware of any guests or employees with positive Coronavirus tests. As the situation changes and decisions are made about the re-opening and events, the Zoo will continue to post updates on the Zoo webpage, OmahaZoo.com/Coronavirus, and through social media.
Thank you for your ongoing support of Omaha's Henry Doorly Zoo and Aquarium. Please stay safe during this challenging time.
---
Scooter's Coffee
You, our customers are very important to us. The health, welfare and safety of our customers, employees and communities remain our highest priority and concern. As we navigate the rapidly evolving impact of Coronavirus, Scooter's Coffee has made the decision to temporarily close our seating areas. Our intent is to help limit person-to-person contact.
Our drive-thrus remain open. Many of our sit-down coffeehouses will also remain open for take-out orders only.
We thank you for your flexibility, patience and support as we navigate these challenging times together. It is an honor and a privilege to be a part of your daily routine, and we appreciate the opportunity to serve you.
Take care of yourselves and we look forward to seeing you.
Todd Graeve, Chief Executive Officer
---
Hot Topic
For the safety of our customers, employees and community, beginning Tuesday, March 17, we will be closing all stores through March 30.
Our store employees will continue to be paid during this timeframe.
We will continue to monitor the situation closely. Please stay safe and know how grateful we are for all of you.
---
Target
Every day, for weeks now, you've turned to Target to stock up on supplies as you cope with the impact of the coronavirus. As we all continue to adapt to the country's fast-changing needs, we want to make sure we're doing everything we can to keep our stores open and support our team.
We've announced a couple of changes that will go into effect today and last until further notice.
We'll reduce hours and close all stores by 9 p.m. daily. This will help us as we replenish and deeply clean our stores for our guests. And it builds on measures we shared earlier this month, including enhanced cleaning and more staffing for in-demand services that support social distancing, like Order Pickup and Drive Up.
We'll also reserve the first hour of shopping each Wednesday to support vulnerable guests, including the elderly and those with underlying health concerns.
In addition to these changes, we're fast-tracking the flow of products that are in highest demand, including food, medicine and other essentials. We'll continue to maintain limitations on in-demand items and respectfully ask all guests to consider their immediate needs and purchase accordingly so more families can find the products they need.
During this challenging time, I can assure you that the Target team is working hard to be there for you and your families – and we're doubling down on everything we can to support them.
We recently announced changes to our back-up care benefit, so in the face of school and other care-facility closures, back-up care will be available to all, including frontline team members who are doing so much right now. This comes on top of temporarily waiving our absenteeism policy and covering quarantine and confirmed illness pay. We'll also continue to offer benefits like paid family leave and free counseling services for the range of challenges our team might be facing.
So much of what we've seen over the last few weeks has been heroic, from our dedicated teams working in our stores and supply chain, to the way you and your families have banded together.
As I've said from the outset, a commitment to help all families is at the heart of Target's purpose. Our goal is to be here for you and keep navigating through this uncertainty together – and we will do everything in our power to live up to that promise.
Brian Cornell, Chairman and CEO
---
Bath & Body Works
With breaking news about COVID-19 constantly developing, our goal has been to make products available to help you care for your families and friends to prevent the spread of COVID-19/Coronavirus as much as we can. But based on the information we have today, we have made the extremely difficult decision to temporarily close all of our stores in the U.S. and Canada.
While our associates are home with their loved ones at this critical time, we'll support them with pay, as well as look for other way we might ease their concerns and share our appreciation for all they've done. As a company, we're also working on additional ways to support those in need in our home office communities.
This closure will also allow us to prioritize inventory to our online channel, so you can safely shop from home. We're working around-the-clock to deliver products to our distribution center to ensure we can fulfill your needs. We never want to disappoint our customers, and we always try to ensure you get the products you need when you need them.
I've never been prouder of how our team has stepped up to take care of each other and our customers. Thank you for putting your trust in Bath & Body Works ... we're committed to earning it every day.
---
Five Below
Guided by our core values, we've made the decision to temporarily close our stores to help protect the health and safety of our customers and Wow crew.
This decision reflects both the enormity of the current reality and our deep sense of responsibility and concern for our shared community.
As a result, all stores will close on Thursday, March 19 at 7 p.m. (local time) through at least March 31. To offer some comfort and support, we will provide pay and benefits to affected associates during this period.
We're still available to serve you any time at fivebelow.com with necessities or just a few fun distractions.
Thank you for your care and understanding as we seek to stay safe and well together.
---
Panera
As so many of us adjust our daily routines, we at Panera want you to know that we're ready to serve you right where you need us, with good food that tastes good and feels good, too.
That starts with giving you the choice of how to get your meal — whether that's an online order for Rapid Pick-Up® or Delivery, or in our Drive-thrus.*
In addition to the steps we're already taking to emphasize food safety and sanitization procedures, we're focused on serving you safely on the go through the following:
Contactless Delivery Contactless Delivery
If you'd prefer not to answer the door, just tell us where to leave your meal in the "Delivery Instructions" box when placing your order.
Mindful Packaging Mindful Packaging
To-go bags for Delivery, Rapid Pick-Up and Drive-Thru orders will now be sealed shut to further protect your meal.
As always, we appreciate your business and thank you for choosing Panera Bread.
---
Carter's
We are thinking of you and your families as we are all adjusting to the challenges related to the coronavirus.
We are doing our best to stay informed and making decisions to support you and our employees.
For your safety and the safety of our store employees, we will suspend our store operations in the United States beginning tomorrow, Thursday, March 19. We expect to reopen our stores in early April. To support thousands of our dedicated store employees who will be affected by this decision, their compensation and benefits will continue during this temporary closure.
We are grateful for your support of our brands which have served multiple generations of families with young children. Over the past 150 years, Carter's has weathered many storms and challenging world events. With your support, we will emerge from this latest challenge even stronger, and continue to fully serve you with the best value and experience in young children's apparel.
Best wishes to you and your families,
Michael D. Casey, Chairman and CEO
---
maurices
The health and well-being of our customers and associates is our highest priority. With that in mind, we have made the decision to temporarily close our stores across the U.S. and Canada effective end of day today for up to two weeks.
We are so proud of how our teams have worked together during this difficult time. All store associates will receive compensation for their scheduled hours during this two-week period.
Our home office and design office associates in Minnesota and New York will also work from home during this time.
We remain open 24/7 at maurices.com and are offering free shipping. You can also connect with us on our social channels Facebook and Instagram. If you have any questions or thoughts you want to share, we'd love to hear from you. Community has always been core to who we are, and now, more than ever, we're grateful to be part of yours.
You mean the world to us, and we're all in this together. Be safe and know that we are always here for you.
---
Old Navy
As the novel Coronavirus (COVID-19) remains ever-changing, the health and well-being of you, our customers and employees, has remained our top priority.
Because of that, we're temporarily closing all of our stores in the U.S., Canada and Mexico for the next two weeks, starting Thursday, March 19, during which time, we'll support our impacted employees with continued pay and benefits.
We'll continue to share updates and stay connected through our email and social channels. And we're always happy to see you at oldnavy.com.
Families truly are at the heart of everything we do, and we know that each and every one of us will make a difference to be a bright spot in someone's day. We'll come through this stronger together.
---
Famous Footwear
As we continue to monitor the spread of COVID-19, we're committed to the health and safety of our employees, our customers and our communities. After all, they are at the heart of all that we do.
For this reason, we have made the decision to temporarily close all of our retail stores effective (Thursday), March 19th through Thursday, April 2nd.
In the meantime, we hope you will visit us at Famous.com where we remain open. Hoping to make your day a little brighter during these challenging times, please enjoy 20% off your entire online purchase with code FAMOUSTOGETHER. For our valued Famously You Rewards members, shipping is free on all orders as always, and we hope you'll enjoy a special double points event now through April 2nd. Please be mindful that you may experience some shipping delays as conditions are shifting quickly,
We want to support everyone in this tough time and do our part in reducing the potential spread of the virus. COVID-19 is impacting all of us and it's incredibly important to us that we take care of our team and customers. We are closely monitoring this situation as it continues to evolve and we will continue to adjust our plans as needed.
Wishing you all safety, health and perseverance during this uncertain time.
Molly Adams, president, Famous Footwear
---
JCPenney
The safety of our associates, customers and communities is always a priority for JCPenney, and our thoughts are with everyone during this critical time.
In response to the evolving global Coronavirus (COVID-19) pandemic, JCPenney is temporarily closing all stores and business offices (beginning Wednesday, March 18) until April 2. We're taking these steps based on recommendations from local, state and federal health officials. Customers can continue to shop online at our flagship store, jcp.com, or through our app.
Thank you for being such a valued customer as we navigate this time, together. 
Please be safe and take care of yourself, your family and loved ones.
Jill Soltau, Chief Executive Officer, JCPenney
---
Barnes & Noble Booksellers
Coronavirus (COVID-19) is impacting our country in an unprecedented way. We are proud to be members of your community and understand that each of you is going through unique challenges. Our stores remain open, and our first and foremost priority is the safety of our customers and booksellers.
Here are a few steps we are taking to continue serving our communities as safely as possible:
• We are reducing operating hours in all stores, and are prepared to react quickly to decisions from local and national officials that impact our stores and cafés.
• We are canceling all planned events in our stores through the end of April.
• We are following all guidance from health officials regarding enhanced cleaning and hygiene, and are instructing our booksellers to practice social distancing and remain home if they feel ill.
• We respectfully ask our customers to observe social distancing when in our stores, and to understand why we have removed the usual seating and similar furniture.
We understand not everyone may feel comfortable visiting a store at this time. BN.com is available for you to place orders 24/7. The NOOK app is also available to download for free for iOS and Android to access eBooks and digital magazines on your mobile device.
At heart we are all book lovers, and like many of you, we turn to books in times of crisis – to keep us informed, to educate and entertain our families, and often just to escape for a little while into a captivating story. For those of you who choose to visit us in a store, our booksellers will be there to welcome you and recommend your next great read.
We deeply appreciate your support in these difficult times.
---
Walmart
Our associates have been nothing short of heroic in their commitment to serve customers, stock shelves as quickly as possible and keep their stores clean. When their communities needed them the most, our people have been at their best. Their efforts continue to be a tremendous source of pride for everyone at Walmart.
Over the weekend we adjusted our operating hours to help make it easier for associates to stock and perform enhanced cleaning and sanitizing. We're pleased with the results we are seeing and will take additional steps beginning Thursday, March 19.
Walmart U.S. stores will adjust operating hours to 7 a.m. to 8:30 p.m. Stores that open later than 7 a.m. will continue their regular starting hours. This will further help associates restock the shelves for customers while continuing to clean and sanitize the store. While the store hours change for customers, our associates will continue to have access to their regular scheduled shifts and full hours.
We know our older customers could be more vulnerable to the coronavirus and to better support them, Walmart is offering special shopping hours. From March 24 through April 28, Walmart stores will host an hour-long senior shopping event every Tuesday for customers aged 60 and older. This will start one hour before the store opens. Our Pharmacies and Vision Centers will also be open during this time.
We know communities are counting on us more than ever and we are determined to serve the broadest number of customers and ensure they have access to the key items they are looking for. Our stores will have limits for customers in certain categories including paper products, milk, eggs, cleaning supplies, hand sanitizer, water, diapers, wipes, formula and baby food.
Our people are working hard to have every part of the store ready to serve customers. To help support our people and focus on the most critical areas of the store right now, we will temporarily shut down our Auto Care Centers to allow those associates to focus on stocking and cleaning in the rest of the store.
Also, our Vision Centers will operate on their normal schedule, providing essential services only such as glasses repair and helping customers pick up existing orders. We will have at least one associate to serve the needs of our Vision Care customers, while the other associates will help in the rest of the store.
I think every one of us has had to adjust our daily routines in some way, and it's likely that could continue. We are paying very close attention to our stores and communities and will continue making the necessary changes to help make sure our associates are taken care of and that our customers can get what they need. Let's all take care of each other out there.
Dacona Smith, Executive Vice President and Chief Operating Officer, Walmart U.S.
---
Ulta
Things have been changing very quickly with the coronavirus (COVID-19) situation in the U.S. We've been closely monitoring and making changes along the way, as we take very seriously our responsibility to help care for and protect our associates, our guests, their families and the communities we serve. Because of this, we will be taking an important next step to temporarily close our Ulta Beauty stores across the U.S. as of 6 p.m. on Thursday, March 19 until at least Tuesday, March 31. Additionally, buy online pickup in store will not be available during this time. If you're shopping remotely, you can continue to visit us on our Ulta Beauty app or at Ulta.com. We're now offering free shipping for any purchase of $15 or more.
We understand the impact this will have on our guests and we want you to know how much we appreciate your flexibility and understanding. We also understand the impact this will have on our associates, who are at the heart of our company. To care for them during this unprecedented time, we will continue to pay our store and salon associates, as well as provide benefits for those who are currently enrolled.
I want to make sure that our guests and associates know there is nothing more important than our collective health and safety. We look forward to the time when we can re-open our stores, bring our associates back together, and invite you back in to Ulta Beauty. Until then, please take care of yourselves, your loved ones, and others who may need help.
Mary Dillon, CEO, Ulta Beauty
---
Black Hills Energy
Black Hills Energy's number one priority is the continued safety of our customers, employees and communities. We continue actively monitoring the coronavirus (COVID-19) situation and have measures in place to ensure we continue to serve our customers in a way that is safe for everyone.
"We take the health and safety of our customers and employees very seriously and are committed to making practical decisions to appropriately protect all parties as our communities deal with the COVID-19 threat," states Shirley Welte, vice president of Iowa operations. "We continue to closely monitor the frequently evolving environment and assess our processes alongside those developments."
The company continues to work closely with local health, public safety and government officials to minimize the spread of COVID-19 and minimize the impact of service to customers.  Some of the actions the company has taken include:
Black Hills Energy is temporarily suspending nonpayment disconnections for our customers. We realize that due to possible extended periods of isolation, customers may face financial hardships effecting their ability to timely pay their energy bills. Please visit www.blackhillsenergy.com/ to explore options to assist in those hardships.
To minimize the potential spreading of COVID-19 Black Hills Energy will be asking customers who have had a fever or dry cough within in the last 48 hours to consider postponing non-emergency service calls. 
Crews will continue to respond to all emergency calls and will be wearing appropriate personal protective equipment and following health practices as recommended by the CDC and other health organizations.
Employee travel has been limited to mission critical purposes.
A work from home policy has been implemented for all employees who are able to do so.
Paid leave is being provided for employees who tests positive or are put under quarantine.
All on-site meetings with consultants and gathering of over ten people have been postponed and electronic communications are encouraged when possible.
Black Hills Energy is committed to serving the needs of our customers while also having the privilege and responsibility of providing an essential service that our communities rely on.  The company will continue to do its part to reduce the spread of the virus and take action as needed to support the health and safety of its employees, customers and communities.
---
Bomgaars
Situations are changing quickly across this great nation due to the Coronavirus (COVID-19), so we would like to update you on the steps we are taking at Bomgaars to continue to protect the health and safety of our employees, customers and the communities that we are proud to call home.
We know that you look to Bomgaars for essential needs, for your family, pets, livestock, farms and small businesses. We have an unwavering responsibility to provide these products to fill the needs of not only you and your family, but your pets and animals as well. Together we will get through this trying time and come out stronger and better than ever. In order to do this, some changes have been implemented at Bomgaars.
Effective Friday March 20th, will be adjusting our store hours to ensure that we can provide the same level of customer service that you have come to expect. Our revised hours will be:
 Monday – Saturday 7:30am to 6:00pm
                              7:00am to 6:00pm (Spirit Lake only)
At the same time, we will be increasing measures to clean and sanitize our stores each evening. 
In addition, effective Monday March 23rd, we will be adding curbside and carryout service at all of our Bomgaars locations. Call ahead with "what you need" and we will have it ready and waiting when you arrive at our stores. Call your local Bomgaars for more details. 
Stay safe and we look forward to seeing you soon.
---
Harbor Freight
As we've been following the news over the last few days, we've heard about the severe shortage of protective gear for hospitals, healthcare workers and first responders as the impact of COVID-19 is being felt across the country. America depends on these heroes every day and in the days ahead we will depend on them even more. At Harbor Freight, we want them to know that they can depend on us too.
So we've decided to donate our entire supply of the personal protective equipment items listed below to front line hospitals with 24 hour emergency rooms in the communities served by our stores.
• 5 and 7 mil Nitrile Gloves
If you work at a hospital with a 24-hour emergency room in need of these items, please ask the office in charge of procurement at your hospital to click here so they can provide us with the information we'll need to determine if we can make a donation. If you're not with a hospital, but would like to give us the name of a hospital with a 24 hour emergency room in your community that might need our help, please email us at hospitalhelp@harborfreight.com, identify the hospital's city and state in the subject line, and our team will follow-up.
PLEASE DO NOT MAKE REQUESTS AT YOUR LOCAL STORE OR OUR CALL CENTER AND PLEASE DO NOT CONTACT HOSPITALS — THEY'RE BUSY HELPING THEIR PATIENTS.
For hospitals we're able to help, we'll email them a voucher when the supplies are available for pick up at their local Harbor Freight Tools store.
Although we certainly won't have enough of these supplies to fill everyone's needs, we're going to donate everything we've got. We also recognize that there are so many other critically important people responding to this crisis and that there is need everywhere. We've chosen to focus our efforts on hospitals with a 24 hour emergency room with the hope that we can help as many people as possible right now.
Eric Smidt, Owner and Founder, Harbor Freight Tools
Concerned about COVID-19?
Sign up now to get the most recent coronavirus headlines and other important local and national news sent to your email inbox daily.