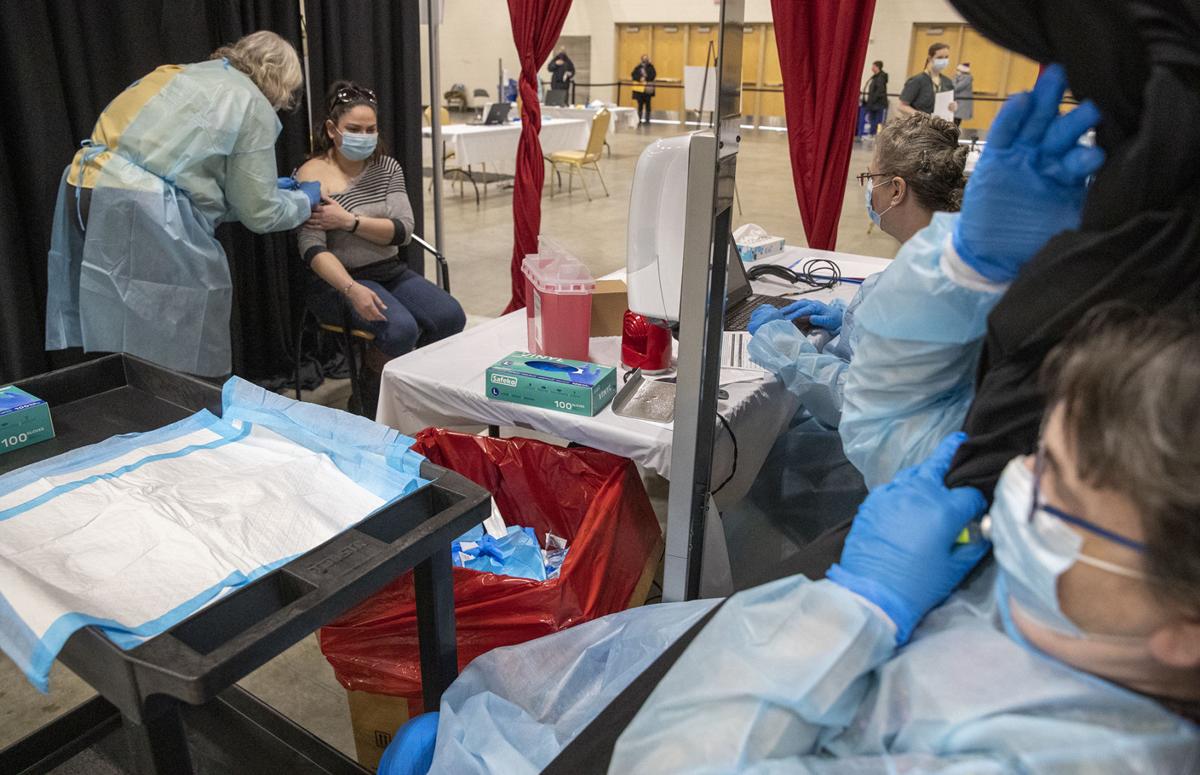 Pottawattamie County will soon complete the first round of COVID-19 vaccinations for willing participants in the state's 1A priority group.
The county is set to give the first dose of Moderna vaccine to 900 people today. Public Health Director Matt Wyant said the county accepted an allotment of 500 additional doses on Wednesday, which will be given out next week and complete the first dose vaccinations for 1A group members. The Moderna vaccine requires two doses, administered 28 days apart.
The county will also begin administering the second — booster — dose of the vaccine this week to people who received the first dose in December.
Health care workers, long-term care facility residents and staff and first responders were among priority group 1A for vaccine distribution. The vaccine is not currently available to the general population.
More than 80% of eligible recipients in group 1A signed up to take the vaccine, Wyant said.
As reported earlier by the Nonpareil, on Tuesday the Iowa Department of Public Health released information about priority group 1B. The state's Infectious Disease Advisory Council recommended phase 1B include individuals 75 and older, individuals with disabilities living in home settings, correctional facilities, other congregate settings and meatpacking plant workers. IDPH Interim Director Kelly Garcia accepted those recommendations, and added inspectors responsible for health, life and safety as well as government officials, including staff, "to ensure continuity of government, engaged in state business at the Iowa Capitol during the legislative session."
Individuals will not have to prove residency or citizenship. Phase 1B is slated to begin on Feb. 1.
On Friday, Iowa Department of Public Health vaccine data showed 125,776 doses have been administered in the state, including 118,991 to state residents. That includes 4,981 doses in Pottawattamie County, with 2,291 to residents.
Wyant said that on Wednesday, the state offered 1,000 new doses to Pottawattamie County, but only 500 were needed to complete 1A first round vaccinations. He said the county didn't want to move into 1B vaccinations because of state mandates.
A vaccine shortage order from Iowa Department of Public Health Interim Director Kelly Garcia included the following directive to vaccine administrators: "You shall only vaccinate persons who are included in priority designation phase 1A which has been activated by IDPH, and in accordance with the Vaccine Allocation Instructions issued to local public health agencies. You are prohibited from vaccinating any person who is not included in priority designation phase 1A."
"We could only accept 500 of those on the state guidelines," Wyant said when asked about criticism he'd received for turning down doses. "We've been doing all we can to abide by the state guidance."
Wyant said he feared if the county took 1,000 doses and started vaccinations in priority group 1B, the state would withhold further vaccine until the entire state moved into the priority group.
A message to Iowa Department of Public Health spokeswoman Sarah Ekstrand asking about repercussions for moving to the 1B population wasn't immediately returned on Friday. Calls to Ken Sharp, chair of the state's Infectious Disease Advisory Council, for comment regarding vaccine policy also weren't immediately returned on Friday.
Earlier in the week, Ekstrand followed up on questions from the Nonpareil regarding vaccine allotments. She said the Pfizer-BioNTech COVID-19 vaccine — which requires extreme cold storage and two shots 21 days apart — has been allotted in Iowa for long-term care facilities.
Vaccinations at long-term care facilities are set to be completed by the end of January, and Pfizer will allocated to local partners, Ekstrand said. The Iowa Department of Public Health has been working with Pottawattamie County officials to increase their vaccine storage capacity and the state has purchased an ultra-cold freezer for Pottawattamie County that is expected to arrive in January to help support storage needs for Pfizer in southwest Iowa.
Ekstrand said, "storage of vaccines at an out of state location is not a prohibitive practice." Wyant said in December the state had told him it couldn't be stored with partners in Nebraska.
Discussing allotments, Ekstrand said, "the actual numbers of vaccine received fluctuate each week, because the total numbers of vaccines available to the state from the federal government can and do fluctuate."
She said Pottawattamie County, "has been receiving an increased proportion of the weekly state allocation each of the last two weeks."
At 3 p.m. on Friday, there were 31 new COVID-19 cases over the previous 24 hours listed for Pottawattamie County, and 1,160 active cases, according to coronavirus.iowa.gov. There have been 8,875 positive cases in the state out of 41,153 individuals tested, with 7,715 recoveries. There have been 112 deaths. The county's 14-day positivity rate was 15.1%.
COVID-19 information and resources
Symptoms in people who have been exposed to coronavirus can include fever, cough and shortness of breath and other symptoms, according to the Iowa Department of Public Health.
The symptoms may appear in as few as two days or as long as 14 days after exposure. Most people experience mild or moderate symptoms that clear up in two to three weeks.
Older adults and people with existing health problems are among those particularly susceptible to more severe illness, including pneumonia.
The Centers for Disease Control and Prevention recommend the use of masks when out in public and a proclamation from Iowa Gov. Kim Reynolds requires the use of masks in public when in contact with someone for 15 or more minutes.
Make sure the mask covers the mouth and nose. Face shields are an option as well.
Public health officials recommend:
• Stay home as much as possible.
• Self-monitor for symptoms.
• Call your physician if symptoms appear.
• Cover coughs and sneezes with a tissue or your upper arm/elbow.
• Clean and disinfect frequently-touched objects and surfaces.
• Wash hands frequently with soap and water.
COVID-19 testing is available in Pottawattamie County via two TestIowa locations: All Care Health Center, 902 S. Sixth St., and the Southwest Iowa Transit Agency, 3236 Nebraska Ave. Sites will be closed Monday in observance of Martin Luther King Jr. Day.
To get tested, residents must complete the online assessment at testiowa.com to schedule an appointment. Testing is free.
For those struggling with mental health during the pandemic, yourlifeiowa.org has several resources, including a hotline at 855-581-8111 and a text-friendly line at 855-895-8398.