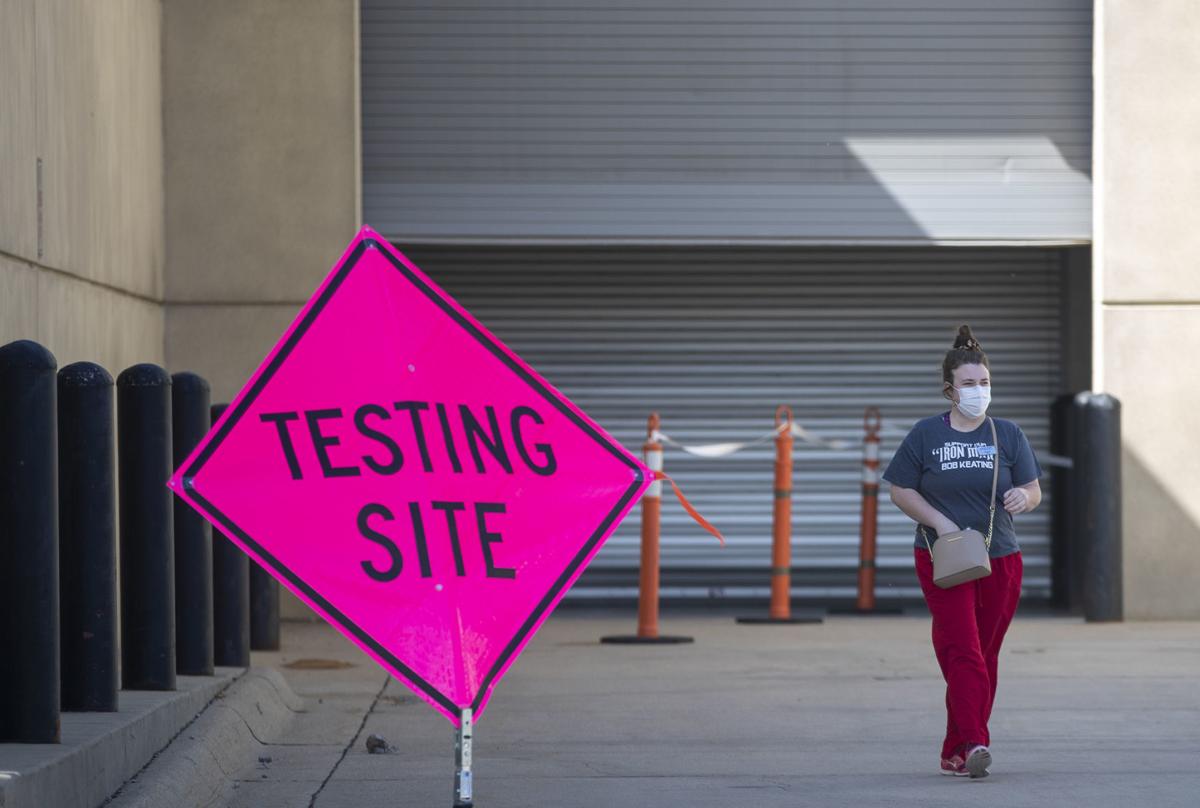 A 12th Pottawattamie County resident has died after contracting COVID-19, the disease caused by the novel coronavirus.
Pottawattamie County Public Health reported the death Monday in a release. The resident was a woman between 61 and 80 years old.
According to Pottawattamie County Public Health, six of the deaths in the county have been among residents 81 or older, four in the 61 to 80 age range and one each in the 18 to 40 and 41 to 60 age ranges.
The state COVID-19 website, coronavirus.iowa.gov, listed 730 positive cases in the county around 2 p.m. on Monday. There have been 9,914 tests in the county, for a positive rate of 7.4%, down from the 7.5% listed on Friday and most of last week. The state listed 635 recoveries.
Pottawattamie County Public Health said it would no longer issue daily press releases on COVID-19 going forward.
"PCPH will issue press releases when new information or guidance is available," the department said, directing people to the agency's Facebook page.
"We're just going to defer to the state numbers for reporting," Matt Wyant with Pottawattamie County Public Health said, noting the change comes because of a state reporting guideline change.
In the release, the county public health department also noted that the Iowa Department of Public Health has changed the process for COVID-19 reporting in Iowa.
"IDPH will continue to send positive COVID-19 case information to local health departments across the state with the expectation that the local health departments conduct the initial contact investigation and contact tracing for each case," Pottawattamie County Public Health said in a release.
The state public health department has also changed its process for deeming an individual recovered, with residents now considered "recovered" 28 days after diagnosis unless they contact their local public health department to indicate they are still symptomatic, have increased symptoms or are hospitalized.
"Until this change, local health departments made frequent contact with each COVID-19 case to check symptoms, offer guidance and track each individual through their recovery," Pottawattamie County Public Health said. "Per the updated IDPH guidance, Pottawattamie County Public Health will conduct the initial contact investigation and contact tracing with each new COVID-19 case, then mark the case as recovered after 28 days, unless an individual notifies PCPH they are still symptomatic."
Wyant said Pottawattamie County has seen a downward trend in cases, "which has been greet."
He added, "we're waiting to see what happens with the July 4 holiday," noting an increase after Memorial Day.
"We're going to gauge it in the next few weeks, see what happens with our numbers," Wyant said. "Our hospitalization rates have stayed good. And our positive rate has stayed stable. It's just going to be a matter of continuing to monitor as people get out and about more."
Wyant said the county will still track epidemiologically-linked cases but will not announce totals daily. Pottawattamie County Public Health has said epi-linked cases are individuals who have had contact with a confirmed positive individual and are exhibiting symptoms, but have not been tested.
Wyant said the epi-linked tracking was not mandated by the state, but something his department wanted to do to assist residents and help track the disease.
Pottawattamie County Public Health said: "COVID-19 continues to spread in our communities. PCPH urges you to continue practicing social/ physical distancing, wearing face coverings in public, washing hands, using hand sanitizer, and disinfecting surfaces. If you are sick, stay home."
"I still really hope people are out there socially distancing," Wyant said, adding that residents should where a mask when social distancing isn't possible. "I've seen more people out with masks lately. It'd be nice to see even more people utilizing face coverings. If you get into a crowded environment, put your mask on."
Statewide, coronavirus.iowa.gov listed 31,657 positive cases out of 335,981 tested, for a 9.4% positive rate. There have been 723 COVID-19 deaths in Iowa, with 25,167 recoveries.
COVID-19 cases in southwest Iowa
Mills County Public Health announced two new cases on Sunday, both adults between 61 and 80 years old.
Based on numbers reported by the Nonpareil on Friday: Crawford County reported five new cases, Monona County reported three and Harrison, Shelby and Cass Counties one, according to coronavirus.iowa.com.
Here's a look at numbers in southwest Iowa, based on data from the counties and the state website:
Pottawattamie County — 730, 635 recoveries, 9,914 tests, 7.4% of those tested have come back positive, 12 deaths
Mills County — 36 cases, 33 recoveries, 1,981 tests, 1.8%
Harrison County — 54 cases, 45 recoveries, 1,094 tests, 4.9%
Cass County — 22 cases, 18 recoveries, 885 tests, 2.5%
Shelby County — 112 cases, 99 recoveries, 1,095 tests, 10.2%
Montgomery County — 10 cases, eight recoveries, 790 tests, 1.3%, two deaths
Monona County — 76 cases, 53 recoveries, 929 tests, 8.2%
Crawford County — 672 cases, 617 recoveries, 2,961 tests, 22.9%, two deaths
Page County — 20 cases, 20 recoveries, 1,213 tests, 1.6%
Fremont County — seven cases, five recoveries, 413 tests, 1.7%
In Regional Medical Coordination Center region four — which includes Pottawattamie, Mills, Harrison, Cass, Crawford, Shelby, Fremont, Montgomery, Page, Adams, Audubon and Taylor Counties — there were four patients hospitalized with COVID-19 with two in intensive care.
The region has 208 inpatient beds available, up by more than 15 from last week, 25 intensive care beds available and 67 ventilators available. There are no hospitalized COVID-19 patients on a ventilator.
Information about COVID-19
Symptoms in people who have been exposed to coronavirus can include fever, cough and shortness of breath, according to the Iowa Department of Public Health.
The symptoms may appear in as few as two days or as long as 14 days after exposure. Most people experience mild or moderate symptoms that clear up in two to three weeks.
Older adults and people with existing health problems are among those particularly susceptible to more severe illness, including pneumonia.
The Centers for Disease Control and Prevention recommend the use of masks when out in public. Make sure it covers the mouth and nose. Face shields are an option as well, as they cover the eyes.
The new TestIowa site at All Care Health Center, 902 S. Sixth St., opened Monday. The first TestIowa site in the county is located in Council Bluffs at the Western Historic Trails Center, 3434 Richard Downing Ave. Residents must complete the health assessment at TestIowa.com to receive a testing date and time.
For those struggling with mental health during the pandemic, yourlifeiowa.org has several resources, including a hotline at 855-581-8111 and a text-friendly line at 855-895-8398.
Also, the Hope 4 Iowa Crisis Hotline is available 24 hours a day. Call 84-HOPE-4-IOWA (844-673-4469).
The University of Nebraska Medical Center has a COVID-19 screening app — 1-Check COVID.
Be the first to know
Get local news delivered to your inbox!