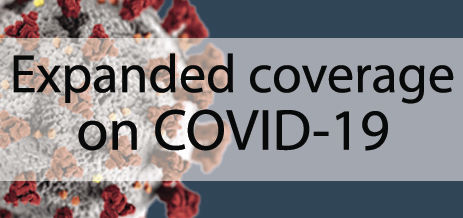 Pottawattamie County Public Health reported 17 new cases of COVID-19, covering the weekend and Monday.
The report includes seven cases each on Saturday and Sunday and three cases on Monday. Sixteen are Council Bluffs residents and one person is from Crescent. They were tested between June 23 and June 26, the department said. None of the cases were epidemiologically-linked.
The new cases bring the total tracked by Pottawattamie County Public Health to 741. Around 2:30 p.m. on Monday, coronavirus.iowa.gov, the state COVID-19 website, showed 680 cases for the county out of 9,094 residents tested, for a 7.5% positive rate, down from last week, when the rate hovered in the 7.9-8% range.
The state does not track epi-linked cases.
Of the county-tracked cases, 160 positive individuals are self-isolating, five are hospitalized, 539 are listed as recovered and there have been 11 deaths. The county notes 26 of the cases were among non-residents/residents who have moved.
The 741 positive cases of COVID-19, the disease caused by the novel (new) coronavirus, in the county include 373 women and 368 men.
Young adults remain the age range with the highest amount of cases, with 323 cases among adults 18 to 40 years old. That's followed by: 235 cases among those between 41 and 60 years old; 111 among the 61 to 80 age range; 57 among children 17 or younger and 15 among adults 81 or older.
Pottawattamie County Public Health said it, "emphasizes the importance of continued social/ physical distancing, wearing face coverings in public, hand washing, hand sanitizer, and disinfecting surfaces. If you are sick, stay home."
A TestIowa site is located in Council Bluffs at the Western Historic Trails Center, 3434 Richard Downing Ave. Residents must complete the health assessment at TestIowa.com to receive a testing date and time. All Care Health Center offers COVID-19 testing and assists those without transportation and/or health insurance. Call All Care at 712-325-1990.
COVID-19 cases in southwest Iowa
According to coronavirus.iowa.gov, since Friday afternoon: Crawford County reported 12 new cases. Shelby County reported seven new cases and saw its positive rate go from 11.2% to 10.4%. Monona County reported four and saw its positive rate go from 9.3% to 8.6%. Harrison County reported two, Cass and Fremont Counties each reported one,
Crawford County has six new cases, Shelby County has four new cases, Harrison County has two new cases.
Here's a look at numbers in southwest Iowa, based on data from the counties and coronavirus.iowa.gov:
Pottawattamie County — 680 cases (Pottawattamie County Public Health is tracking 741, including epi-linked cases), 539 recoveries (per the county), 9,094 tests, 7.5% of those tested have come back positive, 11 deaths
Mills County — 32 cases, 29 recoveries, 1,903 tests, 1.7%
Harrison County — 49 cases, 41 recoveries, 1,001 tests, 4.9%
Cass County — 17 cases, 16 recoveries, 795 tests, 2.1%
Shelby County — 104 cases, 65 recoveries, 999 tests, 10.4%
Montgomery County — 10 cases, eight recoveries, 752 tests, 1.3%, two deaths
Monona County — 70 cases, 37 recoveries, 813 tests, 9.3%
Crawford County — 654 cases, 399 recoveries, 2,839 tests, 23.5%, two deaths
Page County — 20 cases, 18 recoveries, 1,155 tests, 1.7%
Fremont County — seven cases, two recoveries, 370 tests, 1.9%
In Regional Medical Coordination Center region four — which includes Pottawattamie, Mills, Harrison, Cass, Crawford, Shelby, Fremont, Montgomery, Page, Adams, Audubon and Taylor Counties — there were six patients hospitalized with COVID-19, with two in intensive care, both remaining the same from Friday.
The region has 186 inpatient beds available, 23 intensive care beds available and 62 ventilators available. One hospitalized COVID-19 patient is on a ventilator.
Information about COVID-19
Symptoms in people who have been exposed to coronavirus can include fever, cough and shortness of breath, according to the Iowa Department of Public Health.
The symptoms may appear in as few as two days or as long as 14 days after exposure. Most people experience mild or moderate symptoms that clear up in two to three weeks.
Older adults and people with existing health problems are among those particularly susceptible to more severe illness, including pneumonia.
The Centers for Disease Control and Prevention recommend the use of masks when out in public. Make sure it covers the mouth and nose. Face shields are an option as well, as they cover the eyes.
For those struggling with mental health during the pandemic, yourlifeiowa.org has several resources, including a hotline at 855-581-8111 and a text-friendly line at 855-895-8398.
Also, the Hope 4 Iowa Crisis Hotline is available 24 hours a day. Call 84-HOPE-4-IOWA (844-673-4469).
The University of Nebraska Medical Center has a COVID-19 screening app — 1-Check COVID, enables users to answer a series of questions and assess their likelihood of having COVID-19. Based on the user's input, the screening app will issue a "low-risk," "urgent risk" or "emergent risk" assessment and guide the individual toward possible next steps.