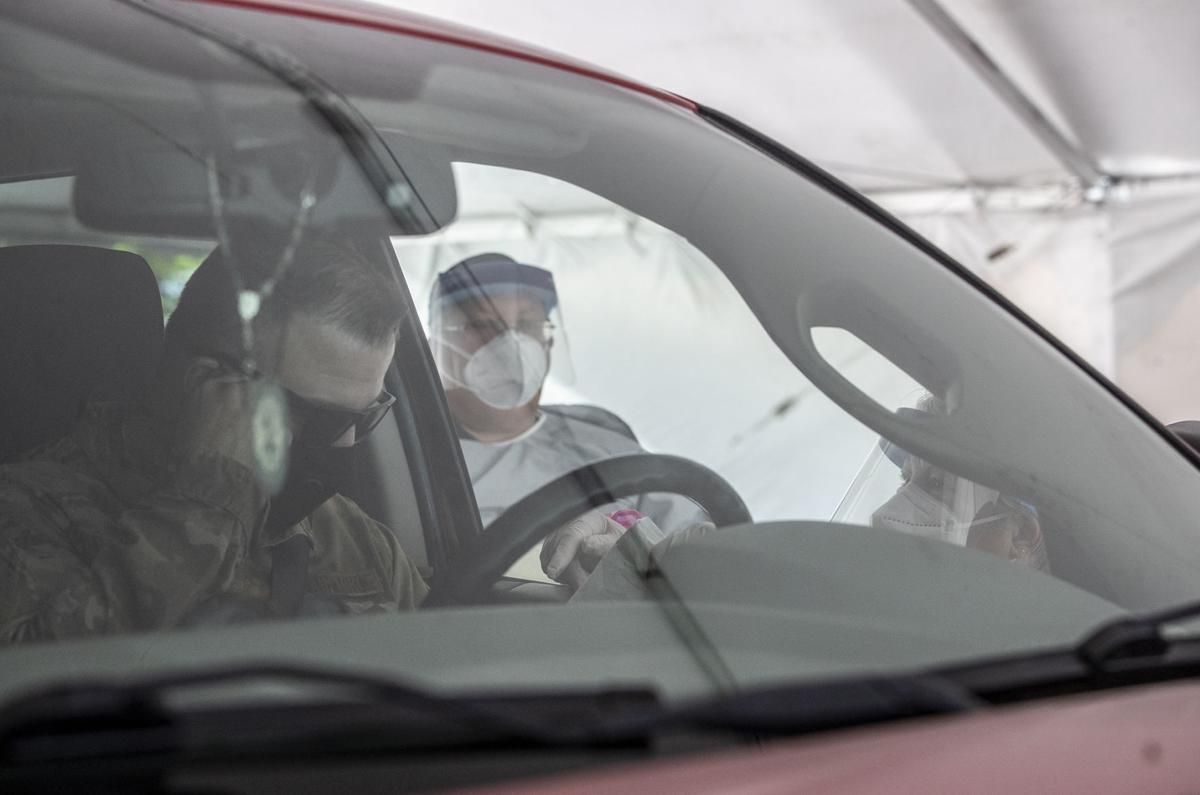 The state reported 42 new cases of COVID-19 in Pottawattamie County on Wednesday. Additionally, Pottawattamie County Public Health confirmed details of the 43rd death from the disease in the county.
Pottawattamie County Public Health Director Matt Wyant said Wednesday his office confirmed a Council Bluffs woman in the 61 to 80 age range died last week.
The county was at 2,717 cases at 3 p.m. Wednesday, up from 2,675 24 hours earlier, according to coronavirus.iowa.gov. There have been 24,068 tests in the county.
The county reported 26 new recoveries, with the total now at 2,045, according to the state COVID-19 website.
In Iowa Regional Medical Coordination Center region four — which includes Pottawattamie, Mills, Harrison, Cass, Crawford, Shelby, Fremont, Montgomery, Page, Adams, Audubon and Taylor Counties — there were 27 hospitalized COVID-19 patients, with nine in intensive care, according to the COVID-19 website.
There were 157 inpatient beds available, with 20 ICU beds available and 61 ventilators available. There was one COVID-19 patient on a ventilator.
Iowa reported 1,210 new cases, with the state at 102,106 positive cases out of 874,162 tests Wednesday afternoon. There have been 79,111 recoveries, up from 78,136 the day before.
The state reported 11 new deaths, for a total of 1,496.
State reports outbreak at Cass County long-term care facility
Iowa reported a COVID-19 outbreak at Atlantic Specialty Care in Cass County. On Wednesday, the state listed six positive cases at the facility, with one recovery.
The state reported five additional cases at Rose Vista Home in Woodbine in Harrison County, with 84 cases and 14 recoveries. Dunlap Specialty Care is now at 60 cases with six recoveries. Longview Home in Missouri Valley remained at 22 cases, with an increase to six recoveries.
The outbreak at Glen Haven Village in Glenwood has now seen 11 cases, with recoveries remaining at six, according to the state.
There are two outbreaks in Crawford County. The state listed 22 cases and four recoveries at Eventide Lutheran Home in Denison and 29 cases with four recoveries at Denison Care Center.
COVID-19 information and resources
Symptoms in people who have been exposed to coronavirus can include fever, cough and shortness of breath, according to the Iowa Department of Public Health.
The symptoms may appear in as few as two days or as long as 14 days after exposure. Most people experience mild or moderate symptoms that clear up in two to three weeks.
Older adults and people with existing health problems are among those particularly susceptible to more severe illness, including pneumonia.
Public health officials recommend:
• Wear face coverings, especially when 6 feet of distance is not possible.
• Avoid large gatherings.
• Self-monitor for symptoms.
• Call your physician if symptoms appear.
• Cover coughs and sneezes with a tissue or your upper arm/elbow.
• Clean and disinfect frequently-touched objects and surfaces.
• Wash hands frequently with soap and water.
COVID-19 testing is available in Pottawattamie County via two TestIowa locations: All Care Health Center, 902 S. Sixth St., and Western Historic Trails Center, 3434 Richard Downing Ave.
To get tested, residents must complete the online assessment at testiowa.com to schedule an appointment.
For those struggling with mental health during the pandemic, yourlifeiowa.org has several resources, including a hotline at 855-581-8111 and a text-friendly line at 855-895-8398.
The University of Nebraska Medical Center has a COVID-19 screening app — 1-Check COVID.
Be the first to know
Get local news delivered to your inbox!