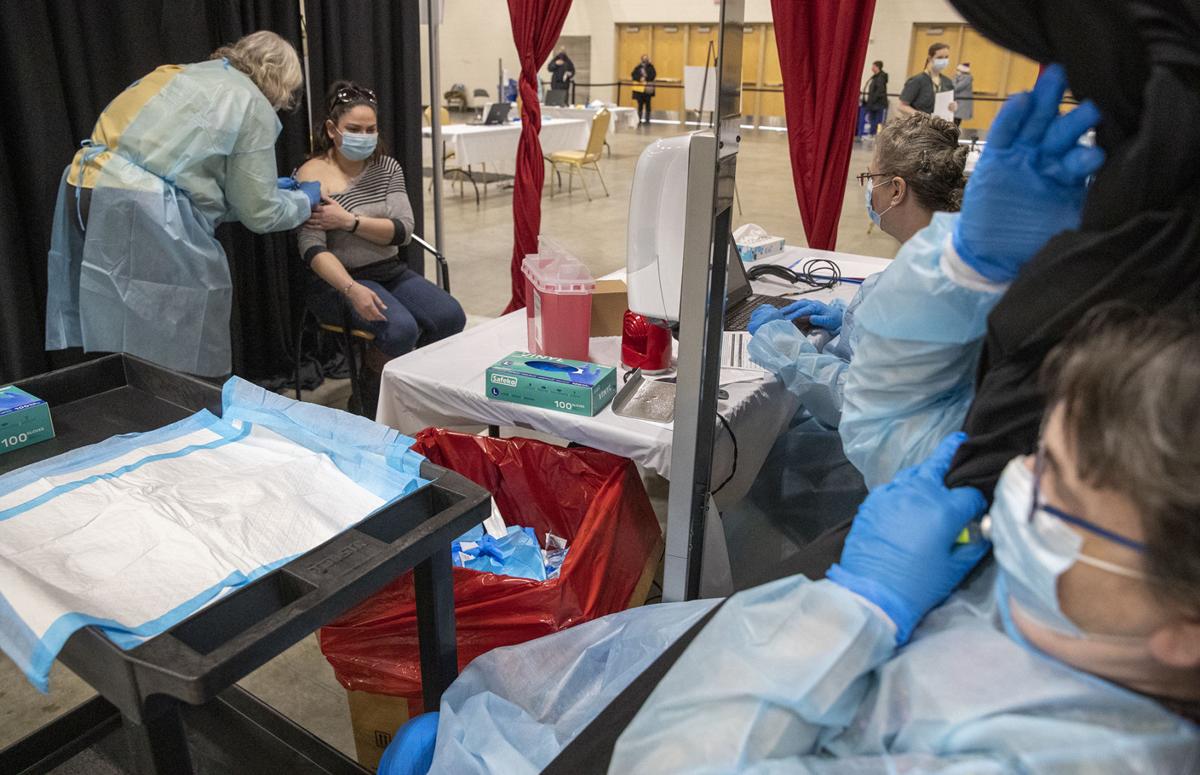 An additional 700 doses of the Moderna COVID-19 vaccine are slated to arrive in Pottawattamie County later this week.
Pottawattamie County Public Health Director Matt Wyant said he received word about the doses from the Iowa Department of Public Health on Friday. The county department had been waiting on word of additional doses for more than a week.
So far, the county has received approximately 2,200 doses of the Moderna vaccine. The state has not sent any Pfizer-BioNTech vaccine to the area. The latter requires extreme cold storage, and in the past Wyant noted the state did not allow Pottawattamie County to set up storage with partners in Nebraska.
The 700 new doses will be administered to residents in priority group 1A — health care staff and first responders — during a county-organized clinic on Saturday, Jan. 16. Wyant said he's sent out information on the registration process to the "remainder of that group."
The state has not yet released full guidelines on who will constitute priority group 1B.
On Saturday, the Centers for Disease Control and Prevention's vaccine tracker showed 80,621 Iowans had received the first dose of vaccine, up from 74,224 on Thursday. The amount distributed in Iowa remained at 191,675 doses.
Wyant said he joined other county public health officials on a call with interim Iowa Department of Public Health Director Kelly Garcia, where the discussion focused on communication between the state and counties.
"A lot of discussion about communication from the state, on how they can get more info to public. It was a big concern from all across the state," Wyant said. "The ramifications of that — they were getting a number of calls at the state level. We don't have the appropriate amount of information from state on breaking down priority groups."
Last week the Iowa Department of Public Health told the Nonpareil it's not releasing county-level and health care facility allocation information publicly, saying it's confidential pursuant to Iowa Code section 22.7(50), "as this data constitutes information concerning physical infrastructure, critical infrastructure, and emergency preparedness developed, maintained or held by the department for the protection of life or property."
The first doses of Moderna vaccine were distributed in Pottawattamie County Dec. 22-24. Wyant said he's received assurances from the state that booster doses would arrive in time. Moderna requires two shots, 28 days apart.
"There was a lot of what I would call a spirited conversation about the booster dose," Wyant said. "Local public health departments are worried that is coming."
But, "they reassured us we'll be receiving that booster dose allocation."
Wyant said Monday will be "make it or break it, the state has to allocate that second dose on Monday" to allow for the county to plan distribution.
"What I hope to see Monday is a booster dose allocation and a prime dose allocation, so we're finishing people and starting more," he said.
Cases and hospitalizations
There were a total of 8,673 positive COVID-19 cases out of 40,508 individuals tested in Pottawattamie County, according to state data on Saturday morning. There have been 7,427 recoveries, leaving 1,246 active cases.
The county's 14-day positivity rate has crept up in recent days and was at 17.6% on Saturday. There have been 104 COVID-19 deaths in the county.
Mills County was at 1,326 cases out of 6,710 individuals tested, with 1,187 recoveries, 15 deaths and a 12.3% 14-day rate.
And Harrison County was at 1,502 cases out of 5,521 individuals tested, with 1,219 recoveries, 60 deaths and a 20.8% 14-day rate.
On Friday, the Metro Area Health Care Coalition — which includes the two Council Bluffs hospitals — reported 245 COVID-19 patients, with 77 in intensive care and 41 on ventilators.
The hospitals reported a 79% occupancy rate on medical/surgical beds, 69% occupancy in adult intensive care and 59% occupancy in pediatric intensive care.
Statewide there were 295,113 cases out of 1,390,852 individuals tested, with 255,104 recoveries and 4,127 deaths. The state's 14-day rate continued a slight increase and was at 14.8%.