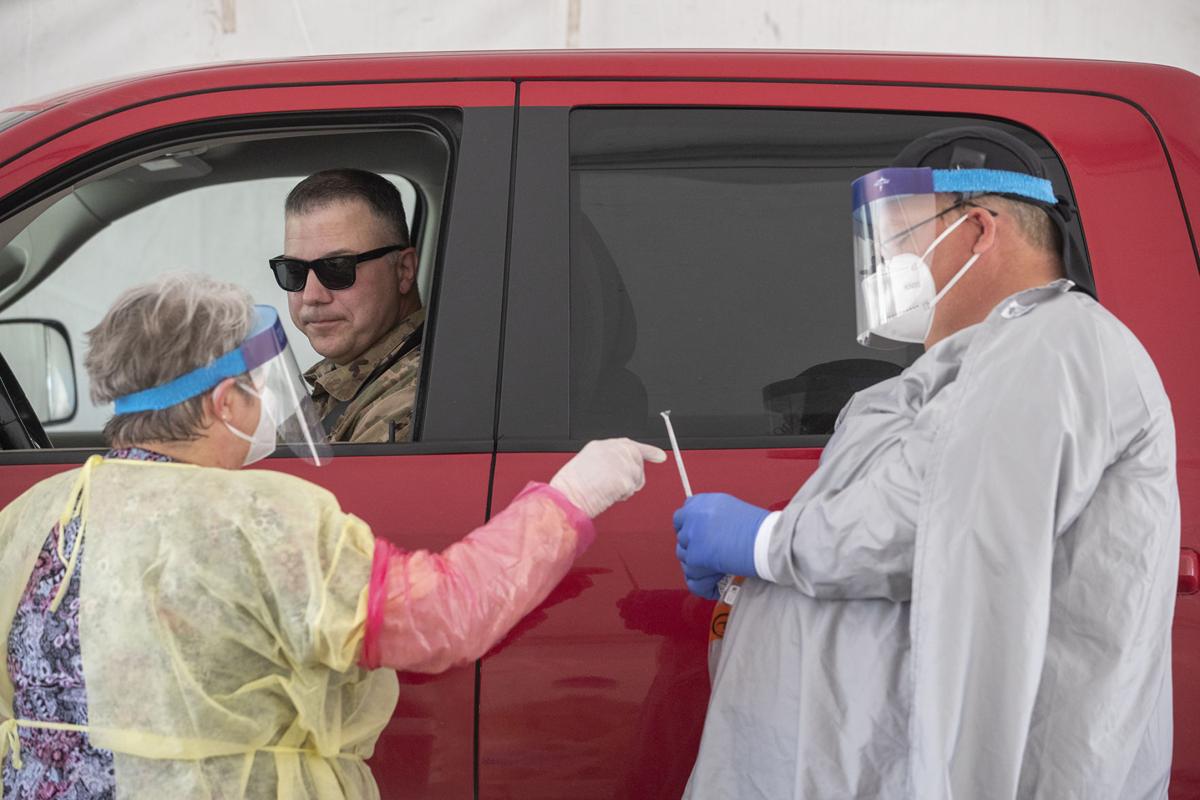 Pottawattamie County officials have released a draft plan regarding distribution of a COVID-19 vaccine in the area.
Pottawattamie County Public Health and the Iowa Department of Public Health have issued draft distribution plans, with the county's describing a three-phase approach that would start near the end of 2020 with health care workers, law enforcement officials, first responders and long-term care populations while dose availability is low.
"The expectation is that we'll be in phase 1 in mid-December," Public Health Director Matt Wyant said, based on communication with the state.
Phase 2 is projected for January or February 2021, with Pottawattamie County Public Health saying the phase, "will continue to focus on ensuring access to vaccines for members of phase 1 populations that have not yet vaccinated and begin providing the vaccine for the general population. In phase 2, it is expected that the general population will be able to receive the vaccine from their local healthcare providers, community health centers or local public health dispensing sites."
And in phase 3, the county will continue to ensure "equitable and accessible vaccination services for our residents."
Pottawattamie County Public Health said it began working with the state and other partners on a vaccination allocation and distribution plan in August. The county's internal planning team "began meeting in September to establish a mass prophylaxis action plan and establish goals, objectives and timelines for the COVID-19 vaccine deployment in Pottawattamie County."
The state released its COVID-19 Vaccine Strategy draft on Oct. 12, which the county said it will align with in distribution strategy.
Both Pfizer and Moderna have announced promising testing results on its respective vaccines. Pfizer said Friday it has requested an emergency use authorization for its vaccine. The Associated Press reported the company, German partner BioNTech, announced that its vaccine appears 95% effective at preventing mild to severe COVID-19 disease in a large, ongoing study.
"Help is on the way," Dr. Anthony Fauci, the top U.S. infectious disease expert said on the eve of Pfizer's announcement, adding that it's too early to abandon masks and other protective measures. "We need to actually double down on the public health measures as we're waiting for that help to come."
Moderna is expected to soon request an emergency use authorization for its vaccine.
Instead of the usual requirement of "substantial evidence" of safety and effectiveness for approval, the FDA can allow products onto the market as long as their benefits are likely to outweigh their risks. It has already used its emergency powers to authorize hundreds of coronavirus tests and a handful of treatments during the pandemic.
But the agency has almost no experience granting emergency use for vaccines and has laid out extra standards it will use to make decisions on upcoming COVID-19 shots.
In October, FDA officials told vaccine makers they should have two months of safety follow-up from half of the people enrolled in their studies before requesting emergency authorization. That data is expected to be enough for FDA to allow vaccinations of certain high-risk groups, such as front-line health workers and nursing home residents.
Wyant said the state will use per capita numbers to determine the amount of doses sent to each county. The process will be managed through the IDPH's Immunization Registry Information System (IRIS) for the allocation, distribution and documentation of COVID-19 vaccine.
"We established this strategy to assist local partners and community members understand our participation in mass vaccination planning and how that fits in to federal and state-level planning," Wyant said.
How willing the public will be to take a vaccine, once one (or more) are approved, remains to be seen. A Gallup poll from late October/early November, ahead of the Pfizer and Moderna announcements, reported 58% of respondents said they'd take the vaccine, versus 42% who said they would not. The poll was conducted from Oct. 19 to Nov. 1, with a random sample of 2,985 adults who are members of the Gallup Panel, according to the survey firm. Gallup said it uses probability-based, random sampling methods to recruit its Panel members.
The October survey showed an increase in the number of Americans willing to take the vaccine, with a corresponding drop in those who wouldn't. Of those who said "no," "37% of Americans who would not get a vaccine say the rushed timeline for the development of the vaccine is the main reason they would not be vaccinated. Another 26% say they want to wait to confirm the vaccine is safe. Rounding out the reasons for some Americans' hesitancy are 12% saying they don't trust vaccines in general and 10% who want to wait to see how effective the vaccine will be. An additional 15% cite other reasons."
Wyant noted, when a safe vaccine is released, "one of the key thoughts that everyone needs to have is vaccines doesn't stop a pandemic, vaccinations do."
Hospitalizations and cases
There were 41 COVID-19 patients in Council Bluffs hospitals on Friday, according to Wyant. That number is included in the Metro Area Health Care Coalition's report, which included 421 total patients, with 117 in intensive care.
The state saw a decrease in hospitalizations, with 1,447 listed on Friday at coronavirus.iowa.gov. That includes 207 admitted in the previous 24 hours and 275 in intensive care.
According to the Iowa Department of Public Health's COVID-19 website at 3 p.m. Friday:
Pottawattamie County's 14-day positivity rate was 22.5%, while Mills County's was 24.2% and Harrison County's was 23.2%.
Pottawattamie County saw an increase of 160 positive cases over 24 hours and was at 2,185 active cases; Mills County had an increase of 33 cases and was at 558 active cases; and Harrison County had 16 new cases and was at 352 active cases.
In Iowa, there were 4,290 new cases and 89,616 active cases. The state's 14-day rate was 21.6%.
And research from Johns Hopkins University showed the state's seven-day positivity rate was 48.6%, the first time it's dipped below 50% since Nov. 11.
On Friday, Lewis Central High School said it has 19 active student positive cases, with five or fewer at other buildings.
And Council Bluffs Community School District said it has 20 active cases among students and 17 among staff members.
— Nonpareil reporter Tim Johnson and the Associated Press contributed to this report.