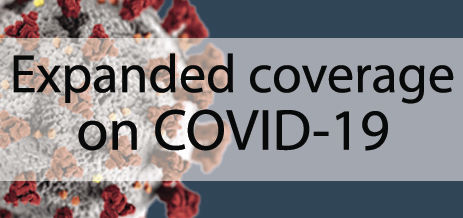 Officials have confirmed the third presumptive positive case of COVID-19 in Pottawattamie County.
The Iowa Department of Public Health announced an additional 34 positive cases Thursday afternoon, including the third local case. The patient is a Council Bluffs woman between the ages of 61 and 80 years old, according to Pottawattamie County Planning Director Matt Wyant. An initial report from the state had said the woman was age 41 to 60.
Additionally, an adult between 41 and 60 years old and an adult between 61 and 80 years old have tested positive in Page and Monona Counties, respectively.
Wyant said both the Council Bluffs woman and Page County patient were part of a group that recently went on a recent cruise. The Council Bluffs woman self-quarantined after returning to the area on March 16.
"Compliments to them that they heeded that advice," said Wyant, who wasn't sure what countries the cruise group traveled to.
The Council Bluffs woman was tested by the State Hygenic Lab and is in isolation at home. Pottawattamie County Public Health conducted a contact tracing investigation and said the case is not considered to be a risk to the public.
Wyant was unsure if all members of the cruise have been tested, noting that would be left to local health care providers and the Iowa Department of Public Health. The county does not have testing capability. If and when that happens will be decided at the state level, Wyant said.
There have been a total of 2,975 negative tests to date, which includes testing reported by the State Hygienic Lab and other labs.
The Page County patient is recovering at home in isolation, according to Page County Public Health. An investigation into the case by Page County Public Health was completed on March 25.
Any individuals who have come into close contact with the cruise individuals have been advised to go into self-quarantine for 14 days and monitor their symptoms, officials said.
"While this is Page County's first case, it may not be the last, and that's why we encourage all residents to continue to make prevention a priority," said Page County Public Health Director Jessica Erdman.
The first Pottawattamie County case, a Council Bluffs woman age 41 to 60, is now symptom free and out of self-quarantine. She was tested for the new coronavirus at the University of Nebraska Medical Center in Omaha and had been in self-isolation since March 7. State and federal health guidelines say that people should stay home until their illness decreases, at least seven days from symptom onset, and then for three fever-free days.
The second confirmed case in Pottawattamie County, a Neola man between the ages of 61 and 80, remains in stable condition at the University of Nebraska Medical Center in Omaha.
In a release, Pottawattamie County Public Health sought to clarify terms, as defined by the Centers for Disease Control and Prevention:
Monitoring — Monitoring for fever by taking temperature twice a day and remaining alert for respiratory symptoms (e.g., cough, shortness of breath, sore throat).
Quarantine — Separates and restricts the movement of people who were exposed to a contagious disease to see if they become sick.
Isolation — Separates sick people with a contagious disease from people who are not sick.
Wyant said Pottawattamie County Public Health has been focused on working with hospital systems, health care clinics and agencies connected to sensitive populations -- including homeless shelters -- "making sure they have what they need."
Asked if hospitals and other agencies have enough supplies, Wyant noted personal protective equipment for health workers "is a concern, of course, for everyone."
"Everybody is doing a lot of cross-training to make sure we have the capabilities when it comes to staff," Wyant said. "That's great to hear from the health systems."
At local homeless shelters, All Care Health Center is working with staff to screen people as they enter, similar to steps taken at area assisted living and nursing home centers.
"This is a rapidly evolving situation and Public Health recommends people stay home as often as possible, increase social distancing efforts, and practice excellent hygiene and disinfectant practices," officials said in the release. "The goal is to prevent a huge spike in the number of people getting sick simultaneously and flatten the curve of infection."
There are a number of resources residents can call for information on COVID-19.
Methodist Health System is offering a community hotline and screening tool at 402-815-SICK (7425). CHI Health has a help line to answer questions and direct patients who may be at high risk of the coronavirus illness. Visit chihealth.com for information.
Pottawattamie County Emergency Management Agency has a COVID-19 call center open from 8 a.m. to 4 p.m. Monday through Friday at 712-890-5368 or 712-890-5369.
And the Hope 4 Iowa crisis hotline connects individuals in crisis to a helping hand the resources to address and improve mental wellness. The hotline is available 24 hours a day. Call 84-HOPE-4-IOWA (844-673-4469).
-- The Lee BH News Service in Shenandoah contributed to this report.
Concerned about COVID-19?
Sign up now to get the most recent coronavirus headlines and other important local and national news sent to your email inbox daily.