Almost as soon as the Crawford Volunteer Fire Department received a call about a fire south of town on the afternoon of Sept. 16, firefighters found themselves outmatched and calling for help.
A strong, hot wind was blowing — gusts of nearly 50 mph had sent flames racing. By the next morning, even with help, 1,000 acres had burned, and people in about 30 homes were being advised to evacuate.
It would be six days before the Post Fire, as it was known, was fully contained, and all that stood between the blaze and Fort Robinson State Park and the town of Crawford was a gravel road and dry grass.
Those same winds on Sept. 16 whipped up a second fire, the Vista Trend Fire, about 70 miles away near Scottsbluff. With the two large fires overwhelming local fire departments, Gov. Pete Ricketts declared an emergency, freeing up state resources.
For three days in a row, the weather was a beast — dangerously strong, shifting winds and a desert-like lack of humidity fueled the fires.
From across much of Nebraska and surrounding states, help arrived: firefighters and their trucks, state and federal officials, tanker planes, the Nebraska National Guard and its helicopters, nonprofits, ranchers with trailers to haul away endangered livestock, and family members and high school kids to clean and cook.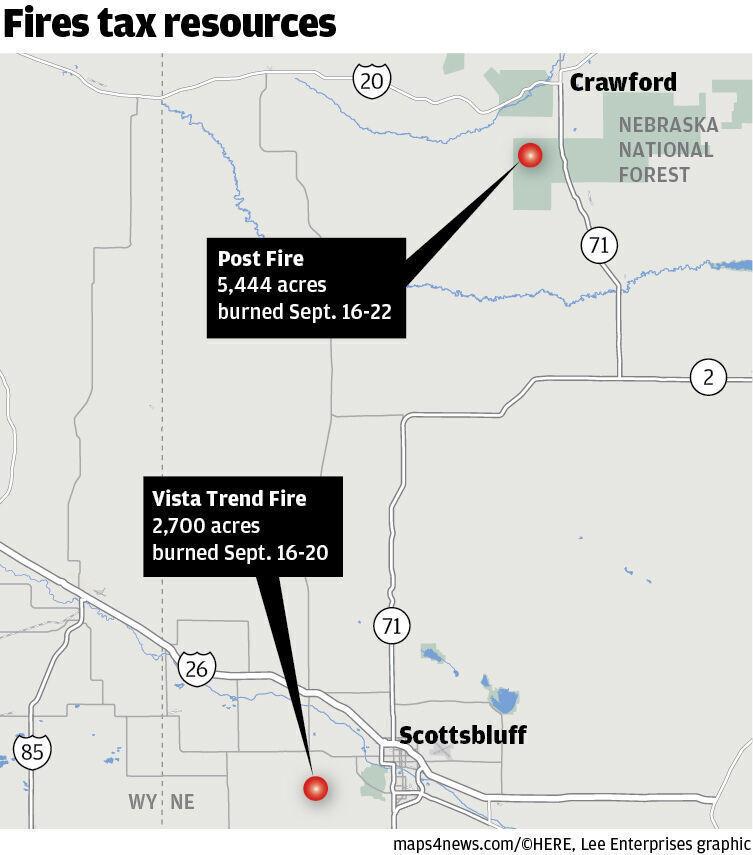 Together the two fires would burn about 8,000 acres. But through hard work and luck, no homes burned.
This has been Nebraska's second consecutive year of drought and difficult fires, said Adam Smith, forestry and fire bureau chief with the Nebraska Forest Service. The governor has declared fire-related emergencies on three separate occasions, and fires have been serious enough 19 times for local fire departments to request the state's tanker plane, he said. Last year, the tanker plane was sent out to 25 fires. (Many other fires haven't required a tanker plane.)
In comparison, in 2019, a catastrophic flood year, the plane never left the airport. In 2018, it was called out seven times.
"(This) could become the new normal," Smith said. "We know Nebraska will be hotter and drier in the future; fire seasons like 2020 and 2021 will become more common."
The Crawford Fire Department's call for help was key to turning back what could have been a dicey fire, officials said. It reflects the long-held tradition of neighbor helping neighbor, but also Nebraskans' evolving understanding of how to better fight fires in a changing climate, Smith said.
"We've seen an evolution to how the state responds to wildfires over the last few years," Smith said. Fires that would have been fought locally a few years ago now have become a team effort between local, state and federal agencies, he said.
Since Nebraska's devastating fires of 2012, the state's hottest, driest year on record, local and state firefighters and emergency personnel have made significant changes in the way wildfires are fought. Among the improvements: the Nebraska Wildfire Control Act of 2013 and the state's guarantee it would provide, free of charge, a tanker plane to any local fire department requesting help; an annual real-world fire training academy in Wildcat Hills, near Gering; and, most recently, a state-sponsored command team to coordinate complex firefighting operations.
More than 450 people from dozens of local, state and federal agencies helped fight the fires near Crawford and Scottsbluff, and many more volunteered behind the scenes to keep firefighters fed and housed and their equipment running. A number of crews came from surrounding states.
"A gift from heaven," is how Crawford Mayor Connie Shell described the outside help in a column published in the local newspaper, the Crawford Clipper. "We could not have fought this fire by ourselves."
Tim Buskirk, Pine Ridge District Ranger, said the inaccessible terrain — steep buttes and canyonlands — made fighting the Post Fire difficult.
"When the winds are blowing like that and you're in that steep of terrain, it's almost impossible to keep ahead of," he said. "(The key) was the way all the responding agencies worked together to come up with a good plan and enough resources to do what we needed to do."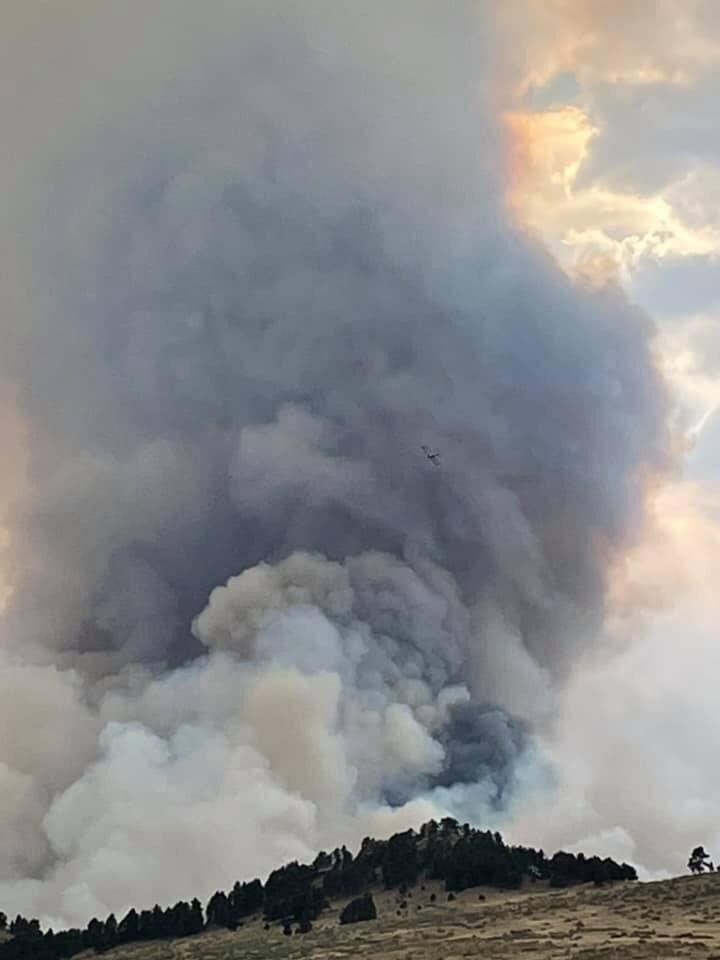 Smoldering embers from a lightning strike three days earlier are believed to have ignited the Post Fire near Crawford. It burned 5,444 acres. The cause of the Vista Trend Fire near Scottsbluff is unknown. It burned about 2,700 acres.
Firefighters in the Scottsbluff area got lucky when a wind shift mostly stopped the fire's forward progress, allowing them to get a handle on it, said Tim Newman, emergency director for Region 22. Just a half-mile ahead of where the fire was headed was a critical communications tower, he said.
And near Crawford, a welcome half-inch-plus of rain helped slow the fire. Firefighters were able to bring it under control before yet another wind shift could have pushed it into Fort Robinson State Park or the town of Crawford.
"It went from being a really nervous Saturday night to feeling better about it Sunday and Monday," Buskirk said.
While any state in the arid West and Great Plains is vulnerable to fire, fires can spread quickly in Nebraska because so much of the landscape is grassland, Smith said.
Grass dries out faster than trees, so any prolonged dry spell can set the stage for a fire. In other words, extraordinary drought isn't needed for Nebraska to see fires, he said.
"In Nebraska, a lot of our fires grow quickly because of the dry grass below the trees," Smith said.
As an indication of the concern over wildfires this year, the state for the second year is extending into mid-October its program for providing a tanker plane to local fire departments.
Other major fires that prompted emergency declarations this year were the Hackberry Fire in Banner County in August and the Brush Creek Fire in Boyd County in June.
Last year, a wildfire threatened Chadron, and firefighters beat it back in the nick of time. The day after they defeated that fire, winds shifted strongly to the south, which could have pushed flames into the community.
Last year, the state recorded more than 625 wildfires by early September, the most since 2012, the state's record year. The Hubbard Gap Fire of 2020 left six volunteer firefighters injured, prompted two emergency evacuations and devoured 4,000 acres. As has happened this year, the state found itself battling simultaneous large fires last year. The Aristocrat Fire near Chadron erupted the day after the Hubbard Gap Fire, and the two large fires severely taxed resources.