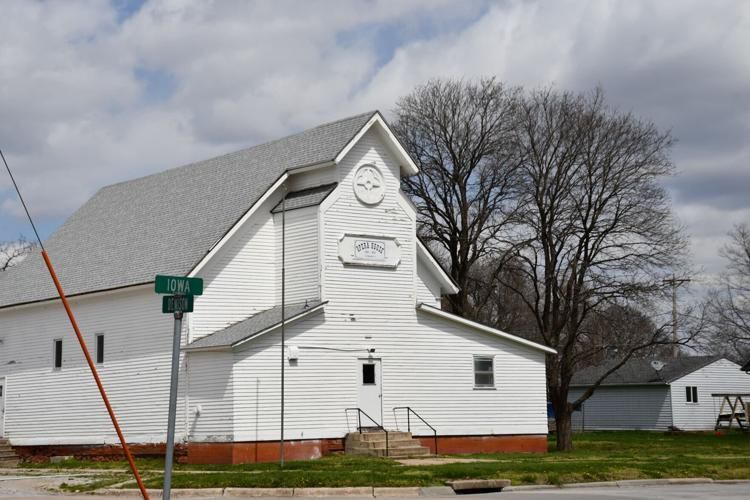 SHENANDOAH — Members of the Essex community have created several initiatives to celebrate their sesquicentennial this year.
Dana Wenstrand, Co-Chair Essex Community Endowment and Trust Fund, said each initiative will focus on the history of Essex or will play a role in documenting the history of Essex moving forward.
In 1970, Essex celebrated their centennial by organizing and publishing the "Centennial History Essex, Iowa" book. A copy of this book that shares the history of Essex is located in pdf format at the Essex Lied Library and online.
Wenstrand said one of the initiatives this year is to bring awareness to this book and perhaps reprint if the demand is there. She said as part of this initiative, Marnita (Hein) Jondle, an Essex graduate, is working on compiling history from the past 50 years since the book was published in 1970. Jondle grew up in Essex and has an extensive background in newspapers and printing.
When it comes to history, a time capsule is an informative way to look back and remember or learn.
During the Essex bicentennial celebration in 1976, residents buried a 50-year time capsule that is slated to be opened in 2026. Wenstrand said the time capsule was located initially by the bandstand, which was a historic landmark in downtown Essex. When the Lied Public Library was built, the bandstand was moved to the Demolition Derby site on the east corner of town for a shelter and the time capsule was moved to the east side of the city hall located at 412 Iowa Ave.
One of the initiatives this year is to bury a 2020 time capsule.
Wenstrand said Essex Mayor Marian Durfey and the city council has agreed to handle this project and are currently discussing what items should be placed inside the capsule.
An initiative that is still in the planning stages is a scavenger hunt. Wenstrand said this activity would be fun for individuals, families, or small groups and would tie into the history of Essex as well.
A local business owned by Edi Bond is creating engraved medallions that will be handed out as prizes for the scavenger hunt.
Wenstrand and her husband, Pete, are both Co-Chairs for the Essex Community Endowment and Trust Fund. Together they came up with a creative way to document history in Essex with a tree initiative. She said they wanted to find a way to make a marker in time and a tree was a great way to do that.
"The goal is to plant 150 trees during our sesquicentennial year within the Essex Community School District," said Wenstrand.
Wenstrand said it is an independent activity that property owners, businesses, or community groups can participate in by purchasing and planting a tree. She said after the tree is planted, a form is available to document the tree, where it is planted and who planted the tree. Forms must be submitted by October 31, 2020, to be included as part of the official initiative.
"Right away, we started receiving calls about the activity," said Wenstrand. "We will keep a list of those trees, document their location and then the goal is to place a copy of that in the time capsule as well as a couple of other locations."
The list of tree locations and participants will be shared through media and posted on EssexIowa.com as well as being included in the Essex Sesquicentennial time capsule.
Wenstrand said families and organizations are encouraged to research different types of trees or hardwood bushes and think about what kind of trees they would like to see in Essex in 25, 50, or 100 years.
"It was a way we could let people be creative on their own but collaborate with a community activity," said Wenstrand.
Wenstrand said families of multiple generations and organizations are encouraged to participate as a way to create memories.
"If that younger child can say grandpa planted that tree on our farm or our scout troop planted that tree in that park, those are the types of things we want to do," said Wenstrand.
Wenstrand said donations have started coming in from individuals who want to support the tree initiative but no longer live in the area. She said they have also received calls from families and groups volunteering to plant trees for individuals that want to participate but are not able to plant the tree.
Anyone needing help planting a tree can call Wenstrand at 712-370-5149.
Wenstrand said donations for the tree initiative would be processed through the Essex Community Endowment and Trust Fund. She said the fund is part of the Greater Shenandoah Foundation and is a 501c3, which makes donations tax-deductible.
"The way it works with the endowment fund is there is a gift form," said Wendstrand. "If they put on their gift form with their gift/donation that they would like it to go towards a specific or designated project, we will apply it toward that project. Then the endowment fund will disperse the funds accordingly. They will then be recorded as part of our endowment donor for the endowment fund."
Wenstrand said gifts could be made in memory or honor of someone.
Through the fund, Wenstrand explained they could accept memorials, donations, requests and planned donations. She said gifts are managed in this fund and can be utilized for a specific project that has been identified by the donor or can be used for the general benefit of whatever the greatest need is.
The Essex Community Club oversees the Essex Community Endowment and Trust Fund and supports non-profit organizations and projects that would enhance services, facilities, and attractions for the community. Wenstrand said the plan is to start building a list of memorials and donor activity this year.
"Right now, we have two initiatives and then an open one that is part of the Sesquicentennial initiatives," said Wenstrand. "One is to apply their gift toward the project of greatest need. Another one is to apply it towards the opera house project and the third is towards the 150 tree initiative."
The final initiative is to help promote the Opera House renovation project. The city owns the historical building and a committee has been organized to oversee the planning and renovations.