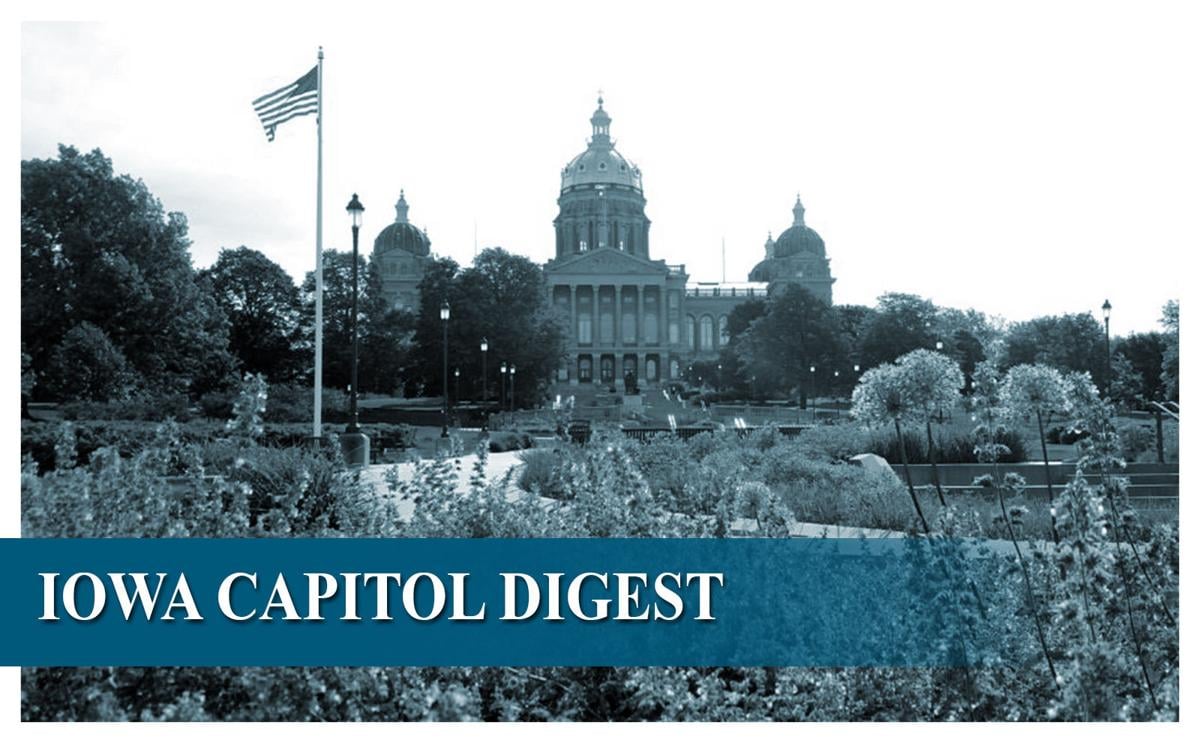 A roundup of legislative and Capitol news items of interest:
NARROW SPECIAL SESSION SOUGHT: Leaders of the Democratic minorities in the Iowa Legislature said Friday they hope a special session this fall will be limited to approving new reapportionment maps for Iowa's congressional and legislative districts with no additional topics.
Lawmakers next week are expected to receive redistricting maps drawn by the nonpartisan Legislative Services Agency based upon 2020 U.S. Census population data for Iowa. A state commission will hold three public hearings on the proposed new congressional and legislative districts drawn by LSA drafters before GOP leaders set a special session for the General Assembly and governor to decide whether to accept the new configurations on an up-or-down vote under Iowa's nonpartisan redistricting process.
Sen. Zach Wahls of Coralville and Rep. Jennifer Konfrst of Windsor Heights — who lead Democratic minorities in the Iowa Senate and Iowa House — told reporters Friday they would like to see lawmakers any fall special session narrowly restricted to only consider the redistricting issue.
"I certainly don't think it would be wise to spend special session further raising skepticism about vaccines, which is what I think a lot of folks who are Republicans want to do. They want to start straying beyond where we are in the special session, so I don't think that would be good," Wahls said. "We hope the agenda is narrow and, if anything, we just hope that we're able to get into Des Moines and pass that first map and hopefully get back home."
"The special session is designed for a specific purpose, and that purpose should be to address maps and then go home," Konfrst said. "We should not be using this as an opportunity to pass more partisan political agendas."
LINN COUNTY LOTTERY WINNER: Officials with the Iowa Lottery announced Friday that a Linn County man had won the $100,000 top prize in the lottery's '$100,000 Mega Crossword' game. Michael Murphy of Hiawatha won the 10th top prize in the lottery scratch game after purchasing the winning $10 ticket at a Hiawatha business. He claimed his prize Thursday at the lottery's Cedar Rapids regional office.
SCAM WARNING: Officials with the state Board of Pharmacy say they have been notified by several Iowa pharmacies regarding recent phishing scams.
The callers have spoofed legitimate pharmacy board telephone numbers and requested the name of the pharmacy's wholesale distributor. The callers state that the board needs this information to merge files and notify pharmacies of recalls.
State officials are urging pharmacy licensees and registrants to be cautious of suspicious communications from individuals who may be posing as board employees. If state license-holders receive suspicious calls, they should hang up and directly call the board office or assigned compliance officer to verify the authenticity of the call, according to an agency news release issued Friday.
STATE APPOINTMENTS: Gov. Kim Reynolds has appointed more than 100 Iowans to a variety of state boards, commissions and advisory panels. The list issued Friday included 32 nominees who are subject to confirmation by a two-thirds majority of the Iowa Senate, while 73 appointments do not require legislative approval.
Included in the list were Andrew Boettger's reappointment as chairman and Renee Schulte as an alternate member of the Iowa Board of Parole, Dalton Hayes of Polk County to the state Board of Medicine, Jodi Freet of Cedar County to the Flood Mitigation Board and Gina Battani of Polk County to the Iowa Civil Rights Commission.
The governor also named William Bernis of Dallas County to the IPERS Investment Board, Jane Dufoe of Linn County to the Public Employee Relations Board, and Jason Shanks, Polk County, to the Iowa Workforce Development Board.