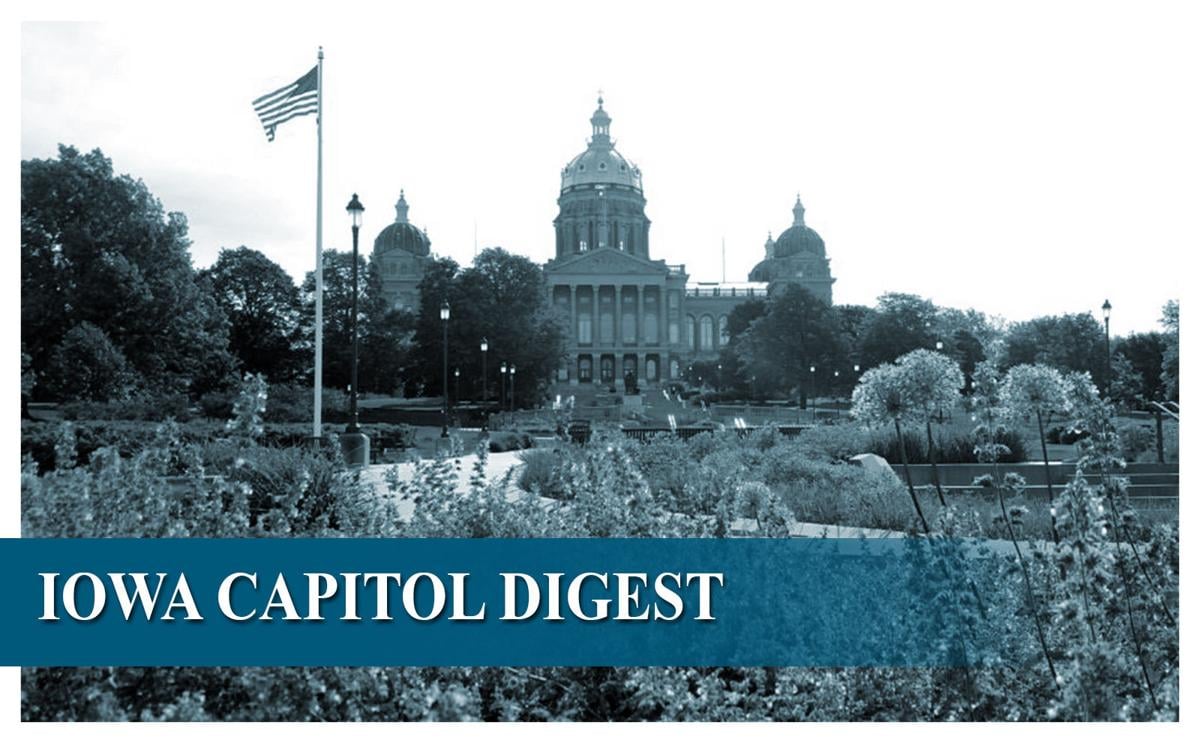 A roundup of legislative and Capitol news items of interest:
SPECIAL SESSION: The Iowa Legislature will meet Oct. 28 to consider a second plan for redistricting congressional and legislative boundaries, according to a Friday proclamation by Gov. Kim Reynolds.
Senators rejected the first plan, so the nonpartisan Legislative Services Agency will deliver a second proposal to lawmakers Oct. 21.
If approved, the new districts will be in effect for the 2022 elections. If not, the Legislative Services Agency will prepare a third plan, which lawmakers can amend.
The Iowa Supreme Court has given legislators a Dec. 1 deadline to complete the redistricting plan.
HOLIDAY TEA: Reservations are being accepted for a Dec. 6 Holiday Tea at Terrace Hill, the Iowa governor's residence and National Historic Landmark.
There will be a morning tea from 10:30 a.m. to noon and an afternoon tea from 2 to 3:30 p.m. The mansion will be decorated for the holidays, with tea, scones, sandwiches and cakes on hand.
Proceeds from this event will benefit the Terrace Hill Partnership, a nonprofit that supports conservation and restoration projects at Terrace Hill.
WATER ASSISTANCE PROGRAM: Officials with the Iowa Department of Human Rights are launching a new low-income household water assistance program this month to address the financial impact of the pandemic.
Iowa has received more than $10 million in federal aid to help households that have fallen behind on water bills and are facing disconnection of service or have already been disconnected, according to the state agency.
The new federal Low-Income Household Water Assistance Program (LIHWAP) will make payments directly to water vendors on behalf of households for past-due charges, fees and taxes for drinking and wastewater services.
The program will be administered by the Iowa Department of Human Rights through Iowa's Community Action Agencies.
Iowans may apply by contacting their local Community Action Agency. In Eastern Iowa, that's HACAP, (319) 393-7811.
AWARDS PROMOTE HEALTH: Sponsors of the Healthiest State Initiative are accepting applications for the 2022 initiative until 5 p.m. Oct. 29.
The program, supported by the state Department of Public Health and four corporate partners, aims to recognize Iowa workplaces, education sites, health care providers, communities and individuals for efforts to improve the physical, social and emotional well-being of Iowans, according to organizers.
Finalists — announced in January — will be recognized and winners in each category will be revealed in a virtual ceremony scheduled for February 2022.
SAFE AT HOME: Iowa Secretary of State Paul Pate will meet with Eastern Iowa county sheriffs and local law enforcement this week to promote Safe at Home, an address confidentiality program that provides protection for survivors of domestic violence, sexual abuse, trafficking, stalking and assault.
The meetings in Cedar Rapids will be today through Thursday and coincide with Domestic Violence Awareness Month, which is held annually in October.
The goal is to provide resources and information to law enforcement agencies and officers that can readily be disseminated to Iowans dealing with abuse.
More than 30,000 Iowans sought help in 2020 due to domestic violence. Iowa's Safe at Home program serves more than 1,000 participants across the state.
LATINO HALL OF FAME: Six Latino leaders will be inducted into the Iowa Commission of Latino Affairs Hall of Fame during a virtual celebration Saturday.
Inductees will be recognized for their contributions to making significant advances in social and racial justice, communications, fair wages, journalism and human rights.
The inductees are Elizabeth Bernal, Marcela Hurtado and Juan Manuel Gálvez Ibarra, all of Iowa City, the late Lorenzo Jasso of Des Moines, Nixson Benitez of Des Moines and Itzel Padron Zuniga of Ames.