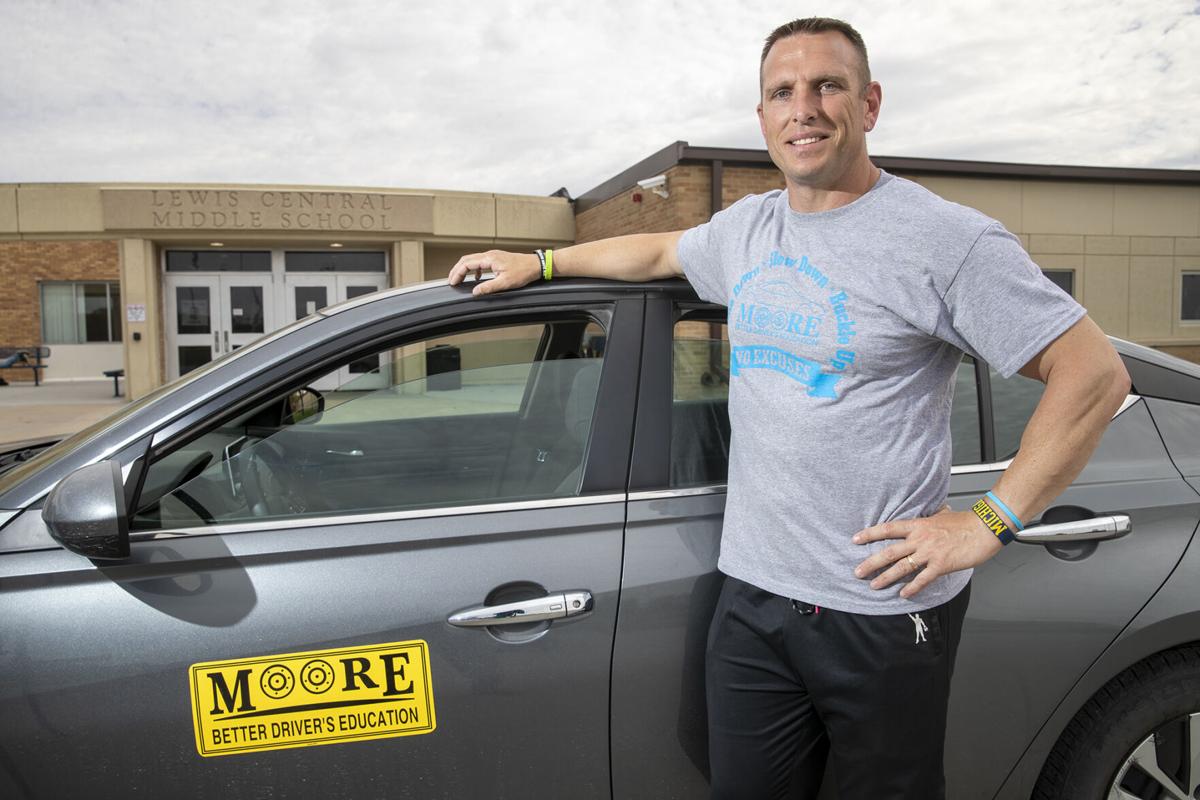 Iowa teenagers could learn how to drive from their parents, without any certified instruction, if Gov. Kim Reynolds approves legislation that is en route to her desk.
The proposal would eliminate the requirement that teenagers who are learning to drive receive instruction from a certified teacher, either in the classroom or behind the wheel. That would allow parents to be solely responsible for teaching their teenagers how to drive.
The would-be drivers still would have to pass a driver's test overseen by an instructor in order to obtain a driver's license.
The proposal is being touted by supporters as parental choice. But across the state, driver's education teachers and driving instructors are suggesting Reynolds should pump the brakes on the bill. They say the proposal is dangerous and will put ill-equipped, young drivers on Iowa's roads.
A driving instructor from Iowa Western Community College in Council Bluffs did not mince words.
"To say that this proposed legislation might be a bad idea is a monumental understatement," said Rob Roane, who has taught driver's education at the college for 13 years. "Driver ed teachers are taught specific strategies on how to safely teach kids to drive, what mistakes are common, how to fix those mistakes, etc. This proposed legislation is a horrible idea and will make driving even more dangerous for our kids, who are already at an increased risk for getting (in) a serious or fatal accident."
Roane listed numerous concerns, including the lack of special equipment on an instructor's vehicle, like a passenger-side brake and extra mirrors.
"In my 13 years of teaching driver ed, I have literally applied my brake to avoid accidents hundreds and hundreds of times," Roane said.
You don't know what you don't know. That's the biggest concern Miss Freeman, a teacher in the Mason City School District and an instructor with Streetsmart Drivers Education, said about the proposed legislation.
"My concern is that we have parents who do a really great job," Freeman said. "However, laws change, and the last time they've had driver's ed is when they were 16."
Freeman said she has driven with about 100 students since becoming a certified instructor with Streetsmarts, which has a contract with the school district for driver's education services. And while she has seen the full spectrum of abilities in her students, she said she has heard from a parent or two who tag along and frequently admit to not knowing some aspects of the law.
That's a problem if those parents are going to teach their kids to drive, Freeman said.
"As I was going through my own training there were many times when I thought, 'Oh, we're supposed to be doing that?'" she said. "Some of the intricacies or certain maneuvers that we teach … I think it would hard to do that if you don't have the education and background."
Senate File 546 has been approved by both the Iowa House and Senate, largely on the strength of the chambers' Republican majorities. It is up to Reynolds whether to sign it into law.
Iowa Rep. Joel Fry, a Republican from Osceola who managed the legislation in the Iowa House, said he has taught his four home-schooled children how to drive. During debate in the House, Fry claimed he spends more time teaching his children to drive than he spent learning from an instructor as a teenager in school, and said parents have a vested interest in ensuring their children become good drivers.
"The attention, the detail, the desire that I have to make sure that my child drives safely, because who's going to pay the insurance and liability and all the damages that would incur should they get in an accident? It's me, not the school," Fry said. "So I have a very vested interest in how my child comes out of driver's ed."
Fry called the proposal another option for parents to have more choice in their children's education.
That would be a mistake when it comes to driver's education, according to Jay Goulden, owner of Goulden Rule Driving School in Cedar Falls.
Goulden, who contracts to provide driver's education to students in the Cedar Falls, Waverly-Shell Rock and Janesville school districts, said he is against taking the instruction for student drivers out of the hands of professionals.
"We can adjust. We can make amendments. But to get rid of it all together, I think it's just crazy," he said.
Goulden said while students who fail a math or science test can often make it up later, teenagers learning how to drive "only have one chance to learn it right."
"In driving you may not get that (second) chance, because it might be death," if a mistake is made on the road, he said.
Students in Goulden's six- to nine-week course learn in a "slow and deliberate manner" with opportunities to correct mistakes as they go, he said. That includes 30 hours of classroom instruction, six hours of driving observation and six hours of driving with an instructor.
"That way, when you're studying in the book, you can go out and do it," he said.
Todd Ferry is a retired police officer who now owns Cruising with Cops, a private driver's education academy in Sioux City with himself and six other instructors, all of whom are either current or former police officers.
Ferry said he is "shocked this (legislation) was even brought up," and said, "parent-taught driver's ed is not driver's ed."
Ferry said parents may teach children bad driving practices. In his courses, he can tell what students have learned from their parents after a block of driving. Turning the steering wheel with a palm and rolling through a stop sign are examples of poor habits kids can learn from parents, Ferry said.