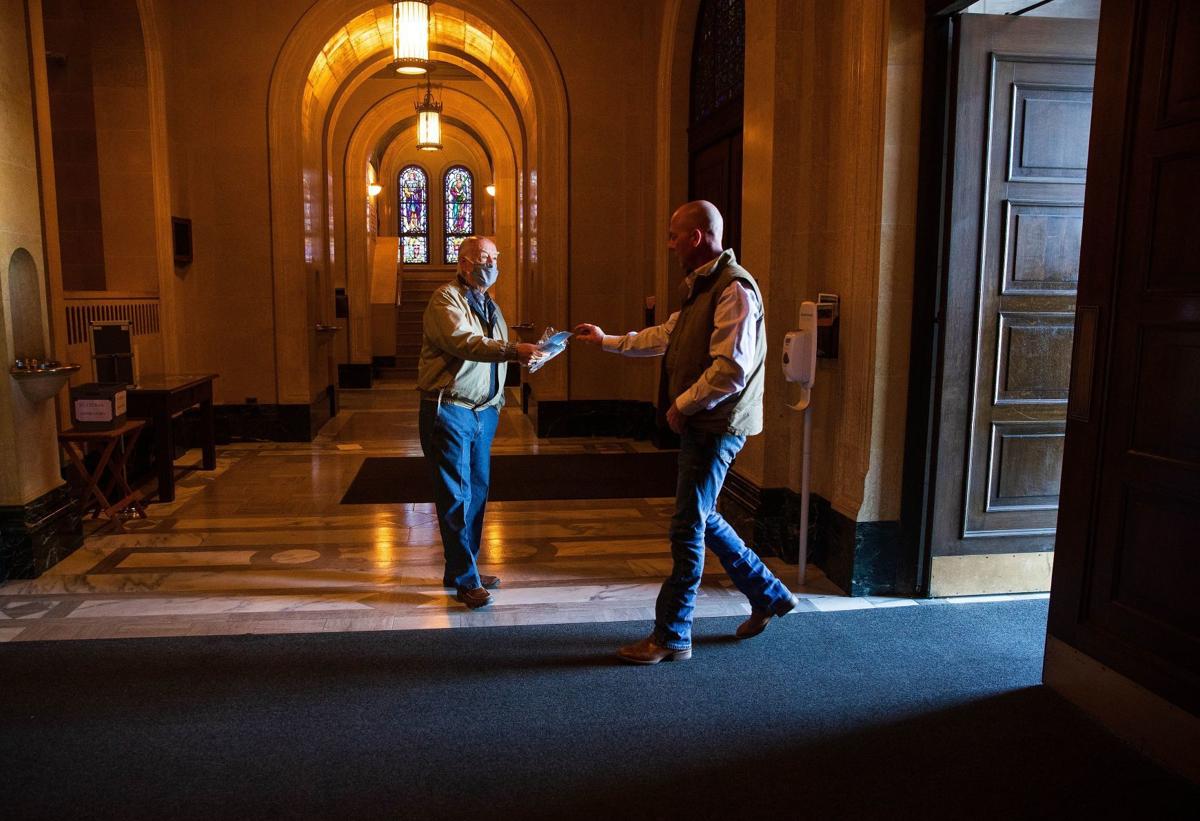 Douglas County's health director backed off a mask mandate for Omaha on Friday after the Nebraska Attorney General's Office challenged her ability to implement one.
Adi Pour, at a Friday press conference, cited "legal disagreements" between the state and the Omaha City Attorney's Office.
Pour had been moving toward implementing an indoor mask mandate under her authority within Omaha city code. The Douglas County Board of Health met Monday to express its support for her move.
But Pour said that within the last 72 hours, a disagreement surfaced and led her to pull back to avoid a legal fight.
Nebraska Gov. Pete Ricketts has questioned Omaha's and Lincoln's abilities to implement local mask requirements. When asked if Ricketts contacted her, Pour responded passively, saying it was in the last 72 hours that the disagreements occurred.
"There was a legal decision," Pour said.
Omaha Mayor Jean Stothert said the disagreement centers on the city's legal ability in relation to state law. The Attorney General's Office contends state law trumps city code, Stothert said, even though the attorneys in the city's Law Department think the City of Omaha is on solid ground if Pour wants to implement a mask order.
"That was basically the issue," the mayor said.
The Nebraska Attorney General's Office issued a statement Friday saying the office's role "is to evaluate the law, not create or direct public health policy. Under Nebraska law, the Douglas County Health Department may only take measures 'to arrest the progress of' infectious disease 'with the approval of the (Nebraska) Department of Health and Human Services.' Nebraska law contains an exception for the Lincoln-Lancaster County Health Department," the attorney general's office said.
Absent a mask mandate, Douglas County and Omaha officials pleaded with people who refuse to wear masks to change their habits for the good of children, people with compromised immune systems and the elderly.
Health experts from the University of Nebraska Medical Center, who attended the press conference, expressed frustration at the development. They called the community to task for the continued coronavirus spread.
Said Dr. Mark Rupp, chief of the infectious diseases division at UNMC: "Personally, I'm very disappointed that we are not here before you to announce a masking mandate for Omaha and Douglas County."
Rupp said he's frustrated that the community could not overcome "the perceived political threats, potential legal challenges or logistical hurdles to mandate mask usage in our locality."
Dr. Kari Neemann, UNMC's assistant vice chancellor for Inter-professional Health Security Training and Education, said Omaha has had pediatric patients contract COVID-19 through community spread of the virus, and one went on a ventilator.
"Our community failed these families," Neemann said.
Neemann said her son was exposed to the virus while in day care and is isolated after exposure.
"Our community failed him and it failed his classmates," she said.
Pour said she will continue to review data every day and left open the possibility of revisiting her decision. "But for now," she said, "I have to trust everybody in this community to do the right thing moving ahead."
Stothert said she had talked to the president of the Omaha City Council, Chris Jerram, about drafting a resolution that would let the council send a statement to the community strongly supporting the wearing of masks in public places.
But it would be a non-binding resolution.
The council could pass a mask ordinance, but Stothert said that would take weeks to follow the process and bring it to implementation.
The council could waive the ordinary legal requirements to speed up the process. But that would take six votes, Stothert said, adding that she's not sure the council has six votes in favor.
"Right now, we really need to be responsible and do the right thing," Stothert said.
Councilman Vinny Palermo, who wasn't at the press conference, said he was "extremely disappointed" in Pour's decision not to mandate masks. "It is reckless, for the teachers especially," he said. "If the numbers are bad now, wait until school starts. It will be a wildfire that we wish we would have prevented."
Palermo saw the announcement on his phone while waiting in his garage for someone to pick up boxes of masks. He and Douglas County Commissioner Mike Boyle have worked with members of the South Omaha community to distribute 65,000 free masks from the Douglas County Health Department in recent weeks. They're getting 50,000 more and will keep distributing them.
More people are wearing masks voluntarily, Palermo said, but a mask mandate would lead to many more people taking that precaution.
Palermo said he will support an emergency ordinance for a mask mandate.
Dr. Gary Anthone, Nebraska's chief medical officer and a participant in the press conference, urged people to wear a mask, keep their distance from others and wash their hands. He said Nebraskans will "do the right thing."
"Together as Nebraskans, we'll beat this virus," Anthone said.
Said Pour: "Please everyone in this city, in this county, do the right thing."
— Omaha World-Herald staff writer Christopher Burbach contributed to this report.
Concerned about COVID-19?
Sign up now to get the most recent coronavirus headlines and other important local and national news sent to your email inbox daily.