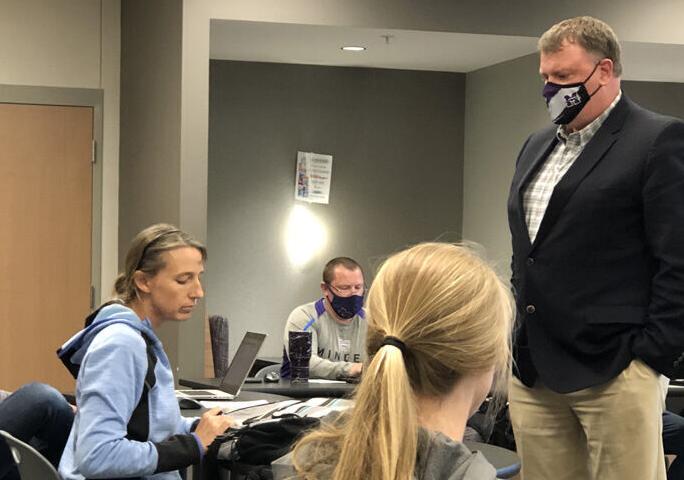 MINDEN — A former Minden Public Schools Board of Education member repeatedly was asked to leave before its meeting Monday night.
Former board member Katie Sinsel was seated at the board's table and was not wearing a mask. Superintendent James Widdifield repeatedly asked Sinsel to put on a mask or to leave the building.
Sinsel told Widdifield that she was a school board member, but he told her she was voted off the school board at the last meeting. Widdifield told Sinsel she was trespassing, and he made a call asking for a police officer to come to the school to address the situation.
Sinsel then told Widdifield that she wanted to hear from Board of Education President Rusty Rhynalds if he wanted her to leave. Rhynalds asked Sinsel to put on a mask. Sinsel gathered her things, but before leaving the table she asked Rhynalds for the record if he wanted her to leave. Rhynalds once again asked Sinsel to wear a mask.
Sinsel left the board meeting of her own accord, although an officer from the Minden Police Department did arrive at the school after Sinsel had left the room.
At a special meeting April 26, Minden Board of Education members approved a resolution to remove Sinsel. Widdifield said she was removed because of consecutive unexcused absences at board meetings.
Other media reports have indicated that Sinsel was dismissed because she didn't wear a mask when required.
At the March 8 regular school board meeting, the Minden Board of Education passed a reaffirmation of the Back to School Resolution, which was approved by the board of education on Aug. 10 and requires all school board members to wear a mask from the time they enter any school building, during school board meetings and until they exit any and all school buildings.
If a board member refuses to abide by this requirement, the board may vote to count that board member as being absent but unexcused from the meeting. Sinsel voted against the resolution in August.
According to court records, Sinsel has been charged in Kearney County Court with trespassing/defying order to leave and disturbing the peace. Both charges are misdemeanors. A complaint also was made about Sinsel in regard to an incident April 12 at the Minden Public School.
Rhynalds confirmed that Sinsel's seat would be filled by the next highest vote-getter from the November election. If that person does not want to fill the position, the board would appoint another qualified registered voter.
Sinsel is scheduled to appear for a pretrial hearing July 8 at Kearney County Court.