WATERLOO – Candida Deree keeps a stash of Band-Aids in her attic studio.
Deree is a fused glass artist. No matter how careful she is, it's easy to get nicked or cut by glass.
"It happens so fast – like getting a paper cut. I used to be afraid, but I've gotten so used to working with glass that I don't think about it much. Some glass artists wear gloves, but I like to feel the glass in my hands," said Deree, owner of Blue Lily – Creations by Candida.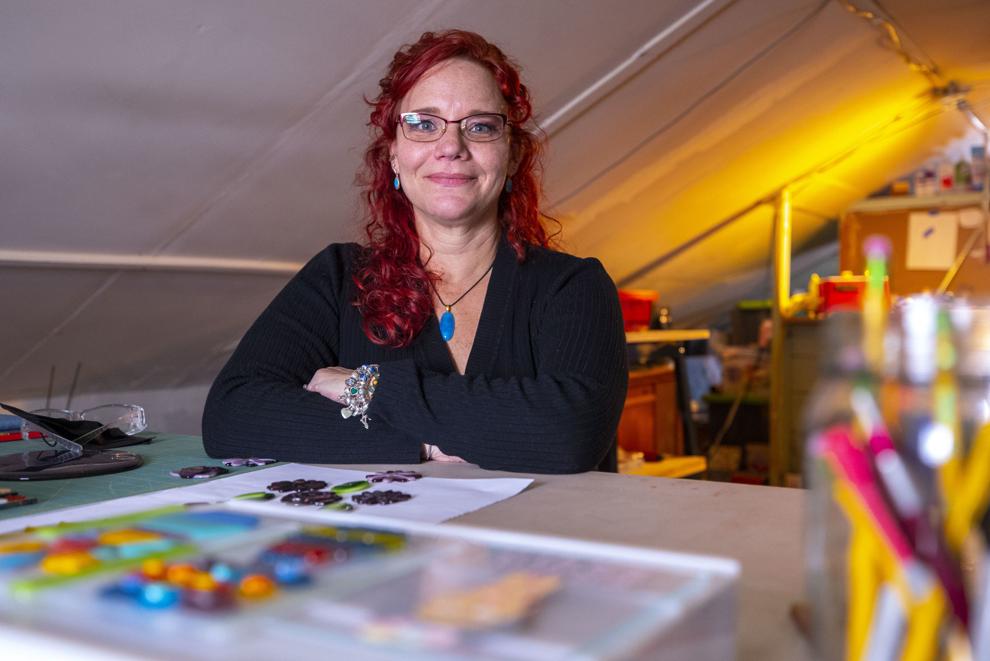 "Working with this medium requires respect. You have to learn how to handle it and what it will do."
Her decorative and functional artwork includes jewelry, decorative plates, platters, bowls, vases, sun catchers and other pieces that display a range of designs from whimsical Bohemian and elegant Art Deco to organic, mosaic and abstract influences.
The Waterloo artist particularly loves making wind chimes with delicate hand-painted designs fused into the glass and experimenting with such techniques as slumping, or draping glass over a mold and heating it until it slumps into the shape she desires.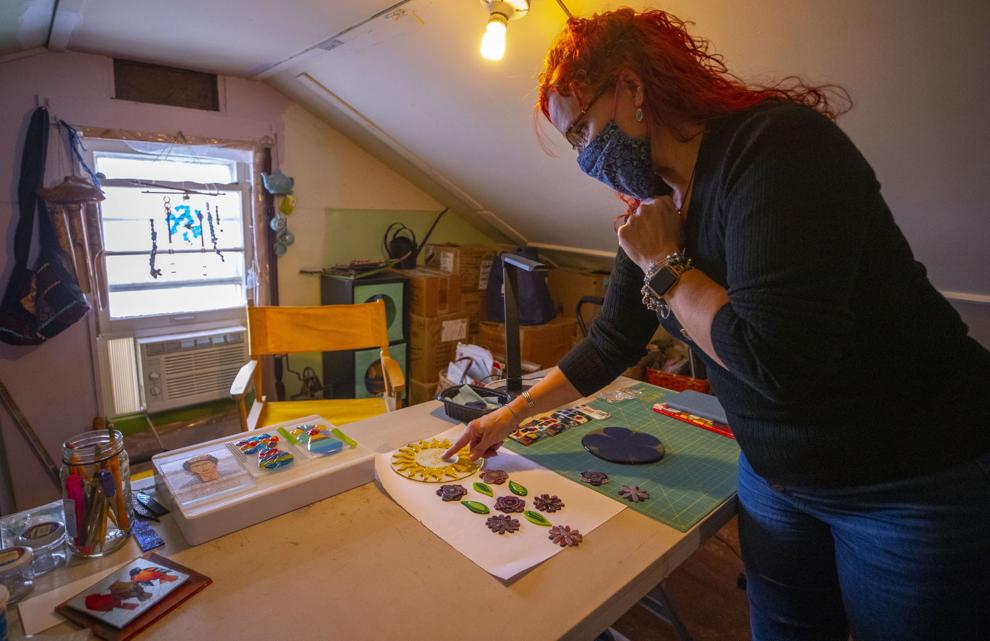 "There are no deep or hidden meanings in the things I make. I just hope people will look at what I have created and it fills them with joy and happiness."
She began creating fused glass art about 1 ½ years ago after stumbling across the art while sketching and researching ideas for creating mosaics using stone, tile and glass. "I immediately thought, 'this is a challenge – I'm gonna do it,'" Deree said.
As much science as art, the process uses the extreme heat of a kiln to fuse two or more glass pieces to form a single piece. Different types of glass melt at different temperatures measured in COE, or coefficient of expansion.
Last spring, Deree began selling her artwork in a booth at the Waterloo Urban Farmers' Market and had her own pop-up shop in downtown Waterloo during the holidays. The artist also creates commissioned pieces.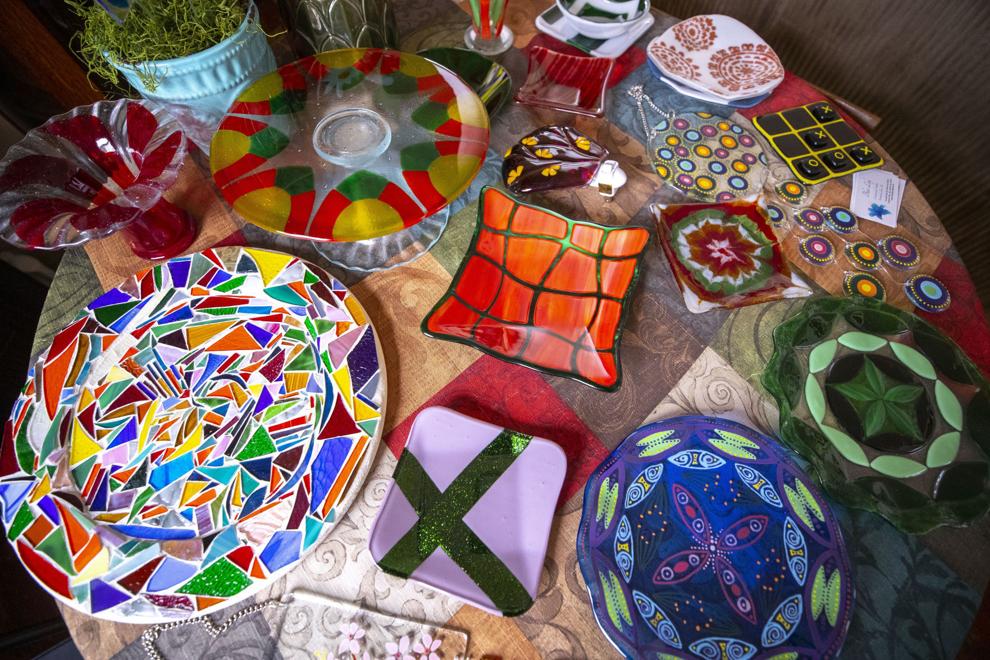 This spring, Deree will teach beginning fused glass classes at the Waterloo Center for the Arts. Participants will design earrings and matching pendants in a class that meets March 3 and 10. She'll teach a class on making sun catchers April 18. WCA has purchased a glass kiln to make the classes possible.
"I love the medium. I want to make it fun and simple for students. There's something special about the connection you make creating something yourself. There's a pride in learning the techniques and leaving with something that you made," explained Deree, who has a bachelor of fine arts degree from Iowa State University.
"I believe we all have an artist in us. It's just finding it within ourselves. I love the creative process and sharing my love for it. There are no boundaries."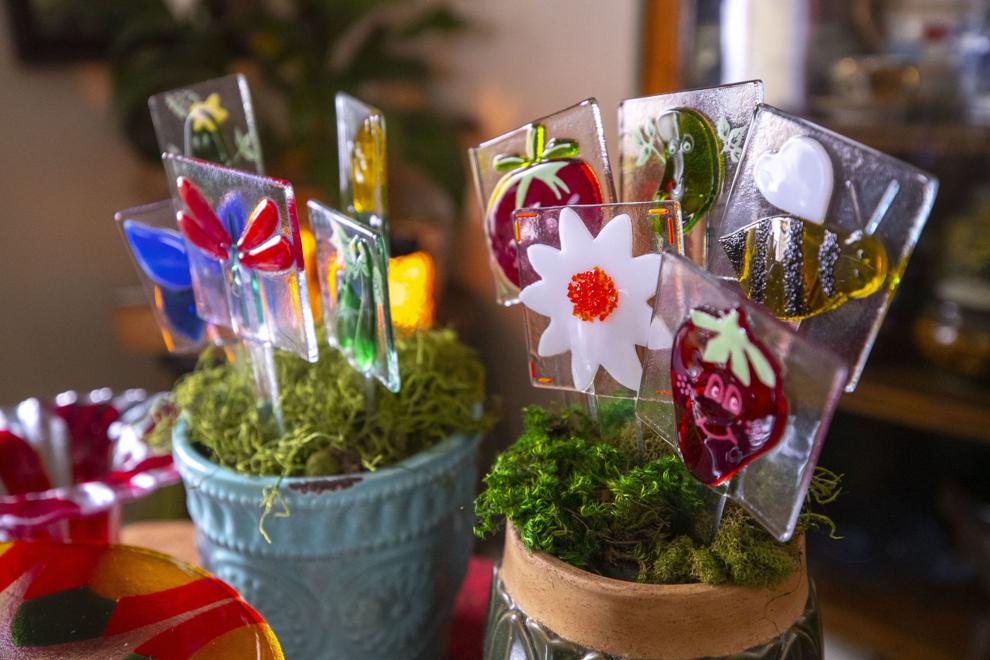 In her studio, Deree usually starts with a sketched idea — "or I let the glass speak to me and tell me what it wants to do. I'll cut out pieces using a glass cutter and fit them together," using sheet glass, accessory glass and sometimes frit or crushed glass and glass paints and enamels in her designs. Her husband, Marcus, likens the process to putting a puzzle together.
Her pieces go into a kiln set at 1,450 F for about 17 hours. Then Deree crosses her fingers and hopes what went into the kiln "comes out looking like what I had in mind. There's always a danger of things breaking or simply not turning out as I intended. Glass is very exacting, but it has a mind of its own."
She started with a microwave kiln and last February, graduated to a large kiln that can hold multiple pieces. She fires the kiln two or three times a week in winter. That will soon increase as the artist begins building inventory for spring and summer sales.
"The farmers' market was wonderful, so I signed up for this year, too. I get to connect with people and talk about my art and a lot of artists stop and talk about what they're working on. It gets a creative fire going in your heart."
Deree has sold a considerable number of her fused glass artworks. "It was hard letting my babies go," she said, laughing. "But the further I got into it, the more I realized that someone had fallen in love with one of my pieces, and it was going to a good home."