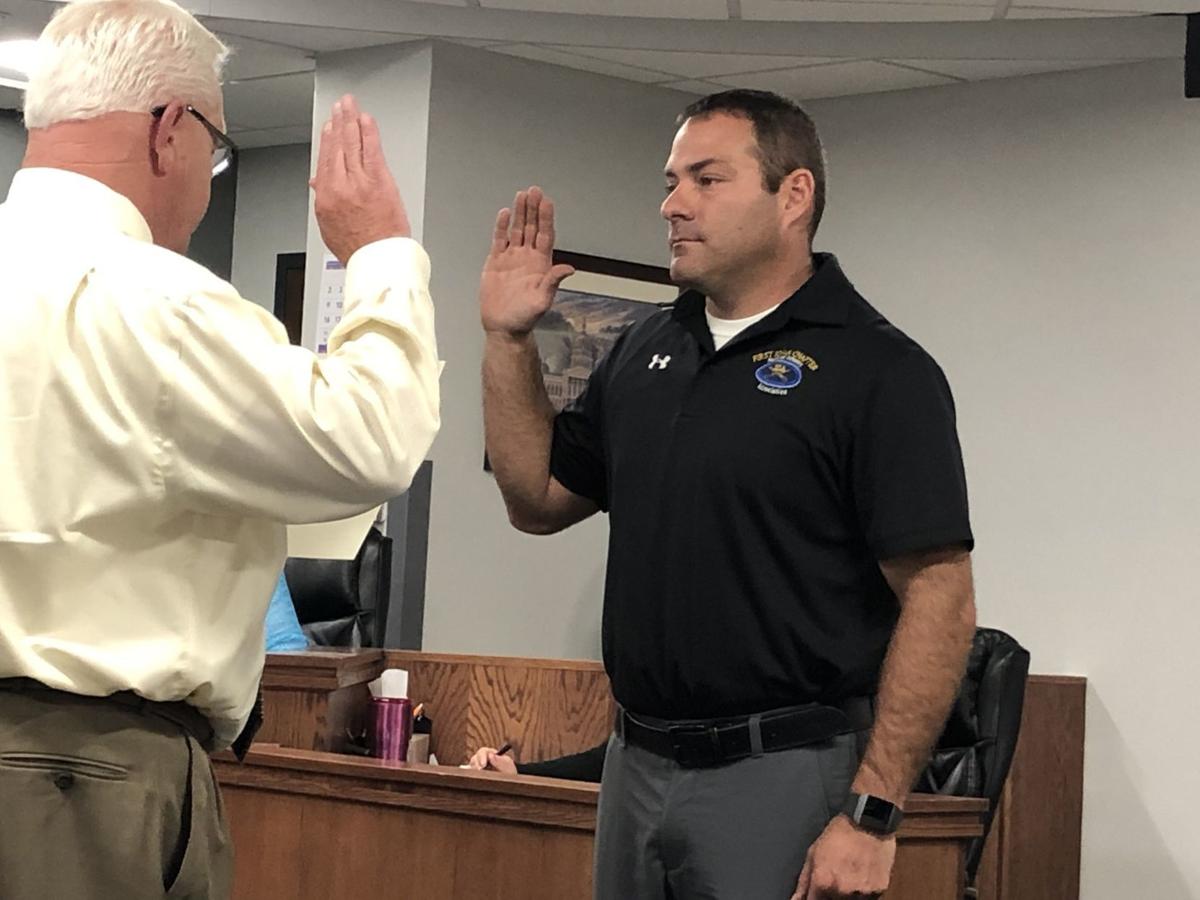 Nick Jedlicka was sworn in Tuesday morning as the new director of the Pottawattamie County Veteran Affairs Department. He will earn an annual salary of $72,000.
Pottawattamie County Supervisors voted unanimously on Tuesday to approve Jedlicka for the position following his recommendation to fill the position by the five-member Veteran Affairs Commission. The commission had also recommended a salary of $70,000 to $72,000, with supervisors opting to set the salary at $72,000.
At a meeting of the five-member Veteran Affairs Commission last Thursday, commissioners voted 3-1-1 to recommend that Jedlicka replace former director Darlene McMartin, who retired July 1 after 28 years with the department.
Commissioner Ellen Fritz, who supported recommending Commissioner Phil Jacobs for the position, voted against recommending Jedlicka. Commission Jacobs, as a candidate for the position, abstained.
The $70,000-$72,000 salary recommendation drew a 4-1 vote from the commission, with Jacobs casting the lone "no" vote.
Veteran Affairs Commission Chairman Skyler Dooley, who recommended Jedlicka and the $70,000-$72,000 salary recommendation to the board Tuesday, said the commission received 15 applications for McMartin's position.
Six of the 15 applicants moved to a second round in the process, with two of the six eliminated because they either failed to meet requirements or were not residents of Iowa.
The four remaining candidates were interviewed by a board that included Veterans Affairs Commission members, Supervisor Chairman Tim Wichman and Pottawattamie County HR Director Jana Lemrick.
In recommending Jedlicka for the position and recommending a salary to the board of supervisors, Dooley said that he was concerned that the salary "may be too low in the future."
He said the salary is below that paid for a like position in Douglas County, and he's concerned that the higher Nebraska salaries for like positions might draw a director from Pottawattamie County to apply for a Nebraska position.
Be the first to know
Get local news delivered to your inbox!