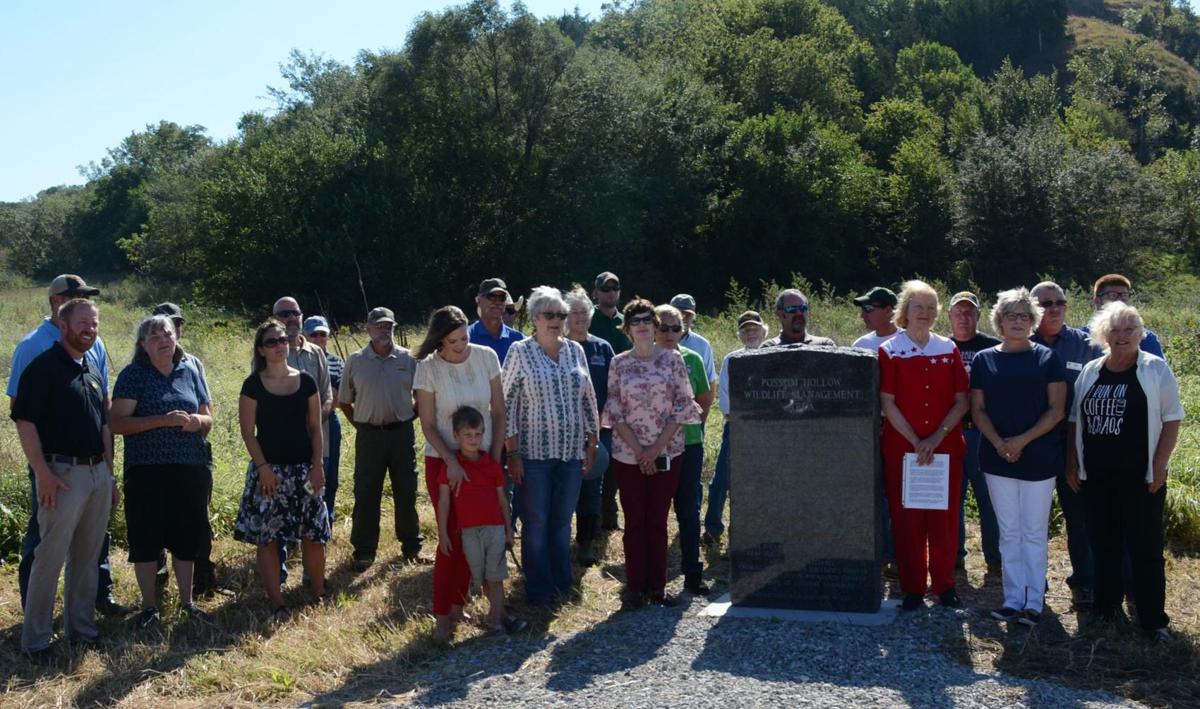 THURMAN — Welcome to Possom Hollow.
A large crowd of family, friends, neighbors, Fremont County Historical Society members, Department of Natural Resources representatives, Iowa Natural Heritage Foundation representatives and other conservationists gathered in the country near Thurman on Sept. 20 for the dedication of the Possum Hollow wildlife management area in the Loess Hills.
The dedication ceremony recognized Rosie Hall for her commitment to Iowa's natural resources and conservation and welcomed the public to Possum Hollow.
Hall sold almost 160 acres significantly below market value to the State of Iowa through the INHF, making Possum Hollow possible.
In an emotional speech, Hall told those present her great-great-grandfather John Pugh bought the land in 1854, and aside from about a 50-year period since then, family has always lived on that land. Hall and her late husband, Phil Hall, moved onto the land in 1967.
Rosie said, "Phil loved these bluffs and the trees, flowers and plants that grow here, especially the morel mushrooms. The endangered biscuit root plant was discovered here in 1952."
"Phil always wanted to protect this plant in its habitat ..." Hall added, "it has finally happened."
Speeches were given by Pete Hildreth, Wildlife District Supervisor with the Iowa DNR, and Tim Sproul of the INHF, with both thanking Hall for her generosity.
Sproul said it had been a work in progress since 2014, and the property was transferred to the DNR and opened to the public in 2017.
Contributors who made the WMA possible include Phil and Rosie Hall, INHF, REAP Public-Private Grant Program, Loess Hills Alliance, Fremont/Mills County Pheasants Forever, Montgomery County Pheasants Forever and the Iowa DNR.
Matt Dollison, DNR Biologist for the Nishnabotna area, said the first priority in managing Possum Hollow would be wildlife and habitat management.
He said there was native remnant prairie on the western edge of the property, and he hoped to eventually seed more of the property to native prairie.
The western portion of the property will need to be treeless for that to happen, and cedar cutting and prescribed burn work has already started.
The portion of the land that used to be a feedlot will be burned in the fall, cleaned up and planted as alfalfa cropland until it can be restored to native prairie, too.
Sproul told the group that he knew Rosie had shared many conversations with Phil about the future of the land, and his wishes helped guide the creation of the Possum Hollow WMA.
Hall thanked everyone who came to the dedication celebration and said the establishment of Possum Hollow as a public land protects it now and forever for future generations and makes a dream of Phil's become a reality.