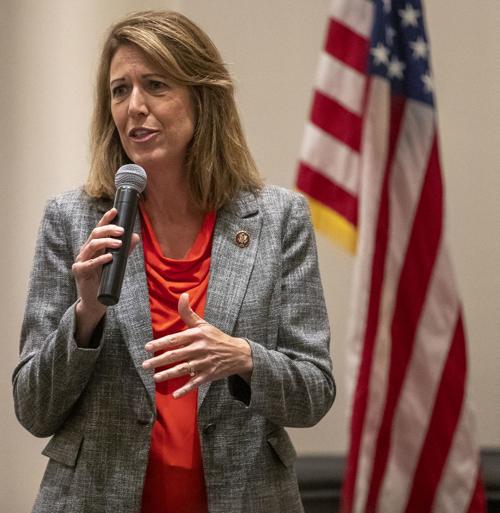 On Wednesday, U.S. Rep. Cindy Axne, D-3rd District, called for a federal investigation into the Environmental Protection Agency's expansion of refinery exemptions from ethanol-blending requirements established under the Renewable Fuel Standard.
Axne's request for an investigation followed the blunt assertion of Iowa Sen. Chuck Grassley on the same subject that the Trump administration had "screwed" farmers.
In a letter to Charles J. Sheehan, acting inspector general of the EPA, Axne requested that the IG conduct an investigation into what she termed "highly questionable decision making and misuse" of the EPA's small refinery exemption authority to benefit large or unqualified companies that may be exerting "an undue amount of influence over the regulatory process."
Under the terms of the renewable fuels standard, the EPA is able to grant waivers to small refineries that experience disproportionate economic hardship. EPA officials recently announced an additional 31 exemptions for the 2018 RFS, bringing the total number of waivers issued in the last three years to 85. That represents a substantial expansion from the 10 exemptions that were granted between the years of 2008 and 2016.
In her request for an investigation, Axne noted that exemptions have been granted to some of the world's largest and most profitable oil companies, including Andeavor, Chevron, Exxon and Carl Ichan's CVR.
Axne noted in her letter to Sheehan that she is concerned the EPA is violating congressional intent to increase blending of renewable fuels and lower greenhouse gas emissions.
The exemptions have waived more than four billion gallons of requirements for renewable fuel blending.
"These waivers convey significant financial gain, valued at hundreds of millions of dollars, to corporations whose identity is concealed from the public," she wrote.
"These waivers cut demand for biofuels, hurt farmers, raise the price of gas and increase greenhouse gas emissions. 2018 was the first year ever that ethanol consumption fell, even with historically low prices.
Biodiesel losses exceed $2 billion per year and are estimated at $7.7 billion over three years. All of this comes at a time when farm income is down by 49% since the end of 2018, according to the Bureau of Economic analysis," Axne wrote. "These small refinery waivers are enriching oil refiners on the backs of farmers and the rural economy."
Grassley said it all in one carefully selected and easily understood word: "Screwed."
"I have serious concerns that the EPA continues to ignore the boundaries of its authority under the law in its administration of this waiver authority.
Relying on the veil of secrecy provided by claims of confidential business information conceals the EPA's highly questionable decision-making and misuse of its authority to benefit a small group of companies that may be exerting an undue amount of influence over the regulatory process."
We agree with Axne and Grassley that the EPA's apparent misuse of the small refinery hardship waiver authority should be investigated and ended.
Catch the latest in Opinion
Get opinion pieces, letters and editorials sent directly to your inbox weekly!