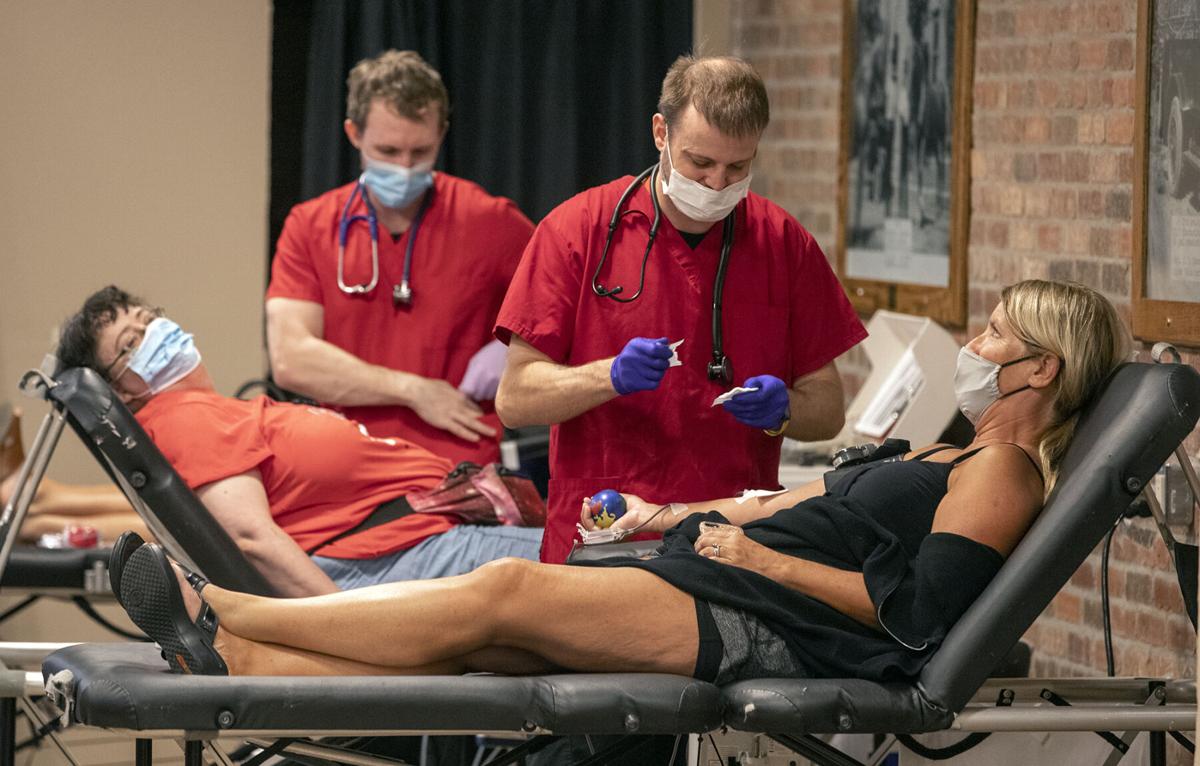 The need for blood at hospitals across the country is constant. And right now, with shortages exasperated further by the Delta variant of COVID-19, we should all do our part to help.
On Tuesday, the Nonpareil reported the American Red Cross is asking eligible donors to help address a critical need by donating blood.
The Red Cross said it needs donors of all blood types to give now and help ensure lifesaving transfusions are available for those who rely on them. In recent weeks, the Red Cross said has seen blood donor turnout decline by nearly 10% while hospital demand continues to outpace donations.
Many people don't like needles. And we're all so busy. But we can't encourage this highly enough — take the time to give blood. You could help save a life.
And the Red Cross consistently offers incentives to get people in the door. Those who come to give Sept. 3-7 will receive a 16-ounce Red Cross campfire mug, while supplies last, and those who come to give blood or platelets Sept. 1-30 will receive a coupon for a free haircut via email several days after their donation. The coupon is valid through Nov. 30, 2021 at participating Sport Clips locations. Donors must have a valid email address on record to receive the coupon. The Red Cross and Sport Clips encourage donors to use the hashtag #TackleTheNeed to share their new looks and invite others to give.
Here's a list of upcoming blood drives in southwest Iowa.
Today — 10:30 a.m.-5:30 p.m., First Christian Church, 20794 Hwy 92, Council Bluffs
Friday — 9 a.m.-2 p.m., Council Bluffs Public Library, 400 Willow Ave., Council Bluffs
Saturday — 10 a.m.-4 p.m., Church of Jesus Christ of Latter Day Saints, 2303 Butler, Council Bluffs
Sept. 13 — 12:30-6 p.m., New Horizon Presbyterian Church, 30 Valley View Drive, Council Bluffs
Sept. 14 — 12-6 p.m., Green Hills Area Education Agency, 24997 Hwy 92, Council Bluffs
Sept. 14 — 12-6 p.m., American Legion, 112 N. Elm St., Avoca
Sept. 15 — 11 a.m.-5 p.m., St. Boniface Parish Center, 305 Duren St., Westphalia
Sept. 15 — 12-6 p.m., Community Center, 108 W. Fourth St., Logan
Sept. 15 — 12-6 p.m., Community Center, 207 S. Third Ave., Villisca
Sept. 8 — 8:30 a.m.-2:30 p.m., Clarinda High School, 100 N. Cardinal Drive, Clarinda
Sept. 14 — 11:30 a.m.-5 p.m., Westminster Presbyterian Church, 322 N. 16th St., Clarinda
The Red Cross said it is screening all blood, platelet and plasma donations from self-described African-American donors for the sickle cell trait. This additional screening will provide the donors with additional health insight and help the Red Cross identify compatible blood types more quickly to help patients with sickle cell disease. Blood transfusion is an essential treatment for those with sickle cell disease, and blood donations from individuals of the same race, ethnicity and blood type have a unique ability to help patients fighting sickle cell disease.
Donors can expect to receive sickle cell trait screening results, if applicable, within one to two weeks through the Red Cross Blood Donor App and the online donor portal at RedCrossBlood.org.
To make an appointment or for more information, download the American Red Cross Donor App, visit RedCrossBlood.org, call 1-800-RED-CROSS (1-800-733-2767) or enable the Blood Donor Skill on any Alexa Echo device.
Blood and platelet donors can save time at their next donation by using RapidPass to complete their pre-donation reading and health history questionnaire online, on the day of their donation, before arriving at the blood drive. To get started, follow the instructions at RedCrossBlood.org/RapidPass or use the Blood Donor App.