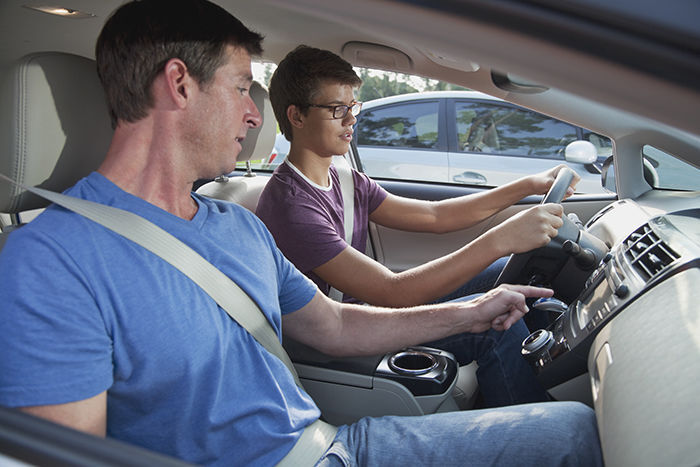 In 2019, 39 Iowa drivers between the ages of 14 and 20 died in motor vehicle crashes, according to the Iowa Department of Public Safety. Of those, seven drivers had a blood alcohol over the legal limit.
The same report is followed by this statement on the IDPS website: "The Iowa Department of Public Safety and the Governor's Traffic Safety Bureau encourages you to talk to your teen drivers about safe driving practices. Losing even one is one too many, don't you think?"
Yes, we do. Which is why we were shocked that Iowa's GOP-run legislature not only passed, but Gov. Kim Reynolds signed a bill that allowed parents to opt out of formal driver education programming for their young drivers.
Iowa Senate File 546 was an expansion of a 2011 law that allows parents to teach driver education to their home-schooled children. It increases the amount of time a student spends driving with a parent, but eliminates the role of the instructor — both in the classroom and behind the wheel.
Just six years ago, the Des Moines Register reported the Insurance Institute for Highway Safety, a Virginia-based independent research organization funded by auto insurers, recommended the state implement stricter laws in regards to teen drivers — including raising the driver licensing age from 16 to 17 years of age. It also suggested instructional permits not be issued until the age of 16, rather than 14 as they are now; barring driving from teen motorists after 8 p.m. and requiring 70 supervised practice hours before issuing a driver's license.
Those recommendations, however, fell on deaf ears, mostly because, in a rural state like Iowa, children are often taught how to drive vehicles and farm equipment at a young age, as their parents and grandparents before them were. Opponents of the recently signed Iowa Senate bill warned that parents aren't always the best role models for children learning to drive and that possessing a driver's license does not qualify someone to teach.
Anyone who has ever tried driving West Broadway or any of the interstates that go through Council Bluffs during rush hour commutes should be able to attest to this. Rush hour aside, any parent who has to deal with the drop-off/pick-up lanes at any of school anywhere has had — at least once a week — plenty of thoughts on how their peers drive (it's called a turn signal for a reason).
Prior to the signing of the bill, a driving instructor from Iowa Western Community College in Council Bluffs did not mince words about the danger inherent in the legislation:
"To say that this proposed legislation might be a bad idea is a monumental understatement," Rob Roane, who has taught driver's education at the college for 13 years, told The Daily Nonpareil. "Driver ed teachers are taught specific strategies on how to safely teach kids to drive, what mistakes are common, how to fix those mistakes, etc. This proposed legislation is a horrible idea and will make driving even more dangerous for our kids, who are already at an increased risk for getting (in) a serious or fatal accident."
Iowa Rep. Joel Fry, a Republican from Osceola who managed the legislation in the Iowa House, said he has taught his four home-schooled children how to drive. During debate in the House, Fry claimed he spends more time teaching his children to drive than he spent learning from an instructor as a teenager in school, and said parents have a vested interest in ensuring their children become good drivers.
"The attention, the detail, the desire that I have to make sure that my child drives safely, because who's going to pay the insurance and liability and all the damages that would incur should they get in an accident? It's me, not the school," Fry said. "So I have a very vested interest in how my child comes out of driver's ed."
That's great for you, Joel, but you sound like you are assuming all Iowa parents are as "vested" in their kids as you are. (News flash, they're not. Ask any county prosecutor about their child neglect/abuse/endangerment workload and I'm sure it will be an eye-opener for you.)
If you look up teen drivers on the Iowa Department of Public Safety website (again — and ironically — a state-run website), you will find a press release from Oct. 12, 2020, which includes a litany of reasons why teens are considered a higher risk driving group. These reasons include alcohol and drug consumption, lack of seat belt usage, distracted driving (a big and common one), speeding and drowsy driving. Many of these are habits young drivers pick up from their parents or other adults. Thus, the importance of formal driver education.
We understand that the cost that comes with that formal education can be quite high and there are parents who can't afford it. To that end, the legislature's time and energy would have been better spent properly funding public high schools so that their staffing and curriculum could include full-time driver education instruction and insurance coverage.
But with the signing of this bill, we once again see that public education doesn't appear to be a priority for certain lawmakers. Unfortunately, those lawmakers are in the majority right now, so Iowans of all ages have to continue to deal with their short-sighted intentions.