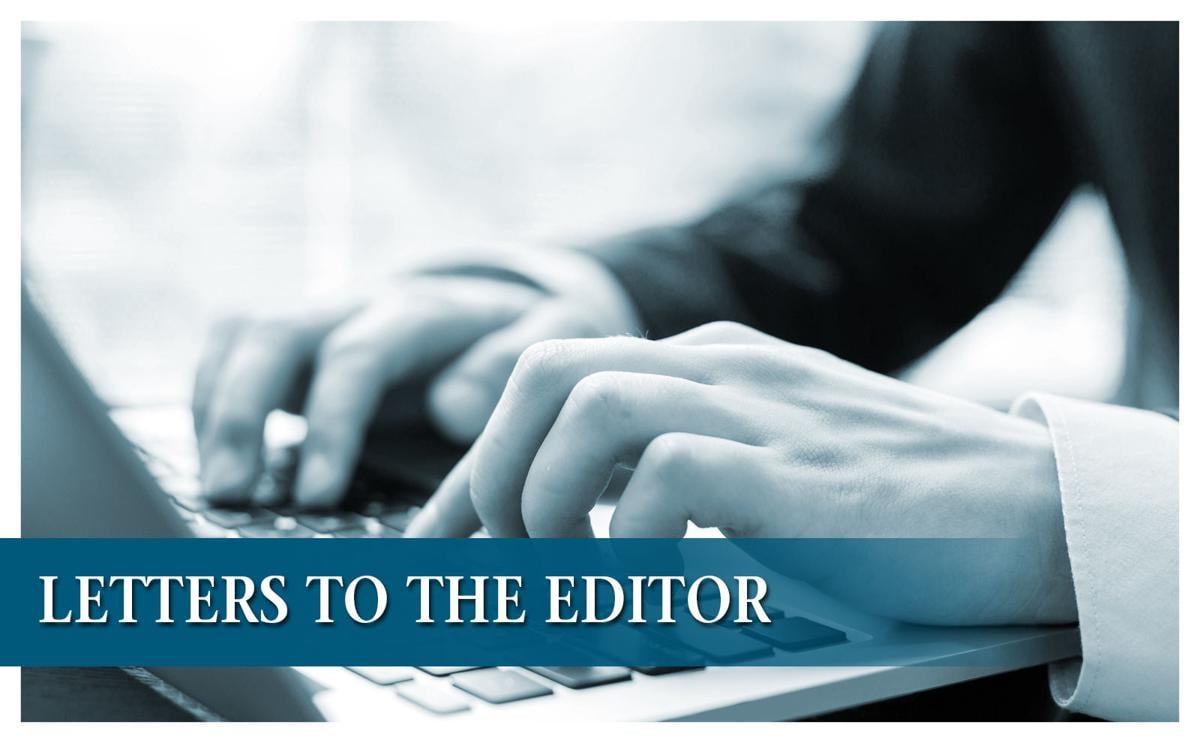 Vote early for Joe Biden
My husband and I have already voted. I encourage you to vote early for Joe Biden. As a retired veteran, I don't appreciate soldiers being called "losers" and "suckers" by our Commander-in-Chief. President Trump knows nothing about sacrifice. He has never put his country first. He cares only about himself.
We need a president who will show our military members the respect and honor they deserve. He has turned his back on us time and time again. He insults fellow Americans who have given their lives for our country. President Donald Trump won't even stand up for our troops when bounties are placed on their heads by thugs like Vladimir Putin.
Joe Biden has fought aggressively for our service members and veterans throughout his career. He has had a child deploy and will treat every one of the service men and women as if they were his own son or daughter. He has advocated for Vietnam veterans who were exposed to Agent Orange and other chemicals so that they could access the care and benefits they deserve. The Obama-Biden Administration has cut the homeless veteran population by almost half along with reducing the unemployment rate for veterans by more than half.
The Obama-Biden Administration reduced the backlog of veterans' disability claims by 90% from 2013-2016. Their administration also increased VA funding to include veterans' mental health, a new GI Bill and expansion of benefits that led to the hiring and training of more than 1.5 million veterans and military spouses.
Brave men and women in uniform are risking their lives to protect us and our freedom ... just like my dad did during World War II and by brother did during Vietnam. We deserve a President who recognizes the sacrifice and will never lose sight of his mission as Commander-in-Chief to keep service members, veterans and all citizens safe.
Labor is for Joe, Joe is for Labor
Strong unions have built the middle class for well over the last century. Joe Biden has always stood and fought to protect union organization, workers rights, and health care and pension protections for organized labor! Unfortunately the Trump Administration has done almost the complete opposite.
The current administration has repeatedly hurt organized labor anyway possible. The National Relations Labor Board has been crippled by appointees by Trump. They have favored National "Right To Work Laws" which I are absolutely horrible for union workers. They have also turned back OHSA regulations and have failed a national OHSA response in making guidelines to protect workers in the COVID era. His tax reform bill incentivized companies to send jobs overseas. And finally, his executive orders have essentially busted federal unions and are currently are trying to end pensions for federal workers. I could go on and on.
Vice President Biden will fight for workers and their families. He knows teachers, plumbers, and bus drivers fuel the economy — not CEO's or hedge fund managers. He will help implement a $15 minimum wage which goes along with his motto of every job is a noble job! Biden will fight for people with disabilities, women's wage equality and help pass universal paid sick leave like the rest of the modern world.
Additionally a priority will be passing the Pro Act and affordable health care for everyone by providing a public option (union members would be able to keep their insurance they have previously negotiated) and lowering cost for prescription drugs.
I had the pleasure of meeting Vice President Biden a couple times last fall! The first time I meet him he looked at me, smiled and pointed at my Plumbers Local 16 polo and said "you guys have always been there for me — I want you to know I will always be there you!" Joe Biden will always stand with labor unlike the inept current administration. Union members vote for your best interest and your livelihood.
Vice president, Western Iowa Labor Federation
Vote for Jon Jacobsen
This November, I encourage you to vote to re-elect the hardest working representative we have ever had, Jon Jacobson. As a farmer, I appreciate the fact that Jon has been endorsed as an Iowa Farm Bureau Friend of Ag and has further endorsements from the Iowa Corn Growers and Iowa Pork Producers.
However, endorsements do not directly equate to results and results are what sets Jon apart from the crowd. After multiple years of flooding along the Missouri River, our community needed help getting the many broken levies fixed. Jon took the helm and through listening, learning, and diligence, Jon lead the way in securing funds to protect our fellow citizens from future flooding.
Jon didn't ask what party people belonged to, he didn't try and calculate how much he would receive in donations if he helped, he just simply worked to fix the problem. I am proud that he represents me in the Iowa Legislature and I encourage you to vote to re-elect him this fall.
Barrett nomination moves at warp speed
Republicans in the U. S. Senate go speeding to replace Ruth Bader Ginsburg on the Supreme Court, although they would not vote on President Obama's nominee, Judge Merrick Garland, to replace Justice Antonin Scalia who died a year before President Trump was inaugurated.
On the other hand, the Ginsburg replacement will seemingly be seated within a month of Ginsburg's death, although the last several replacements took about seventy days. They claim their discreditable actions on Judge Garland and their unseemly haste to appoint Trump's present nominee are entirely legal.
I differ with them and point out there was about a year's delay in filling Scalia's seat, which prevented Obama from fulfilling his constitutional duty. There does not appear to be any specific legal prohibition to this type of political blood sport, but there is a longstanding legal principle called laches which provides a legal remedy for those aggrieved by unjustifiable delay. The remedy is equitable and is designed to prevent a dilatory party profiting from its intentional and unwarranted delay in performing its obligation.
The nomination and approval of Amy Coney Barrett is, of course, a political exercise and not a legal proceeding. However, our political process as originally conceived is based on fundamental fairness and not on naked partisan political power. A dangerous precedent is being set which will likely have unanticipated consequences when, as it sometime will be, the shoe is found to be on the other foot. The ultimate losers will be the American people.
I don't think there is any doubt that the treatment of Judge Garland's nomination in 2016 was unwarranted and unjustified and that, at law, the doctrine of laches could reasonably be applied to remedy the damage caused to the republic by the delay. Applying laches in the Senate proceeding now pending to redress the harm occasioned can be accomplished by Judge Barrett withdrawing from consideration or by the Senate voting no on Barrett and rejecting her nomination. We can hardly go back and cancel the seating of Gorsuch, but we can avoid compounding the egregious harm to SCOTUS by not seating Judge Barrett.
Public health isn't what it used to be
Public health isn't what it used to be. When I was young, the polio virus attacked up to 35,000 people a year. Governors were not responding by saying, well, we have enough iron lungs to handle the new surge, so we're "handling" it, as Kim Reynolds says. Instead, the push was to eradicate the disease. Since 1979 no new polio cases have arisen within the US. That is how public health used to be addressed.
Now, Gov. Reynolds talks about empty beds as though we should want to fill them. She sounds like Gov. Kristi Noem of South Dakota whose policy is "increasing treatment capacity rather than preventing infection" according to the Des Moines Register. Both governors imply that if we have empty hospital beds, more infections are not a problem.
Do Republicans at the national level take a more therapeutic approach to the public's health? No. Last week Jerome Powell, head of the Federal Reserve, urged passage of an economic aid bill helping us through the pandemic. Instead, the Republican-controlled Senate has tabled that idea and is bent on confirming a Supreme Court candidate whose opposition to the Affordable Care Act is well-known.
On Nov. 10, the Supreme Court will hear a case on the ACA. Instead of working on the sort of bill the Federal Reserve chairman sought, one helping COVID victims, small business owners, local governments, schools and countering the economic effects of the pandemic, Republican Senators (including Ernst and Grassley) are rushing to confirm a nominee whom they expect to declare the ACA is unconstitutional, and thereby take away affordable health care for millions. Remember, they have proposed no replacement for the ACA.
If you care about your health, don't vote for Republicans this year.
Don't let Iowa courts become political
No matter your political leanings in this highly-divided world, there is one thing all Iowans should agree on: We don't need politics in our courts. Iowans depend on the courts to rule fairly and impartially, based solely on the facts and the law.
Iowa judges are routinely called upon to make difficult and sometimes controversial decisions. Judges are not, however, politicians who cater to the concerns of special interest groups, campaign donors, or otherwise pander to political partisans who pressure them to rule a certain way. Iowans are fortunate our state constitution provides that Iowa judges are to be selected on merit, after a rigorous process that evaluates their background, knowledge of law, and ethics.
A judicial retention vote should not be a referendum on the popularity of a judge's decisions. If we vote "no" simply because we disagree with a decision of a judge, or because we align with a political party not in power when the judge was appointed, we unfairly politicize our court system. A retention election very simply asks whether the judge has done his or her job with competency and integrity.
We urge all Iowa voters to visit judicialfacts.org for information about Iowa's merit selection process and the qualifications of the judges and justices on the 2020 ballot. A performance evaluation by the attorneys who appear before the judges and justices is available on the website for voters who do not know these judges personally. All Iowa judges and justices on the ballot this year scored high marks.
Vote "yes" to retain the justices and judges this November to ensure Iowa's fair and impartial courts remain.
Jerry Schnurr III, president,
Iowa State Bar Association
ISBA Fair & Impartial Courts Committee
Catch the latest in Opinion
Get opinion pieces, letters and editorials sent directly to your inbox weekly!