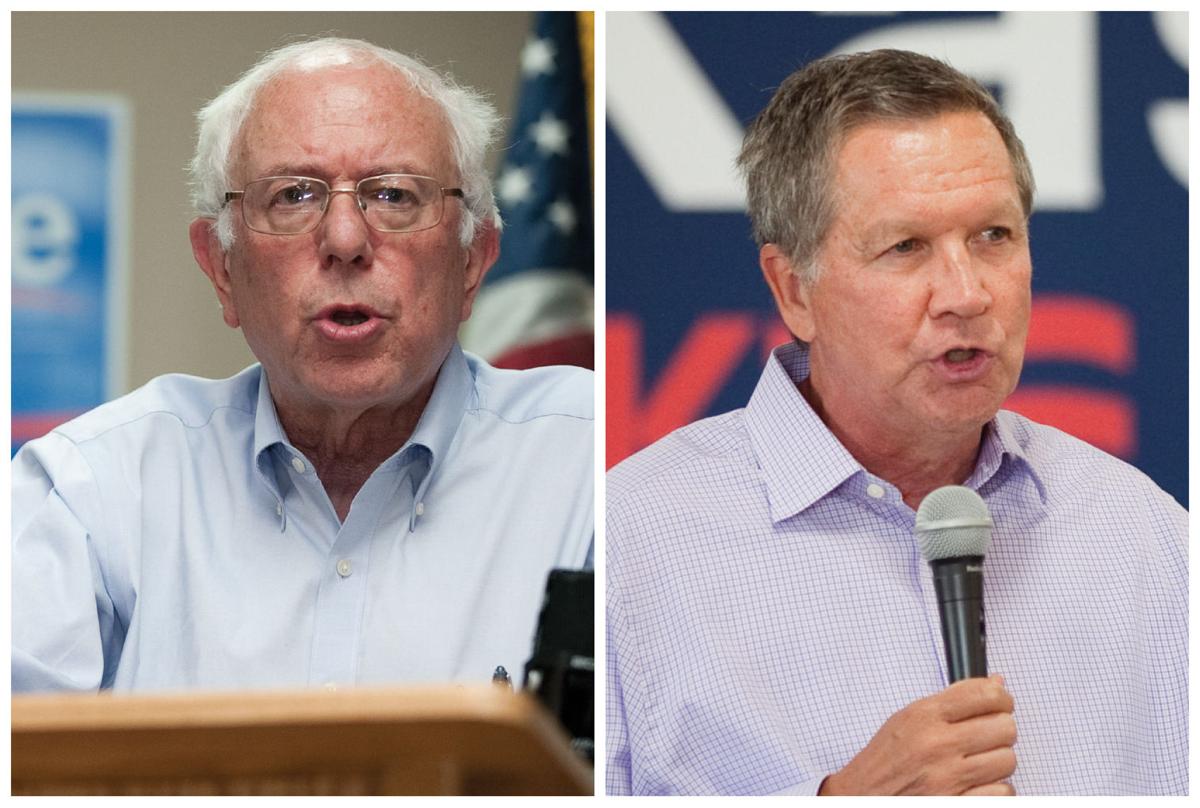 Political endorsements are not decisions that newspapers make lightly – or, sometimes, at all.
The 2016 presidential election with its crowded field is one unlike any other we've seen. Style has been silencing substance amid the hectic race. Preening and pettiness have stolen the headlines, overshadowing the importance of pragmatism.
Accordingly, in the end, we see it as our obligation to take a stand. There is no perfect candidate, but there are those who treat a campaign promise seriously and strive to serve selflessly for the greater good of the American people.
Iowans have the incredible duty to have the first official say in the race to the White House. We need them to be as informed as possible in this endeavor to keep a vibrant, transparent democracy alive.
For these reasons, we endorse Ohio Gov. John Kasich and Vermont Sen. Bernie Sanders as the best choices in their respective caucuses.
---
John Kasich offers experience, unity to GOP in need of both
Kasich, the second-term governor of Ohio, is clearly the most experienced candidate in the packed GOP field.In a Republican campaign where many candidates have tried to distance themselves from or insult the importance of experience, his record sets him head and shoulders above the field.
He served nine terms in the U.S. House, and he accurately notes he was the chair of the House Budget Committee the last time Congress passed a balanced budget. In his last four years in that position, the federal budget was not only balanced, but also saw surpluses – something that has not occurred since he left the position.
Not surprisingly, Kasich's fiscal plans claim he would be able to balance the federal budget in eight years. He exuded confidence in believing he could do it in six or seven years when meeting with Nonpareil editors and reporters.
His calls for a simplified, graduated income tax code while keeping popular credits strikes us as a rational means to bring reason to the system. Analysis done by the Committee for a Responsible Federal Budget, a nonpartisan thinktank based in Washington, shows that his announced plans would save $2.6 trillion by 2025 and reduce the federal debt as a percent of GDP by 10 percent.
Kasich has been criticized by some Republicans for implementing Common Core standards in Ohio schools and accepting federal money for the expansion of Medicaid. In both cases, he's defended his actions by saying they're what's best for Ohioans – a big-picture view that's sorely lacking in American politics.
Most importantly, he has stressed a message of unity during his campaign stops, and his policies reflect that. He correctly notes that a single political party is unable to govern alone. In a Washington as paralyzed as it is today, his message of hope, rationality and togetherness cannot be discounted.
Rather than treating common ground with Democrats as anathema, he is 100 percent right to argue Republicans instead must work across the aisle to ensure that America is as great as it can be.
Under his watch, Ohio has seen immense success in job creation, prison reform and business growth. We do not share of all Kasich's stances, including his support for halting admission for Syrian refugees, but, by and large, we feel the governor's resume and successes speak for themselves.
The presidency isn't an entry-level position, and Kasich clearly has the credentials needed to be the next commander-in-chief.
---
Bernie Sanders would build on Obama's legacy, challenge establishment
In stark contrast to the Republican field, the Democratic race has winnowed to three quality candidates, with two front-runners vying for the grace of Iowa residents in their corner on caucus night.
Our endorsement of Sanders should not be taken as a repudiation of Hillary Clinton's campaign. The former senator, secretary of state and First Lady is worthy of being this nation's first woman in the Oval Office.
But Sanders offers caucus-goers a spark of the "hope and change" mantra – translated into the language of economics, touching on the centrality of worries stemming from the Great Recession and the failure to hold those who hurt so many accountable.
Sanders is truly genuine in his politics, not someone who would say anything for a vote, not someone who would give up on key principles, not someone who would turn his back on the American people.
In the House of Representatives, he was the "amendment king," tweaking legislation while doggedly sticking to his issues. He's stood up for veterans, the poor, the marginalized and the working class.
Earlier in the campaign, Sanders was challenged to defend his record and his rhetoric by protesters in the Black Lives Matter movement. His initial reaction was one of indignation, citing his longtime support for civil rights. But he's since shown solidarity, adding his voice to those calling for us collective to do better.
Political revolution is what's advocated by the self-described democratic socialist. But don't mistake his word choice for allegiance with the tea party or others who have called for a do-over of the American Revolution. What the senator means is closer to the idea of "industrial revolution," a shift where everyday people are empowered over those institutions governing so much of our lives.
It's not capitalism that Sanders opposes. It's capitalism without rules, a system that allows a young person caught with marijuana to be sentenced to jail, where gangs and resentment abound, yet then allows a few corporate crooks in suits and ties to give a bad name to American business.
We do wonder about Sanders plan for taxes and specifics of some proposals. But the Bern, like Barack Obama before him, is about ideas and the attitudes of those governing our county.
When Americans elected Obama, hope and change were the currency of his grassroots movement. He made progress, albeit not enough. Obama's legacy will carry forward with his successor, and likely will be partly defined by it.
Catch the latest in Opinion
Get opinion pieces, letters and editorials sent directly to your inbox weekly!