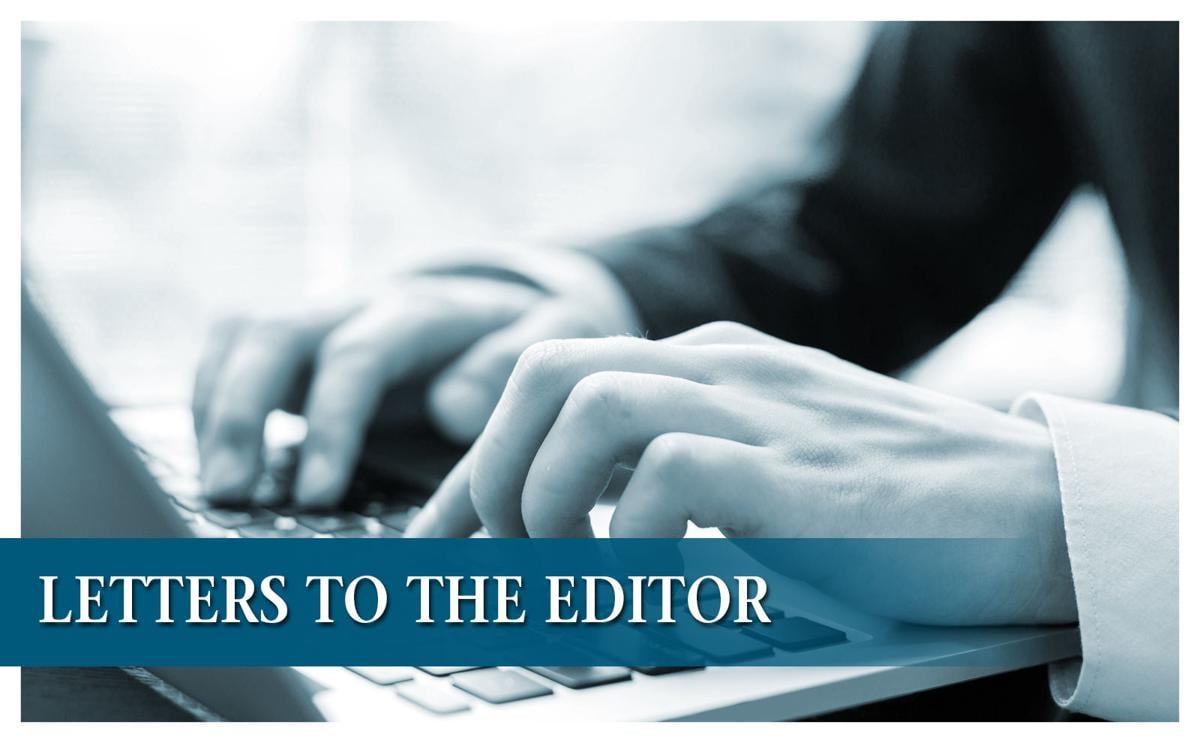 Friends thankful for fellowship, stranger's kindness
Six ladies in their 80s went to lunch at Red Lobster in Council Bluffs on Tuesday, June 15. We had not been together since March 17, 2020 because of the COVID. We were so glad to see each other. There was hugging, smiling, friendship and happiness all around.
We all enjoyed our lunches and after asking for our bills, the waiter confessed that the bills had been covered by a couple sitting in a booth near us. What a kind and awesome thing to do for six senior ladies. We don't know who you are but we hope that your act of kindness brought you as many smiles as it brought to us. THANK YOU from Bev, Bonnie, Jan, LuAn, Rose, and Sue.
Sue Haven and Bonnie Herrington
Republican fantasyland rule
The Council Bluffs police chief pens an officer-friendly article speaking to us, vaguely, as if we're a bunch of fourth graders after previously declaring there is no racism in his force.
Gov Reynolds signs a new law stating, unless we know someone's heart — racism, sexism and lower-pay for women discriminations — do not exist.
Schools promoting these ideals will thrive here. KochCorp is betting on it with political donations and dark-money.
Americans For Prosperity — just not certain Americans.
State-mandated pregnancy.
Yes, indeed. Aren't we lucky.
A different kind of fishing
This Sunday is Father's Day and while most of the country might be celebrating with baseball and burgers, I'm taking a decidedly different approach: I'm going "fishing." But not the kind of fishing you're thinking of.
Our planet's oceans and waterways are being stripped through commercial fishing and even "recreational fishing" takes its toll on the environment, not to mention the trauma to marine life. At our current rate, we could see fishless oceans by 2048.
This is why, as an ethical vegan and father of two children, I have my own unique approach to "fishing."
Armed with Google image search and fish identification guides, my kids and I go "fishing" in the same way a birder goes birding. We walk the shorelines and countless docks of New York's Finger Lakes region and "catch" a glimpse of freshwater fish. This past weekend we "caught" a dozen carp, a few bass, several perch and one very elusive catfish; all logged in our Fishing Journal.
As stewards of this planet, we have a unique opportunity to share these moments and nature with the next generation and prove there are more ethical ways to "capture" wildlife.
Executive director, Farm Animal Rights Movement
Imaginary lines
Next week, I'm going to travel across a bunch of imaginary lines drawn on the ground by politicians.
Those lines are called "borders," and in the case of my upcoming trip they separate areas known to most as Florida, Georgia, South Carolina, North Carolina, Virginia, Maryland, Delaware, New Jersey, Pennsylvania, New York, Vermont, and New Hampshire.
There are also a bunch of other borders, too numerous to mention, within THOSE borders, separating places called "counties," "cities," etc.
I don't expect to have any problem crossing those borders. You probably don't have any problem crossing them either. You may cross two or three borders on your way to work, or when you pop out to grab dinner and watch a movie. Chances are you won't be pulled over at any checkpoints to have your "papers" checked when you cross from Utah into Idaho, or from Cook County into Chicago, to make sure you have permission to cross imaginary lines.
On my own trip, I could decide to stop traveling, rent an apartment, hit the "help wanted" ads for a job, etc. and nobody would so much as raise an eyebrow (well, nobody but my wife, anyway).
If I suddenly decide to put down roots in Burlington or Lancaster, I won't be put into shackles and deported to Gainesville. I'll just be treated as subject to the laws in Vermont or New Hampshire instead of Florida. No biggie.
But if I want to travel fly to Acapulco or Reykjavik and back for a vacation, a bunch of cultists on both sides of some of the imaginary lines separating those places will start insisting that where I go and what I do is very much their business.
Why? Because they fervently believe that those imaginary lines imbue them with a special magical right to require that I get their permission to move, to stop, to live, to work, etc. And, unfortunately, these particular cultists employ large numbers of thugs to enforce their superstitions at gunpoint.
The next time you hear about a "border crisis," I hope you'll keep in mind that if there really is such a "crisis," it is caused by those cultists and their obsession with controlling others, not by the ordinary, peaceful practice of free people traveling wherever they damn well please.
Director, the William Lloyd Garrison Center for Libertarian Advocacy Journalism
Washington Wolverines
The National Football League's Washington Football Team needs a new name in time for the start of next year's 2022 NFL season.
Team owner Daniel Snyder has decided to continue to use the placeholder name Washington Football Team for a second season, the upcoming 2021 NFL season.
But surely our nation's capitol can do better than that boring, generic moniker. Help D.C. out by picking their new name.
Here are 19 new NFL team name options for Washington, D.C. to choose from:
* Washington Wooden Teeth
* Washington Silver Dollars
* Washington Swamp Things
* Washington Cherry Trees
* Washington Revolutionaries
* Washington Imperialists
* Washington Head Injuries
* Washington Compound Fractures
Make summer food program changes permanent
For the one in eight kids who may face hunger today in Iowa, summer is usually the hungriest time of year. This summer, however, may be a different story because new benefits and temporary nutrition waivers are helping to reach even more kids with the food they need. For example, they allow parents to pick up meals for the week or allow organizations to drop meals off at a child's home.
In fact, because of these types of flexibilities, summer meals programs in Iowa served more than 2 million more meals to kids in need last year. This matters. Through my work with No Kid Hungry and Project Rooted, I've learned just how important it is that kids have consistent access to healthy meals when schools are out of session or temporarily closed.
But these measures are temporary. It's time for Congress to update and modernize the summer meals programs by permanently implementing policies that have fed so many kids during the COVID crisis — additional summer grocery benefits and allowing meals to come to kids to help overcome transportation barriers — and making them part of future solutions.
Sens. Joni Ernst and Chuck Grassley have an opportunity to support proven solutions like a nationwide summer EBT program and non-congregate meal options through the Child Nutrition Reauthorization process or the American Families Plan proposal. Hungry kids in Iowa and across the country can't wait.
The Catholic bishops conference and politics
One of the agenda items at this year's meeting of the U.S. Conference of Catholic Bishops is drafting a policy document on "Eucharistic coherence."
The policy, if approved, would confer authority on bishops and, presumably, on parish priests, to refuse communion to politicians who support the right to freedom of choice for women who, in consultation with their primary care physicians, elect to have abortions. In a pluralistic society such as ours, lawmakers as well as judges and courts at the state and federal levels, unlike the Catholic hierarchy, have the responsibility of respecting the rights to which American citizens are legally entitled. Lawmakers and members of the judiciary who are Catholics owe their allegiance to the U.S. Constitution and to the laws and judicial rulings derived from it, not to the dictates of religious leaders.
Undoubtedly, many of the bishops have decided it's proper to engage in the single-issue politics of free choice rights. The bishops' purpose is probably to publicly shame President Joe Biden, whose devotion to the Catholic Christian faith is beyond question, in order to advance their own political agenda to overturn Roe v. Wade. But the act of essentially excommunicating President Biden would seem to be a dangerous political tactic by the bishops. Would Chief Justice Roberts, who has stated that Roe v Wade would not be overturned by the court under his watch if at all possible, be next to get the boot? How about Speaker of the House Nancy Pelosi who supports freedom of choice? There are at least 140 Catholic members of the House and 25 Catholic senators in Congress. How many of these elected lawmakers would the bishops and the Catholic clergy brand as unworthy of remaining in the Catholic fold? Where would the banishment stop? Would every medical professional who had any connection with performance of abortions, however tangential, be publicly shunned by the church?
The Catholic Church in America has for years been hemorrhaging membership. Before the Conference of Catholic Bishops formalizes any stance on "Eucharistic coherence," the bishops need to consider seriously how many current Catholic parishioners would leave their pews and exit the doors in solidarity with their brothers and sisters in Christ against whom the church has closed its doors.